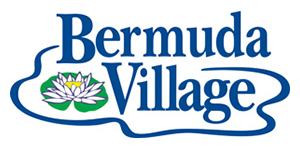 Some of their fondest memories are of wilderness camping and canoeing in the Adirondack Mountains of New York State and in Canada. In fact, the night Jan and Frank Smith met, 61 years ago, they discovered their mutual love of the outdoors and knew it would be the benchmark for their activities in their marriage.
Four children and untold campsites and wilderness trips later, they know they wouldn't have done it any other way. They have loved living in the country and spent five years on their farm in Oberlin, OH where they raised horses and goats, a wonderful experience for their teen-age children.
Now, living at Bermuda Village, Jan and Frank find plenty of chances to enjoy nature by working in their yard, long walks and indulging in Frank's hobby of birding. When possible they visit the migratory corridors in New York and New Jersey. Even on their deck Frank has his binoculars ready to identify birds although they worry that neighbors might misunderstand his intentions! Woodworking and political analysis are also among Frank's interests.
Jan was raised in Washington, NJ, graduated from Cedar Crest College, and taught in public and private schools. After raising their four children, she started her own business, The Wordsmith, to handle the advertising and graphic art needs of Frank's business. In her spare time she sang in a Syracuse University choral group, gardened on their five acres and indulged her love of cooking new recipes for an appreciative husband.
Frank, from Hempstead, NY, graduated from Lafayette College with a degree in Mechanical Engineering and served four years in the US Navy. He worked for Clevite Corporation in Cleveland, OH before joining Lipe Rollway Corporation in Syracuse, NY where he was corporate VP and General Manager of the Bearing Division.
One of Frank's more challenging projects with Lipe began in the early 1970s when communist Romania, which had broken with USSR, needed to make special large bearings. With approval from our government, Frank initiated a joint venture between Lipe Rollway and Romania and built a turnkey bearing factory in Ploesti, Romania. The occasional political/international intrigue that was characteristic of the Caucescue regime created a challenging work environment. He then set up a network of sales offices in Europe to handle the products produced in Ploesti. Yearning to work for himself, in 1982, Frank bought a small manufacturer of industrial dust collectors which he sold in 1998.
Opportunities for camping and canoeing seem fewer these days, but there is no need to be idle. The exercise room, swimming pool, cardio fitness, balance and strength programs, shuffleboard and bocce ball as well as a host of social and cultural offerings at Bermuda Village call out to be investigated. Is there really enough time to do all these things? The fun is in trying.
The Smiths lived in Greensboro for eight years and have not altogether left that city. Each Sunday they make the trip back to refresh their lives at St. John's Anglican Church. There are some ties that simply can't be broken.