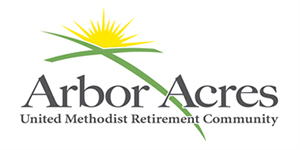 Re-inventing Corpening Apartments is the next phase of Arbor Acres United Methodist Retirement Community's forward-looking strategic plan.
After the recent completion of a new neighborhood of 17 free standing homes, with six more to be built in 2013, and the opening of Asbury Place, a beautiful new building for residents who need assisted living, Arbor Acres is now getting ready to re-open its Corpening apartment building in January of 2013.
The 32-year-old building has been home to more than 200 residents over the years. So it was really time for a total renovation of the four-story brick building, and a re-purposing of sorts.
It started out as a place for residents to live independently in 34 studio apartments. Then, in the early 90's, it became an assisted living residence. And now, with completely renovated interiors and exteriors, Corpening is in the process of re-invention again, into 20 cozy, one-bedroom, one-bath independent living apartments.
One of the best things about Corpening, named for former Winston-Salem Mayor Wayne Corpening, is its location smack in the middle of everything on Arbor Acres' 86-acre campus… the library, the beauty shop, the dining rooms, the gift shop, and the Fellowship Hall, where there are programs and entertainment daily.
Corpening is also the location for a newly renovated state-of-the-art fitness room, complete with walking track, large exercise room, and an aquatic center, which will feature an exercise pool, a lap pool, and a relaxing hot tub. The two-lane lap pool will be kept at a temperature more conducive to lap swimming, cooler than an exercise pool.
The apartments feature large bay windows, full kitchens and washer/dryers in each apartment. It has always been the philosophy at Arbor Acres to encourage incoming residents to make their house or apartment their own. This means choosing all of their finishes, including flooring, paint, countertops, appliances, cabinetry, backsplash color, lighting – just about everything down to the pulls and knobs on cabinets. This holds true in Corpening as well, except for the washer/dryer, which will be a unique "combination" appliance in which the washer and dryer are the same machine! This saves space for additional storage in the laundry area.
Corpening's re-invention isn't the only project in the works at Arbor Acres. The community is also planning an expansion in its dining areas next year as well as a renovation of its Fitzgerald Health Center, a 65-bed, skilled nursing building.
If you're interested in more information about Corpening, or anything else at Arbor Acres, please contact Lynn Ross at 336-724-7921.