During the first weekend in May, Brian and I visited two wineries in Thurmond, located north of Elkin off Highway 21, close to Stone Mountain State Park and the Blue Ridge Parkway. The wineries are in the Yadkin Valley AVA, an American Viticultural Area, which covers an area of approximately 1,400,000 acres in the Yadkin River Valley and includes land in seven counties of northwestern North Carolina.
We stopped at McRitchie Winery & Ciderworks for a wine tasting and to refill my growler with their delicious hard cider. The winery is located in the rolling foothills of the Blue Ridge Mountains, with a quaint house for a tasting room. The rocking chairs on the front porch were very tempting, and the picnic table near the front porch would be a great place to enjoy a glass of wine or apple cider with a cheese plate and crackers.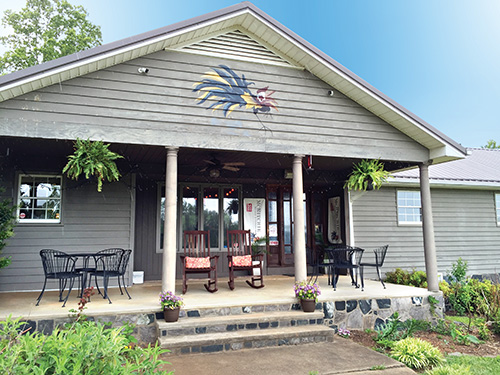 McRitchie Winery & Ciderworks greets guests with tempting rocking chairs on an inviting front porch.
The owners, Sean and Patricia McRitchie, met at a winery in Oregon and moved to North Carolina in 1998. Sean's father was a winemaker in California and Oregon, where Sean worked in wineries and vineyards in the Willamette Valley of Oregon, as well as in renowned wineries in Napa Valley and Australia. After moving to North Carolina, Sean and Patricia were involved in the establishment of a large vineyard and winery in the Yadkin Valley, later founding a vineyard and winery consulting business.
In 2000, the McRitchies purchased property in Yadkin Valley with mountain views, evergreens, and several sites for a vineyard. The first five acres of vines were planted in 2004, and their first vintage of estate wines was in 2006. The tasting room opened in May of 2007. During its first year of operation, McRitchie was awarded the North Carolina Winegrower's Award, the highest honor a North Carolina wine can receive.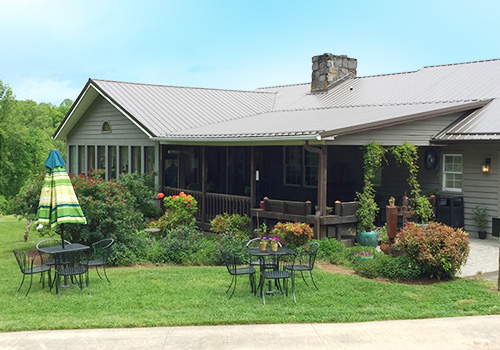 The back porch at McRitchie Winery & Ciderworks offers the perfect spot for a glass of wine or cider.
McRitchie white wines include: Traminette, Oaked and Unoaked Chardonnay, Fallingwater White, and Muscat Blanc. They have three red blends: Sapere Aude Reserve, Ring of Fire Red, and Adhoc Nouveau Red.
McRitchie's has the distinction of producing North Carolina's first commercial hard ciders. The dry and off-dry hard ciders are made with a blend of hand-selected heirloom cider apples from the best orchards in the Blue Ridge Mountains. The Perry cider is made exclusively from pears. Growlers are available for the ciders, which can be refilled during your next visit.
It was a short drive to Jones von Drehle Vineyards & Winery for their 2nd annual Sip & Savor Celebration of Great Wines and Great Times – Under Blue Ridge Mountain Skies. This event is the anniversary celebration of their Grand Opening in May of 2014. We had a great time attending the Grand Opening, so we were looking forward to going back for this event.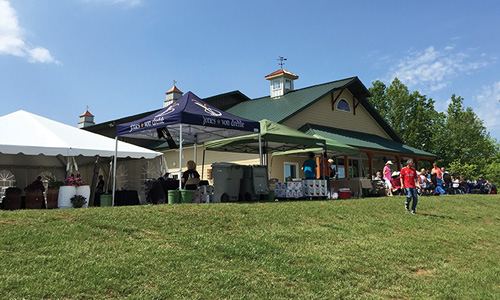 Jones von Drehle Vineyards & Winery's second annual Sip & Savor Celebration.
Sip & Savor featured a progressive tasting of 8 wines, each paired with a bite of food prepared by Elsewhere on 10th, a Farm to Table Restaurant in North Wilkesboro. The tastings were served under a large white tent next to the winery. Roxxi & Lulu's Catering in Elkin was also available to sell wraps, sliders, pasta salad, and desserts.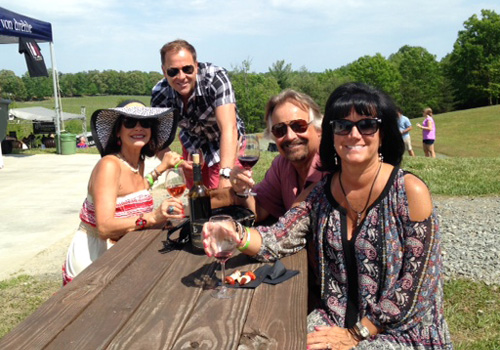 Friends Maria Etcheverry & Nico Kroll and Mary Ann & Brian Guinn enjoyed the wine and food pairing during the Sip & Savor Celebration.
The Sip & Savor tasting menu included:
Jones von Drehle released four new wines: 2014 Viognier, 2014 Rosa Dia, 2014 Petit Manseng, 2014 Steel-aged Chardonnay
2014 Viognier – Mini spicy chicken empanada with cilantro lime salsa
2014 Steel-aged Chardonnay – Dates stuffed with chevre and bacon
2014 Petit Manseng – Skewers of shrimp, heirloom tomato, andouille, and tasso ham
2014 Rosa Dia – Miniature berry tartlet with cream cheese pastry cream and honey
2014 Tempranillo – Mini-meatballs made with Apple Brandy Beef, kale, carrots, and finished with Tempranillo wine sauce
2012 Merlot – Roast beef sliders with creamy horseradish and crispy sweet fried onion
2012 Rock & Rail – Caramelized onion tartlets with chevre and fresh thyme
2012 Petit Verdot – Dark chocolate truffle filled with Petit Verdot infused ganache
The Extraordinaries, a 9-piece band from Hickory, provided great music for the event. They performed on a stage in the lawn, just down the hill from the winery. It was a beautiful day for the event, and we enjoyed the wine tastings paired with great food. We also enjoyed dancing to classic music from the 70's and 80's.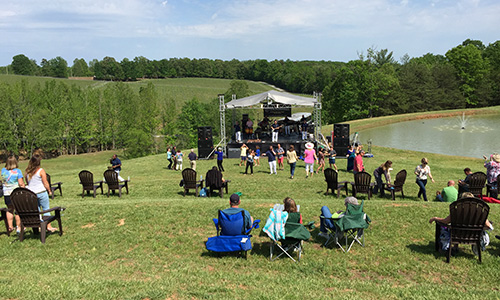 The Extraordinaries performed at Jones von Drehle's Sip & Savor. The stage had a dramatic backdrop of the vineyard and the rolling hills and blue sky of the Blue Ridge Mountains.
Jones von Drehle is owned by two families, Diana & Chuck Jones and Ronnie & Raymond von Drehle. Diana and Ronnie are sisters from Hickory. Chuck Jones, from Asheville, discovered the land after several years of research. The property was purchased in 2007, then the land was reengineered and readied for planting over 24,000 vines. 30 acres of the 75 acre estate were planted in 2009. The winery building was constructed in 2012, with the Tasting Room opening the following year, and the Grand Opening in 2014.
Dan Tallman, the winemaker at Jones von Drehle, is a UC Davis graduate with over 30 years of winemaking experience. He has a simple set of rules: "start with good fruit, maintain excellent wine making practices, and don't mess it up". He takes a minimalist approach to making wines and believes in letting the fruit shine through and keep it all in balance.
Randy Ramey, the viticulturist, is a native of California and graduate of Fresno State. He has over 30 years of experience with growing wine grapes for family vineyards, as well as wineries in the Paso Robles area of California. As an Estate winery, they produce wines only from fruit grown on the property. Carefully selected varieties are planted in the best location to produce the highest quality of fruit. They harvest by hand, and carefully sort the grapes to make certain that only quality fruit is used in the winemaking.
Visting these wineries would make a great day-trip, along with a stop at Stone Mountain State Park or a drive on the Blue Ridge Parkway.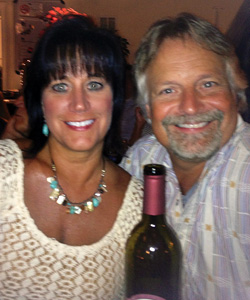 Mary Ann & Brian Guinn
Mary Ann and Brian Guinn enjoy traveling, but when they are at home in Greensboro, weekend excursions are usually devoted to visiting area wineries. North Carolina boasts 130 plus wineries, most of them near the Triad, and the Guinns' goal is to visit all of them. Mary Ann has been asked to share her experiences with North Carolina wineries in a regular column for The Retirement Resource Guide.