Four arts programs in Raleigh, Asheville, Fayetteville, and Manteo will share $75,000 in grants from the North Carolina Art Council to support projects that will serve military personnel, veterans, and their families in the state. A panel of arts professionals and military representatives approved the following programs.
Asheville Area Arts Council ($26,000) to expand an existing partnership between the Arts Council and the Charles George VA Medical Center for community-based workshops in pottery and fiber arts.
Cape Fear Regional Theatre, Fayetteville ($23,385) to deepen the connections with Fort Bragg by establishing theater classes taught by CFRT staff and artists on the base for both active duty personnel and families.
Dare County Arts Council ($10,315) to expand a week of programming with additional workshops in photography, painting, and songwriting taught by professional artists.
United Service Organizations of NC, Raleigh ($15,300) to provide military culture training workshops for small businesses that wish to hire veterans. The USO of NC collaborated with the Asheville Area Arts Council to adapt a successful pilot project which to be offered to local arts councils and arts organizations .
The deadline for organizations to submit proposal for the Military and Veterans Healing Arts program is Thursday, March 1. Visit: https://www.ncarts.org/resources/grants/grants-organizations/military-and-veterans-healing-arts-grants.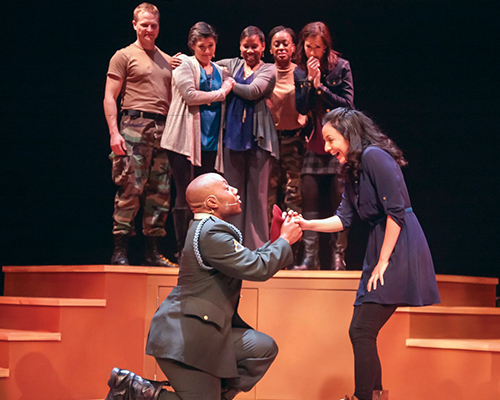 The Cape Fear Regional Theatre presents Downrange: Voices from the Homefront by N.C. playwright Mike Wiley.
Raul Ruberia Photography.