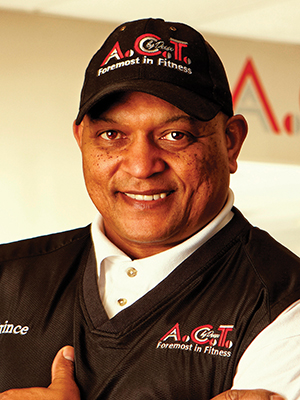 Prince Deese
Prince Deese, an All American Wrestler, a Hall of Fame Football Player, and a State Champion Body Builder, is a certified personal trainer and strength conditioning specialist. Prince Deese and Gina Deese own A.C.T. by Deese, a Fitness & Training Center in Greensboro, NC.

Seniors, look again! Is everything in order? You might have balanced your checkbook and paid off the balance of open accounts, but if you're weak on your feet and struggling on the stairs, you may have neglected the one most significant part of staying independent…good physical balance.
Good balance can prevent falls. It's been reported that nearly a third of seniors 65 and over experience some type of fall each year.
Good balance is helpful in creating quicker and more accurate responses that make daily activities easier to perform.
Good balance provides psychological security and results in control over movement from reaching for items on a shelf to shampooing hair in the shower.
Good balance increases flexibility and, therefore, builds confidence, impacts attitudes, an essential part of independent living.
Exercises which improve "balance control" do not require special equipment and can be performed under the direction of a fitness trainer or carried out at home without supervision. While most exercises for balance are not strenuous, it is always advisable to check with your doctor before beginning any regular exercise regimen.
Three examples of balance exercise which can be accomplished in the privacy of your home: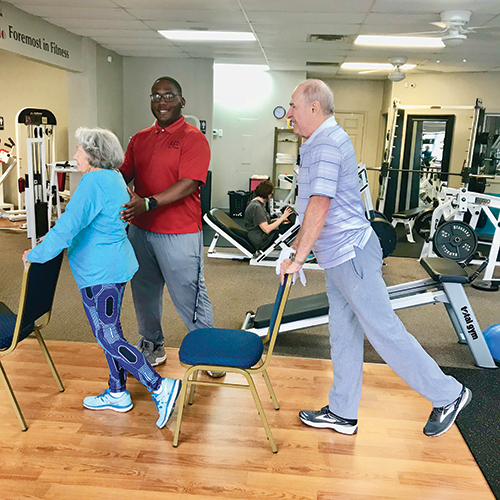 1) First, stand on one foot behind a chair that provides support. Hold the position for 10 seconds or more. Repeat for both legs. It is okay to start slowly, remaining on the toe before the next step to raise the leg.
2) Next, walk forward as if on a balance beam placing one heel closely behind the other foot. The eye gaze should be out at 6-8 feet or straight ahead if the confidence level is strong.
3) Finally, with a chair for support and feet slightly apart, lift one leg out to the side and then slightly bend the leg on which you are standing. Hold for several seconds. Posture should remain tall,
shoulders back while remembering to continue breathing through-out the movement.
With sufficient motivation, repetition, and consistency, simple balance exercises can strengthen weakness, use up excessive calories, and create confidence in all movements and activity.
One of the most beneficial outcomes of a "balance exercise program" is the motivation inspired. Exercise feeds a natural drive to be active, putting seniors on a path to more involvement in the world around them. At a time when aging begins to take a toll, a simple balance exercise for a few minutes daily can slow down the aging process, allow easier accomplishment of daily activities, building confidence in one's capacity to accomplish tasks.
Get on the path to improving your balance, preventing injuries, and feeling more confident in the movement required for daily activities. Should you have questions or simply want a professional assessment of your current balancing needs, please call A.C.T. By Deese for a free consultation (336-617-5304).