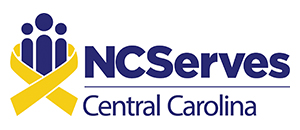 NCServes helps connect veterans and their families with the services they need
By Jason Schneider
They served and protected our country in times of peace and times of war. But many veterans find it difficult to connect with the benefits and services meant to serve and protect them.
That's where NCServes comes in.
"We cover just about anything that a veteran, active duty guard or reserve, family member, or a caregiver would need—and that's anything from employment to legal services, social enrichment, help with utilities … if you can think of a service or need that a veteran may have that they're struggling to get connected with, we can normally get them connected," says Paul Berry, programs and network director for NCServes Central Carolina.
Members of the NCServes Central Carolina team: Rebecca Swaim, Greensboro community coordinator; Paul Berry, programs and network director; and Rachel Taylor, Fayetteville community director.
Expanding coverage
A program of the USO of North Carolina and serving under the larger umbrella of America Serves and the Institute for Veterans and Military Families (IVMF), NCServes Central Carolina was created just over two years ago.
Starting in Raleigh and the Wake County area, it expanded to the Fayetteville area and was called NCServes RDU-Fayetteville. When Berry and several other new employees joined the organization last October, seven counties in the Triad were added and the name was changed to NCServes Central Carolina. The USO of North Carolina serves as its Coordination Center.
Now, says Berry, they cover from Raleigh to Fayetteville, through the Triad, and down through Lexington. "It's a pretty big area," he says. "We have 17 counties and approximately 274,000 veterans in those counties."
Understanding the veteran's point of view
Berry is himself a 30-year veteran of the Marine Corps. "I came across this job one year after I retired," he says. "I wasn't sure what I was going to do, but I had to do something serving fellow veterans."
While in the Marines, Berry traveled the world, going overseas 11 times. "I've seen all the good but I've also seen a lot of bad. I've seen an awful lot of suffering," he says. "I've been shoulder-to-shoulder with veterans of all services. I've been there when we've had to send them home, been there when they've been wounded. I just had to have something where I could honor and take care of them and their families."
Everyone on the NCServes Central Carolina team has military ties. Chris Brown, Raleigh community coordinator, is a veteran; Rebecca Swaim, Greensboro community coordinator, is a military spouse; Rachel Taylor, Fayetteville community director, is a military spouse; Kelly Willoughby, troop and family programs director, is the daughter of a career Army officer; and Margaret Clevenger, director of communications, USO of North Carolina, is the daughter of a retired soldier.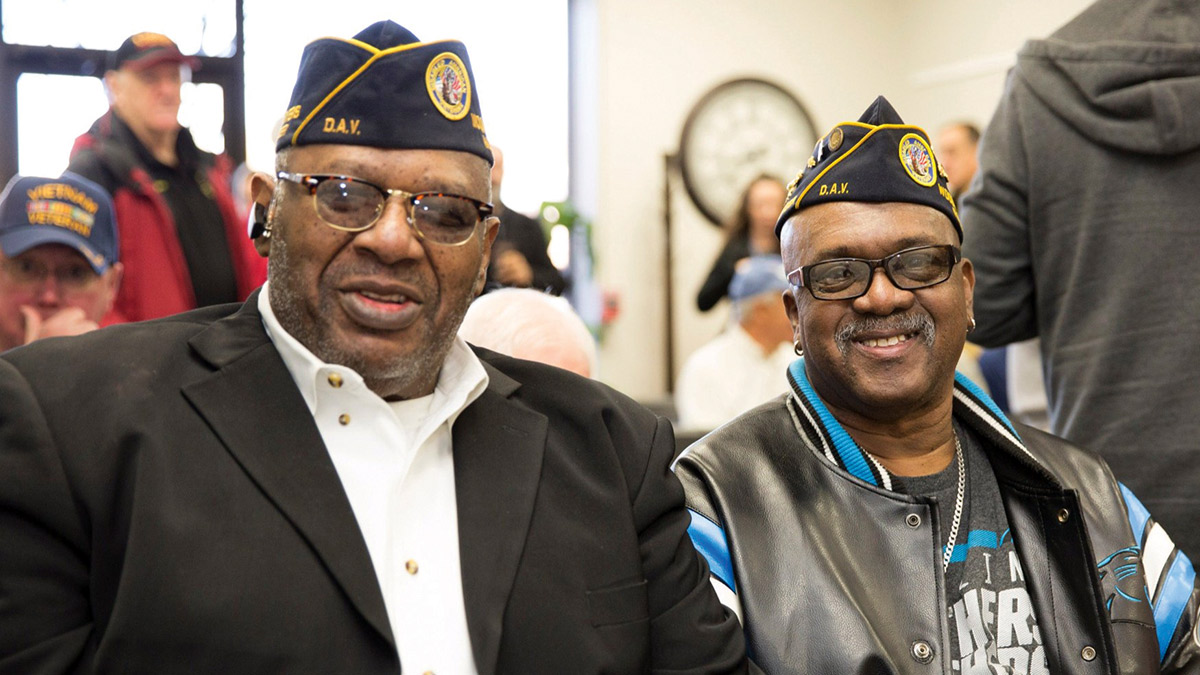 A resource when you need it
Berry says a lot of the requests NCServes gets are for immediate needs such as housing and employment. Often, veterans need help navigating the Veterans Administration or county or state agencies. Many veterans, particularly those age 65 and older, may not be aware of all the benefits to which they're entitled. NCServes can help with all of those things. In the past 27 months, they've helped more than 2,000 veterans with over 3,400 requests for services.
"This is a non-judgmental organization," says Berry. "We don't judge. We want to have a conversation with you, and maybe we don't need to help you right now … maybe we don't need to help you [at all], but I just want the awareness to say we can be a resource in the community. And I think trust and word of mouth is what makes this network work."
How it works
Once a veteran gets in touch with NCServes and makes a request, the organization gets basic information from the veteran. Then the community coordinator nearest them calls to get more detailed information. There are specific questions for each request; for example, if a veteran requests employment, those questions are different from those a veteran requesting counseling might be asked.
"That can take 10 minutes to upward of two hours, depending on the complexity," says Berry. "What we do is capture the true story and details … so that when we connect to these nonprofits (where veterans are referred for services), the provider has those detailed questions. It saves time; that provider doesn't have to keep calling that veteran and getting the story over and over again."
Once the veteran is connected to the nonprofit service provider, NCServes stays connected to both the veteran and the provider until the request is resolved, or they will open another referral if there's an additional need.
"The beauty is, once they're in this network, they're in for life, so they can come back six months from now or a year from now, and we do see that quite often," Berry says. "They might have an urgent need up front—they might need a job pretty quickly, so they'll take a part-time job or something quick, then they'll come back to us and maybe go through some resume writing workshops, job fairs, things like that. That's the depth and the width of the network."
If you're a veteran, service member, family member, or caregiver in need of services, get in touch with NCServes Central Carolina by calling 1-866-249-6656 or visiting raleigh.americaserves.org. Berry, programs and network director for NCServes Central Carolina, can be reached at 919-840-3000 or pberry@uso-nc.org.