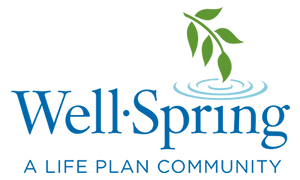 Well•Spring, a life plan community, has completed a $30 million addition of new amenities for its residents, ranging from a new performing arts theatre to a woodworking shop, as well as a fully redesigned main kitchen and a casual-dining bistro and special occasions room.
Well•Spring officially opened the resulting Resident Activity Center – featuring The Well•Spring Theatre and an auxiliary gallery for UNCG's Weatherspoon Art Museum – on January 31.
The opening of the second and final phase of the project – including the new kitchen, theatre and gallery, two art studios, a woodworking and hobby shop, and rehearsal space – marks the end of a seven-year plan to add to the offerings of Greensboro's premier community for older adults.
The entire project encompasses the completion of more than 53,000 square feet of new construction, plus the renovation of roughly 34,700 square feet of already existing space.
"Our residents are thrilled over the exciting new options we are providing them with this important addition," said K. Alan Tutterow, executive director. "These new spaces are very much in tune with what our residents and prospective new residents are looking for in a well-rounded, active, and rewarding lifestyle."
Tutterow said that not only do Well•Spring's new additions significantly enhance the resident experience, they also are a way to engage the greater Greensboro community, too.
"While these new amenities are, first and foremost, with our residents' best interests in mind, we also are planning for future generations of residents and what they expect for their lifestyle. And the theatre is our way of providing meaningful opportunities that the greater area can participate in, too," he said. "Greensboro doesn't have many venue options of this size and caliber. This theatre will simply offer arts and educational organizations — and, as a result, greater Greensboro citizens — a wonderful new option at which to hold some of their programming. In doing so, the theatre takes our longtime financial support of these groups to a new level, by growing our relationships into even more impactful partnerships."