Digital Restoration Services makes old photos and home movies better than new.
Photos and videos preserve the moments we want to remember. But those photos and home movies can begin to fade and deteriorate if not cared for properly.
That's where Brian Watkins and Digital Restoration Services in Greensboro, N.C., comes in.
"We restore ALL formats of tape, film, and photos to better than new, when possible—and it usually is," he says.
Saving memories. Photos and film that weren't stored properly can degrade, putting years of memories at risk.
"It's important to preserve and restore your old media, because film and tape deteriorates over time and modern technology can reverse the deterioration and can give you much more accurate color, lighting, and more audible sound as well," Watkins says.
The most common issues he encounters are with tapes that were not properly recorded or stored, or that have bad lighting.
"We have been spoiled by modern technology. It used to be much more expensive, difficult, and cumbersome to take video or audio footage," he says. "The first color home movie film was $16 in 1937 dollars—that's almost $200 now, for just over three minutes of footage."
Restoration and colorization. No job is too big or small for Watkins. Most commonly, he says, color correction is all that's needed for photographs.
"With [photo] film, what happens generally is the blue dye in the film, the pigment, actually deteriorates and fades away, so the image looks red," he says. "But if a picture is physically damaged, I can correct pictures that are stained or torn. I can remove blemishes from the picture itself."
In addition to restoring faded photos and movies, Watkins can also colorize black-and-white photos using modern techniques that make them much more realistic.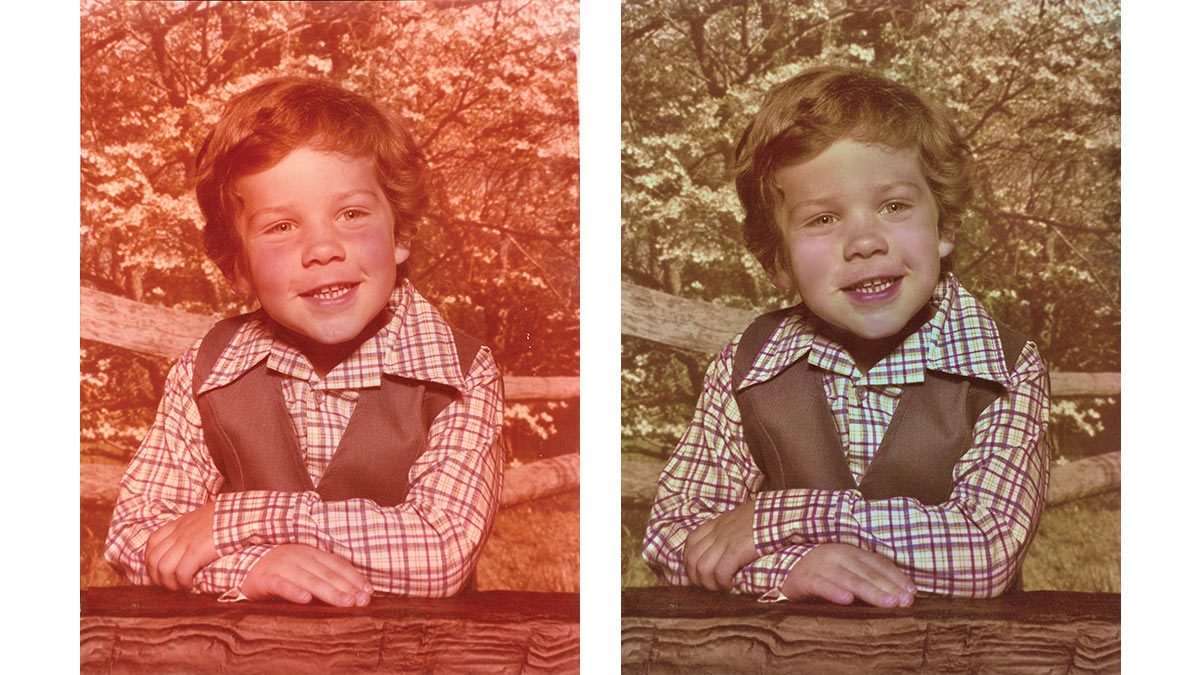 Make sharing easier. Depending on the project, turnaround time is usually less than a week. "Larger projects take more time," he adds. "I once scanned in and color- and lighting-corrected just over 4,000 35mm slides. It took nearly two months."
The most difficult project he's ever worked on, he says, was 35mm filmstrips (like those used in schools) with audio on a cassette tape that accompanies the film.
"This project had almost 500 photos to sync up with several hours of audio. The picture had to change at the sound of the tone, and you had to make sure that you didn't miss any audio tones or you would be out of sequence," he says. "On top of that, the film was deteriorating so badly it actually smelled like vinegar. This project took nearly a month to complete."
By having your cherished photographs and home movies restored and digitized, you'll be able to easily share them with other family members.
"The best thing about modern technology is you could bring me the largest box of old media you could think of, mixed with photos, old VHS tapes, and film, and I could put all of that on one single little flash drive about the size of a stick of gum," says Watkins.
The digital files can be viewed on a computer or smart TV, emailed, and uploaded to social media websites for sharing.
Visit digitalrestorationservices.com or call 336-508-7159 for more information.