The American Tobacco Trail offers a great place to enjoy the outdoors
By Jason Schneider
Warm weather, sunshine, balmy breezes … summer is a great time to be outdoors.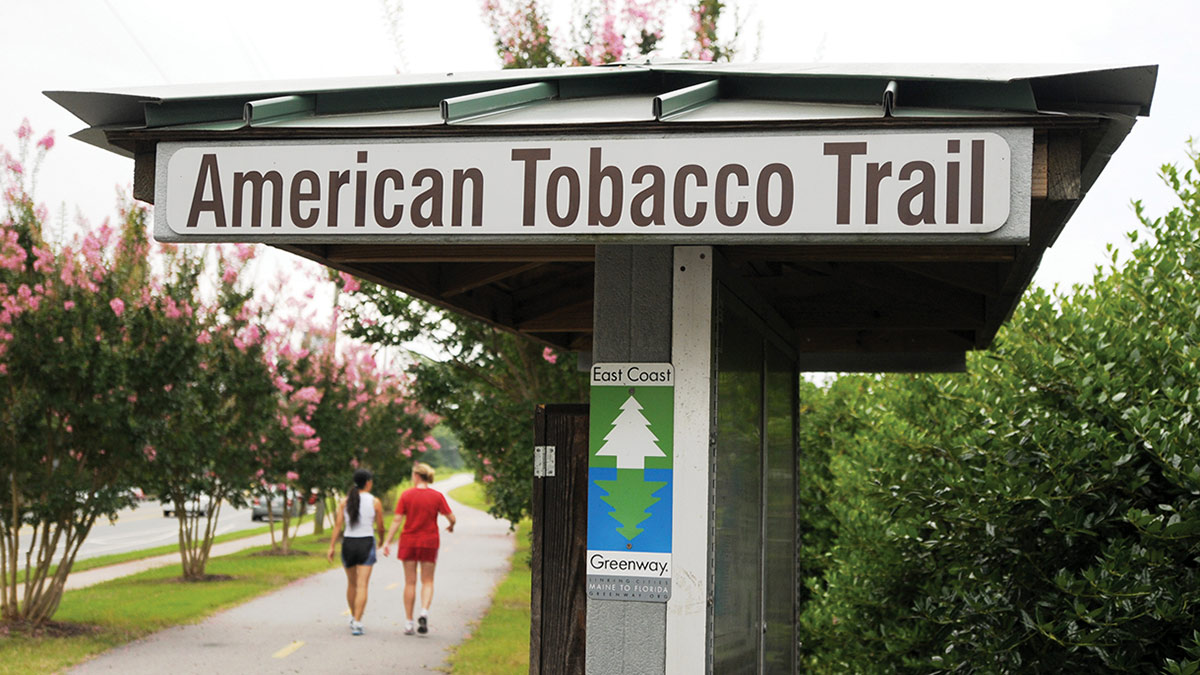 Photo: Bill Russ /DiscoverDurham.com

Whether you enjoy walking, bicycling, jogging—or even horseback riding—the American Tobacco Trail provides the perfect place to get moving and make the most of the season.
Winding for 23 miles through Durham, Chatham, and Wake counties, the American Tobacco Trail is a former railroad corridor, originally constructed in 1906, that once was used to bring tobacco from area farms to the American Tobacco Company in downtown Durham.
After a portion of the railroad was rerouted to higher ground for the construction of Jordan Lake in the early 1970s, railroad traffic dwindled, and in 1987 the tracks were removed. The site was used by local residents as an unofficial recreational trail.
Photo: Ted Richardson / VisitRaleigh.com

The nonprofit Triangle Rails to Trails Conservancy was founded in 1989 with the mission to preserve abandoned railroad corridors for recreational use. A master plan for the trail was completed in 1992, and in 1995, the N.C. Department of Transportation purchased the land from the railroad and leased it to Durham, Chatham, and Wake counties for development as a public recreational trail.
The first section of the trail opened in downtown Durham in 2001, followed by a 3.75-mile section in Wake County in 2003, expanding to 5.5 miles in 2005, with the final one-mile section opening in 2006. In 2010, the 4.7-mile section in Chatham County opened. A bridge over Interstate 40 was completed in 2014, extending the trail for 23 miles from downtown Durham to the New Hill Trailhead in Wake County.
A shared use trail for walking, running, jogging, hiking, bicycling, and equestrian use, the trail is open 8 a.m. until 30 minutes before sunset, seven days a week. It is closed on Thanksgiving Day, Christmas Eve, Christmas Day, and New Year's Day.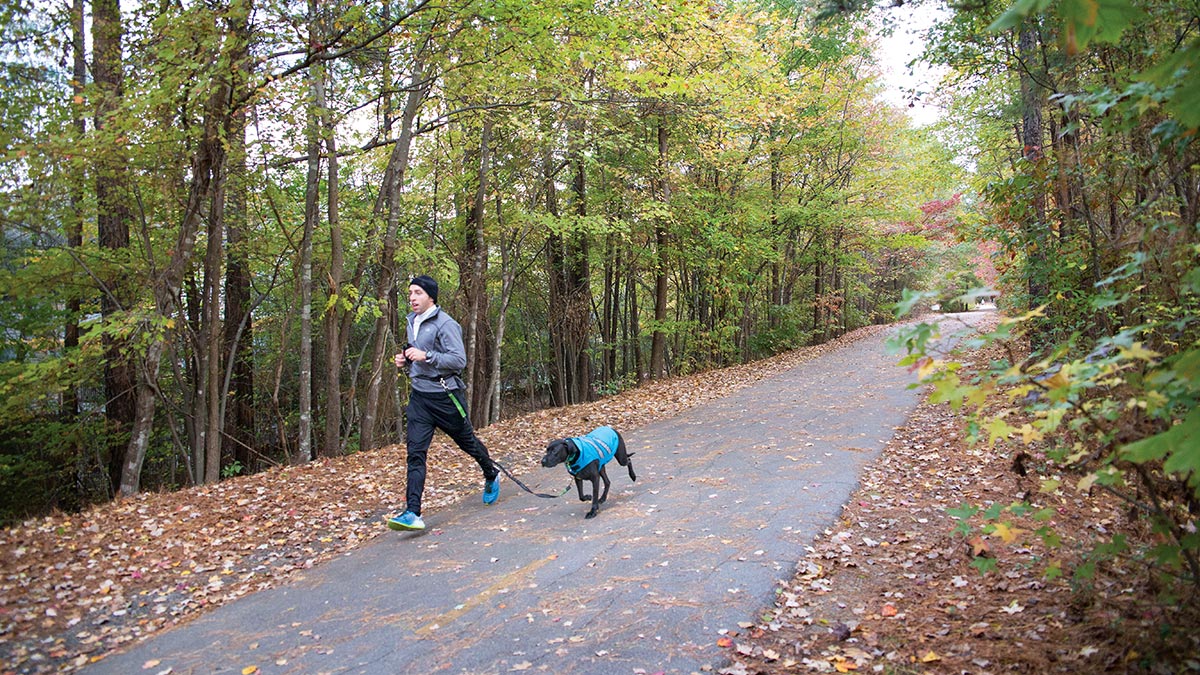 Photo: Chris Barron / DiscoverDurham.com

The Tobacco Road Marathon
Since 2010, the Tobacco Road Marathon and Half Marathon has taken place on more than 20 miles of the American Tobacco Trail. Runners from all over the world participate on this flat, fast course with a downhill finish.
The event is organized by volunteers, with 100 percent of the proceeds going to charity. The 2019 race marked a milestone, with $1 million in charitable giving to organizations such as the American Red Cross, Hope for the Warriors, JDRF, and Triangle Rails to Trails Conservancy.
The next Tobacco Road Marathon will be held on March 15, 2020. To learn more, visit toboaccoroadmarathon.com.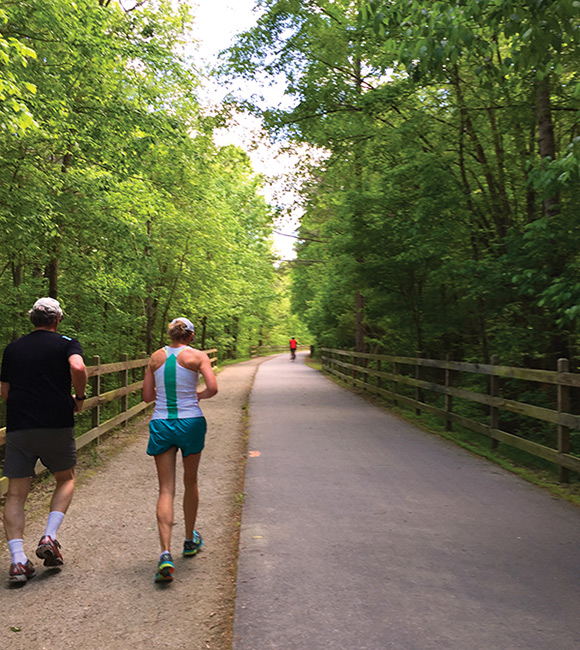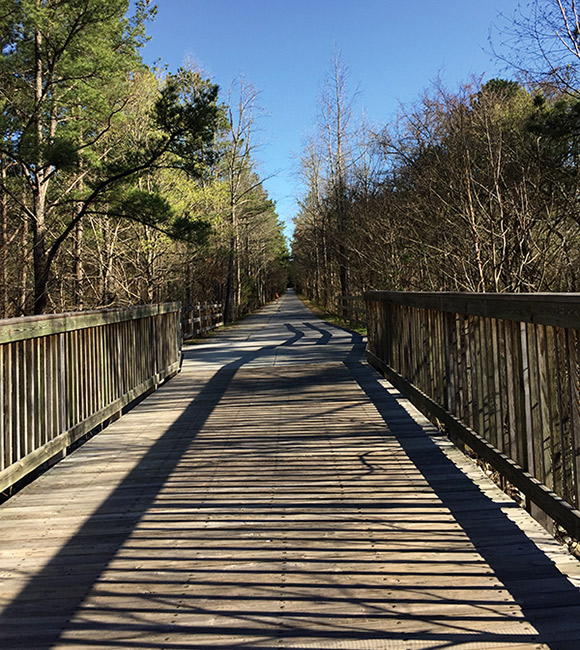 Photos: Neha Shah / VisitPittsboro.com
E-bike the Trail
Bicycling is one of the best ways to enjoy the outdoors. Riding at your own pace and taking in the fresh air is both relaxing and invigorating.
Electric bikes (also known as e-bikes) provide a unique experience, and Pedego Electric Bikes Triangle in Durham, N.C., offers a wide selection.
"Pedego has bikes for all levels of age and fitness from mountain bikes to trikes, from beach cruisers to fold-up bikes," says Don Tuttle, the store's owner. "Our 12 different models guarantee we can meet all the needs of the e-bike demographic."
The only electric bikes designed and engineered in the United States, Pedego Electric Bikes have brick-and-mortar stores with certified mechanics, and offer accessories (such as child carriers) and group rides. The bikes have 500-watt motors driven by a Panasonic or Samsung lithium ion battery, with ranges from 30-60 miles, says Tuttle.
"Our bikes are designed to meet the needs of our over-55 age demographic with an easy on/easy off experience, allowing those with knee and hip problems a great way to exercise at their levels, while enjoying the great outdoors," says Tuttle. "Most owners find that they ride our bikes far more than they would a standard bike, thereby exercising more but having fun while doing it."
Pedego electric bikes allow couples and families—and even larger groups—to be able to share an outdoor experience together, regardless of each individual's athletic ability.
"We offer individualized group outings, tours, team-building rides, destination ride (wine tastings, Durham Bulls day games, Duke baseball day games), as well as self-guided tours," says Tuttle. "We can customize group rides with picnic lunches or any combinations of above."
Photo: Ted Richardson / VisitRaleigh.com

Location and Parking
The American Tobacco Trail runs from downtown Durham, near the Durham Bulls Athletic Park, for just over 11 miles, through northeast Chatham County for nearly 5 miles, and ends with a 6.5-mile section in western Wake County at the New Hill Trailhead.
The trail, depending on the section, is asphalt, gravel, or a combination of both, and has several access locations for people on foot or bicycle. Parking is also available in Durham, Chatham, and Wake counties:
Durham County
Pittard Sears Road at Nickel Creek Circle, Durham, NC 27713
511 Scott King Road, Durham, NC 27713
Chatham County
2584 New Hope Church Road, Cary NC 27512
Pittard Sears Road, Chatham County, 27713
Wake County
1309 New Hill-Olive Chapel Hill Road, Apex, NC 27502
1017 Wimberly Road, Apex, NC 27502
1305 White Oak Church Road, Apex, NC 27523
More information
To learn more about the American Tobacco Trail, visit these websites:
Triangle Rails to Trails Conservancy
triangletrails.org/american-tobacco-trail
Discover Durham
discoverdurham.com
Pittsboro-Siler City Convention & Visitors Bureau
visitpittsboro.com
Visit Raleigh
visitraleigh.com