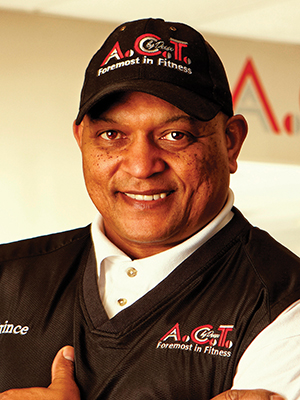 Prince Deese
Prince Deese, an All American Wrestler, a Hall of Fame Football Player, and a State Champion Body Builder, is a certified personal trainer and strength conditioning specialist. Prince Deese and Gina Deese own A.C.T. by Deese, a Fitness & Training Center in Greensboro, NC. Contact him at 336-617-5304.

The thought of the loss of youth tends to put many people in a slump. However, getting old does not have to be depressing.
There are many inspiring people in the world who become successful in their older years and become role models for people half their age. These people prove that it is never too late to leave a sedentary lifestyle and become healthy, happy, and active.
Lonnie Cathey. A.C.T. by Deese recently nominated one of its members, Veteran Lonnie Cathey, to receive the prestigious SilverSneakers Richard L. Swanson Award.
In May, Cathey was named one of the finalists for the award—only 10 people from a pool of tens of thousands of applicants nationwide are recognized with this award. What's more, he beat the remaining finalists to win first place.
Lonnie, now 70 years old, has arthritis in his left knee–but that doesn't stop him.
The retired IT manager says his journey towards wellness and fitness started during the mid-1990s when he was in the Navy Reserve.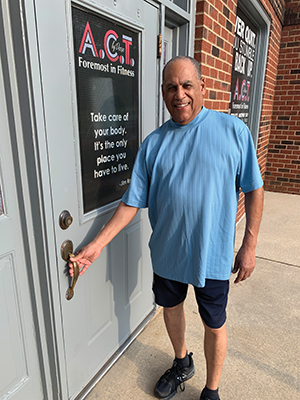 Lonnie Cathey
Then, in 2012, his doctors told him that he needed to lose 10 pounds or start taking diabetes medication.
That was when Lonnie realized that he needed to get his health back on track. He started running and participated in his first marathon. Later, he joined the A.C.T. Fitness Center after he met Gina Deese, the co-owner of the facility, while attending a ballroom dance class.
At age 67, Lonnie discovered the importance of core training, which offers multiple benefits including increased muscular strength, improved balance and coordination, ease of movement, fluidity, and a reduced risk of injury. Because of his core training, Lonnie is able to enjoy activities and travel with his wife, children, and grandchildren and participate in many activities.
"A lot of people don't like exercise, but I do now look forward to it every morning," says Lonnie.
He works-out six times a week. Often, his routine exercise regimen consists of 90 minutes of group aerobics, running, and weightlifting.
These days, he continues to take multiple classes at the ACT facility and is a role model and inspiration to others.
At 70 years old, the fit and healthy Lonnie is living proof that you can change your life for the better at any age.