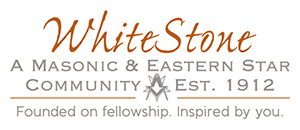 WhiteStone senior living community is undergoing a multimillion-dollar expansion, which will include 67 new independent living residences, each with an appealing floor plan. The community will also be adding new levels of living, offering 24 new assisted living residences and 12 memory care suites.
WhiteStone, located at 700 South Holden Road, was the first Life Plan Community in the state and proud to be a part of the growing Greensboro community for more than 107 years. Founded as a Masonic and Eastern Star Community, it now welcomes everyone who desires an active retirement lifestyle in Greensboro. Since 1912, thousands of seniors have enjoyed the on-site services and amenities, which include a fitness center, art studio and a variety of dining options. The groundbreaking on this new addition to the beautiful 42-acre campus is scheduled for winter 2020. This expansion is a response to the growing demand for senior living options in this area. Studies show that within six years, one in five North Carolinians will be 65 or older. WhiteStone Marketing Director Lorri Yaskiewicz said the expansion process is about responding to the needs of older adults and strengthening ties to the Greensboro community. "Today's active seniors are seeking amenities that complement the vibrant lives they're choosing to lead," remarked Yaskiewicz. "The expansion of WhiteStone will enhance the multitude of offerings that create unparalleled quality of life for current residents and the many who will soon move in."
To learn more visit www.LiveAtWhiteStone.org or call ​336-547-2947.