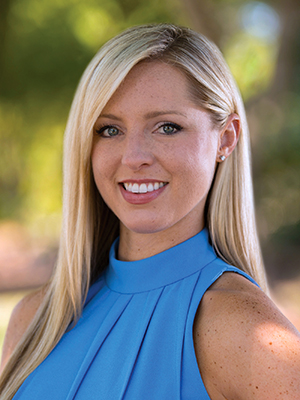 Courtney B. Hodges
Courtney B. Hodges, MBA, is the vice president of Marketing and Communications for the Association for Home & Hospice Care of North Carolina (AHHC). Contact her at 919-848-3450 or courtney@ahhcnc.org.

While you are looking forward to or are currently settling into the next chapter of your life known as retirement, you may discover that you have more time to donate to some of your favorite causes in the form of volunteering. Not only is volunteering one of the many ways we can give back to our communities, but it also serves as an opportunity to find human connection, spiritual growth, and purpose.
In previous articles, I've mentioned home care and home health. There is another aspect to healthcare at home—and that is hospice. While you've likely heard of hospice, perhaps volunteering for your local hospice hasn't crossed your mind. Hospice volunteers often connect with patients on a deep, personal level, which provides the hospice care team with valuable insights concerning the overall impact of the level of comfort and care that is provided. Other times, they assist with administrative duties in the office environment or volunteer at community events or fundraisers.
There are many tasks that hospice agencies depend upon the help of volunteers to carry out. These tasks can be divided into two types: direct care volunteering and indirect care volunteering.
Direct Care Volunteering
This type of volunteering applies to volunteers who work directly with patients, caregivers, and families. Some ways they provide direct assistance are:
Sitting with patients to provide companionship and a reassuring presence
Playing music for patients to provide a comforting atmosphere
Engaging in the patient's hobbies such as reading from the Bible or another favorite book, playing a board or card game, or discussing current events
Support caregivers and family members with respite care
Preparing meals for patients and families
Indirect Care Volunteering
Not every volunteer prefers to interact directly with patients, yet their time and effort can be put to great use in administrative and other duties such as:
Assisting in mailings and newsletters for community engagement
General data entry tasks
Helping to set up for community events
Tapping into your own strengths and talents from your career or past career
Making craft items such as lap blankets, cards, etc.
Greeting guests at inpatient hospice centers
Not only do volunteers make a difference for the patient and family members while contributing to their local hospice and community, but they also experience unforgettable moments of compassion and fulfillment. Volunteering offers the opportunity for socialization at events, in the office environment, and with like-minded individuals who are dedicated to helping others. Volunteering has been known to provide an enriched understanding of different cultures and life perspectives as well.
If you are interested in learning more about volunteering at your local hospice, please visit our free online directory at http://directory.ahhcnc.org/hospice and contact a hospice provider near you to learn more. Be sure to ask to speak to the volunteer coordinator.