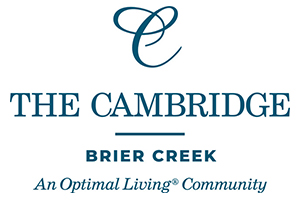 Kendall Oliver has announced the opening of a third Cambridge Village Optimal Living community in the Brier Creek area slated for Winter 2021.
The Cambridge Brier Creek is located on 13.5 acres at the corner of T.W. Alexander Drive and Brier Creek Parkway in northwest Raleigh.
The Brier Creek site was selected for its proximity to premier healthcare facilities and upscale shopping and dining options including WakeMed's Brier Creek Emergency Care Unit and Brier Creek Common offering retail, restaurants and a movie theater – all within walking distance for residents.
The Cambridge Brier Creek will include a 27,000 sq. ft. state-of-the-art Cambridge Fitness, with indoor heated pool, spa, steam room, a group exercise studio, and cardio/strength exercise equipment. Full-Time wellness staff will provide regular group exercise classes, personal training, and monthly health and wellness seminars. For more information visit www.TheCambridgeBrierCreek.com.