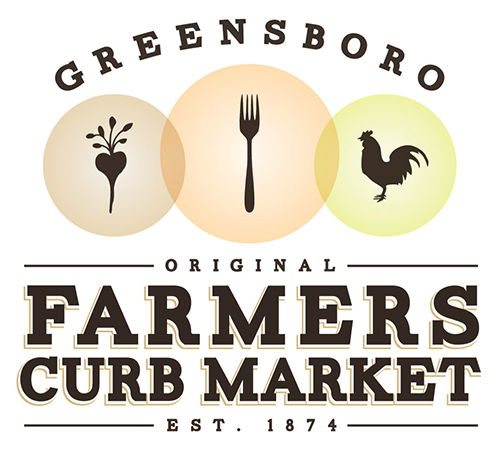 Greensboro Farmers Market, Inc Announces 2021 Hours and
Enhanced Preorder Distribution Curbside Walk-up Pick up
to Respond to Continued COVID-19 Pandemic Protocols
Greensboro, NC – 501 Yanceyville Street. The pandemic is changing the ways consumers shop for groceries. Shopping, even at the farmers market, often known for being a social outing along with obtaining fresh local goods, has become a quick shopping trip with a prepared list in hand. With customer and vendor feedback, the Greensboro Farmers Curb Market changed its winter hours (January 2 – April 24) to 8:00am – 11:00am (opening an hour later and closing an hour earlier).
Shopping the Farmers Market in 2021
The Market management team has implemented several safety protocols including one-way aisles, distanced vendors, distance signage, reduced capacity, increased airflow, and installed several hand sanitizer stations. Vendors can choose to vend inside or outside and pre-orders are available from many vendors for customers who want to shorten their trips inside the Market. In addition, customers can pre-order and request outside walk-up pick up.
Pre-Orders Make Shopping Quick and Easy
Customers can preorder from many Curb Market vendors in person or through the Market's pick-up site at the Market. The Market upfitted a previous storage area to accommodate outside walk-up orders. Shoppers who want to pick up on January 2nd are encouraged to place orders by Wednesday, December 30, and note the vendor's online store closing times.
This enhanced distribution approach to preorders will help limit contact, reduce shopping time, and help vendors distribute their products during this difficult time. Nearly two dozen vendors offer pre-orders for organic and sustainably grown produce, pasture-raised meats, seafood, eggs, dairy, honey, and a variety of goods from body care items to CBD lotions and laundry soap.
Vendors currently participating in pre-orders
(please sign up for our newsletter at www.GSOfarmersmarket.org for weekly updates, as the list is subject to change):
Anders Family Farm, Babycakes Sweets, Birch Fork Farm, Cookie Gurlie, Cornerstone Garlic Farm, Fibernacci Press, Goat Lady Dairy, Massey Creek Farm, Mimi's Soaps, Mindenhill Farm, NC Fresh Seafood, Pine Trough Branch (PTB) Farm, Rivers Finest, Smith Century Farm, Sugar Hill Produce, Sunset Market Garden, Tea Hugger, The Farmhouse, and Weatherhand Farm.
Additional vendors may be added in the upcoming weeks.
Pre-order items available include (subject to change, check websites/vendors offerings for updates):
Meats and Protein:
Pasture-raised beef cuts and bones, pork, dairy, eggs, shrimp and NC seafood, lamb and goat meats
Dairy:
Goat cheese, ice cream, milk, and raw milk, kefir, and yogurt (not for human consumption)
Baked Goods and Shelf-Stable Items:
Apple butter, assorted tea varieties, gourmet cookies, honey, jams, jellies, muffins, pickled items, pound cake, sourdough, spice blends, tomato butter
Non-Food Items:
Plants, artisan soaps, bath salts, body care products, candles, CBD products, handmade flower arrangements, handmade papers, natural hand sanitizer, natural insect repellent
While the longstanding tradition of shopping face-to-face at the Market has changed due to the COVID-19 pandemic, the farmers and vendors need the community's continued support. Many of our farmers do not have additional outlets and other traditional distribution channels have changed, dried up, or shrunk due to the pandemic. The Market is dedicated to finding additional ways to keep connecting customers to farmers.
About the Market
Greensboro Farmers Market, Inc. (GFM), a 501(c)3 community nonprofit organization, operates the Greensboro Farmers Curb Market on behalf of the City of Greensboro. GFM encourages and supports the growth of local foods and artisan goods businesses to improve greater Greensboro's economy, support better health through healthy eating to connect farmers, food, and friends.
The Greensboro Farmers Curb Market, 501 Yanceyville Street, is located at the corner of Lindsey Street and Yanceyville Street across from the War Memorial Stadium and operates year-round on Saturdays 8:00am to 11:00am (January 2 – April 24). The Market is an indoor/outdoor facility with free admission, WiFi, and plenty of free parking. Visit www.GSOfarmersmarket.org for more information.