Wake Forest Baptist AirCare:  35 Years of Critical Care in the Air
WINSTON-SALEM, N.C. – May 10, 2021 – This week, AirCare – the air ambulance program of Wake Forest Baptist Health – is celebrating 35 years of treating and transporting critically ill and injured patients.
Since its first flight in May 1986, AirCare has grown from one helicopter to three helicopters and also includes four critical care ground ambulances that transport individuals across North Carolina, Virginia, West Virginia, Tennessee, and South Carolina.
Throughout the past year, AirCare and these critical care ambulances, based at Wake Forest Baptist and affiliated hospitals, have collectively transported approximately 1,600 COVID-19 patients and patients suspected to have COVID-19, in addition to maintaining its numerous non-COVID related emergencies.
"From the start of the pandemic, the men and women of AirCare have never wavered and stayed committed to providing transportation for COVID-19 patients," said Billy Haynes, Wake Forest Baptist's AirCare program manager. "A lot of additional time and effort goes into transferring individuals that have been confirmed to have or are suspected to have COVID-19. This includes additional time spent putting on personal protective equipment before transport and extra time cleaning and disinfecting helicopters, ambulances and equipment once the patient has been safely delivered. These crews have been so responsive and as always, the AirCare team really stepped up to provide outstanding care for patients across our large service area."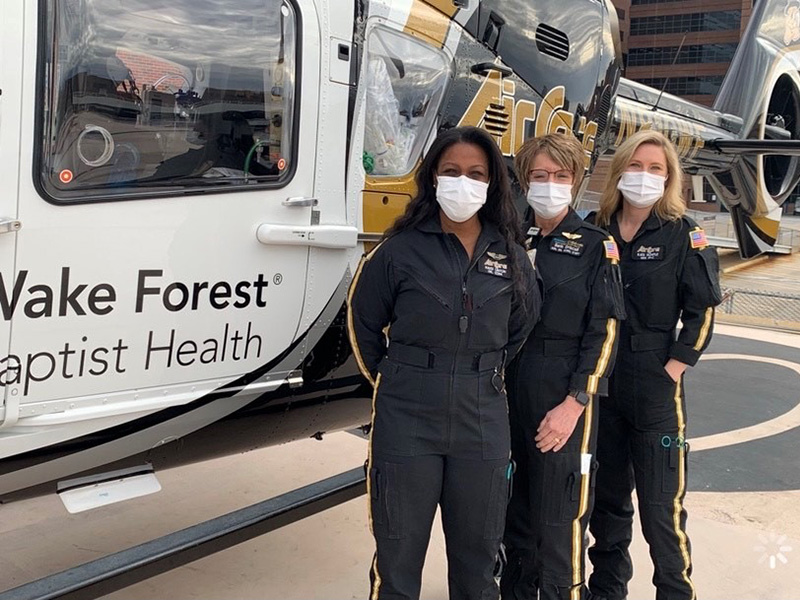 The AirCare helicopter crew – comprised of a pilot, a Wake Forest Baptist paramedic and flight nurse – transports adult and pediatric patients with a variety of conditions, including trauma, cardiac, stroke and burns. Wake Forest Baptist is home to the only Level 1 trauma center in the region, one of only two burn centers in the state and one of only three Level 1 pediatric trauma centers in the state.
The fleet of three helicopters are strategically located throughout the region to ensure swift and methodical access and transportation. AirCare 1 is based at Davidson County Airport in Lexington, AirCare 2 is stationed at Wilkes County Airport in North Wilkesboro and AirCare 3 is housed at Blue Ridge Regional Airport in Martinsville, Virginia.
In 2018, Wake Forest Baptist updated its helicopter fleet with three new aircraft. Each helicopter is a twin-engine Airbus H135 which provides increased speed and the ability to carry more weight and fly using instrument flight rules, which allows flights more options in adverse weather conditions.
"AirCare crews can experience some really stressful situations but they remain steadfast in providing high-quality care, safety and compassion," Haynes said. "With our three different aircraft locations, we're able to respond quickly to emergencies such as car accidents, heart attacks and strokes and give these patients the best care possible while rapidly transporting them. We also provide emergency transport from other hospitals in the region for those who urgently need the specialized care available here at Wake Forest Baptist."
AirCare responds to calls from first responders and hospitals 24/7. The helicopter is in the air within 10 minutes of receiving a call and the crew is in direct radio contact with EMS personnel at the scene or the physician at the referring hospital. The crew treats patients at the scene and usually is back in the air within 10 minutes and communicating with physicians in the emergency department at Wake Forest Baptist Medical Center.
Over the past 35 years, AirCare has transported approximately 26,000 patients, including Melissa Minton.
In May 1990, Minton, a Roaring River, N.C. resident, then 20, was in a head-on collision in Alexander County when the driver of another car fell asleep and collided into her. Minton was transported via AirCare to Wake Forest Baptist Medical Center where she stayed in the ICU for five weeks and was hospitalized for a total of two months.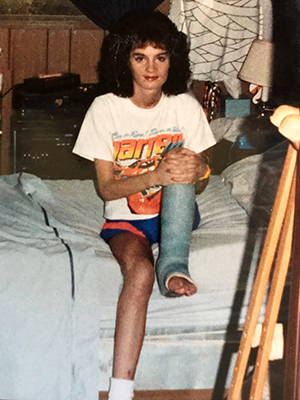 "If my accident had happened four years and one month earlier, there is no chance that I would have survived, because there was no AirCare," said Minton, now 51. "I am absolutely here today because of the quick and great care that AirCare provided to me in the sky and the additional care I received for the following months at Wake Forest Baptist. These days, I live not far from the AirCare base in Wilkes County and every time I hear that helicopter, it takes me back and I'm reminded just how blessed I was and am."
Wake Forest Baptist partners with Metro Aviation, Inc. of Shreveport, Louisiana, one of the nation's largest providers of medical transport helicopters and related aviation services, to operate and maintain the helicopters, and provide the pilots and mechanics.
AirCare is part of an EMS network serving patients in North Carolina, Virginia, West Virginia, Tennessee, and South Carolina and includes air (helicopter) and ground ambulances stationed in strategic locations to provide fast, safe transportation for critically ill and injured patients.