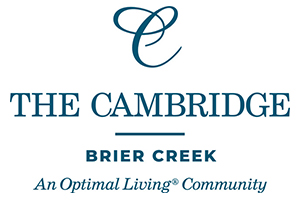 The Cambridge at Brier Creek:  Grand Opening!
The Cambridge at Brier Creek held its Grand Opening with a ribbon-cutting and celebration on Friday May 6th, 2022. The invitation-only event featured great food, drinks, and live entertainment by The Nigel Experience. Private Tours were provided as this spectacular community was unveiled to the public. Cambridge at Brier Creek is the embodiment of luxurious living for active adults in the Triangle. Their luxury apartments have every convenience and amenity from spacious quarters, modern fixtures and appliances, and more. Walking into The Cambridge at Brier Creek feels like going on vacation. The modern lobby with a soaring, high ceilings conveys a resort ambiance that flows throughout the property. Neutral colors convey a calm, relaxing vibe, and it is the perfect place to relax and catch up with friends.
This picture of upscale living is only part of what makes The Cambridge at Brier Creek special. The community has a movie theater, library, restaurant and pub, along with other amenities. Luxury extends to the exterior with outdoor seating, dining, and fire pits.