Yoga will change your life – That is one of the few points that seemingly all those who either teach, preach or practice the art of Yoga … agree upon. Yoga can be hard to define since it includes elements of Mind, Body, and Soul and it means different things to different people.
One of the wonderful things about the "retirement years" is that you find you have the time to explore the things you've always wanted to explore but also, perhaps, take up hobbies or activities that are a bit daunting or mysterious.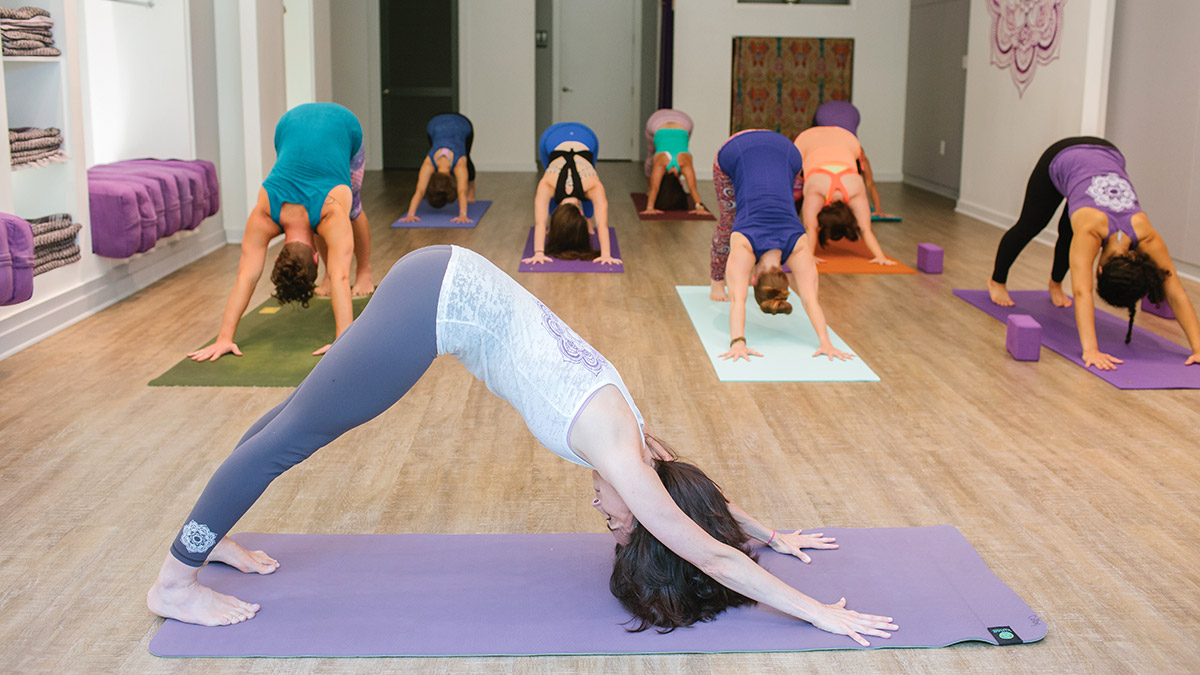 Colby Cooper, leading a class at her studio, Bliss Body Yoga, in Raleigh, wanted an inclusive space that caters to those in all phases of life.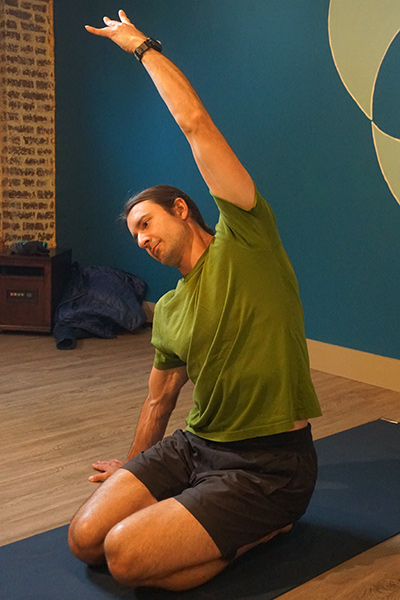 Yoga might fall into that category. For some, Yoga might seem like the domain of the "tweny-somethings" with the ponytail and a zen-stylish yoga mat tucked under her arm. And, indeed, it is. What may be surprising, however, is that Yoga may be more meaningful and beneficial to those that are a bit beyond, or even well beyond, middle age than it is for the younger crowd.
Chris King at High Point's Sportscenter Athletic Club calls it an elixir for "Stress, Balance, Strength, and Flexibility." Let's face it, everyone has stress in their lives, but when it comes to the other three … Balance, Strength, and Flexibility … those are the kryptonite of aging.
What exactly is Yoga? That question has many different answers. Howie Shareff puts it this way:  "Yoga is mindful movement connected to breathing. Breathing is the currency of the Yoga practice. How one breathes can influence blood pressure, activate or calm the nervous system, and enhance cognitive capacity. These processes are the foundation. The physical part is integrating this awareness in how we stand, walk, and sit."
Shareff speaks from experience. Shareff owns You Call This Yoga in Raleigh. A dentist by trade, he has played a lot of sports over his lifetime and added Yoga to his regime in the 1990's. Later on, when it came time to scale back his dental practice, he learned more about Yoga's many facets and that evolved into his becoming a "missionary" of sorts for Yoga. Soon he found he had a business, and in 2010 he established his Yoga business as a non-profit focusing on veterans, people touched by cancer, and seniors.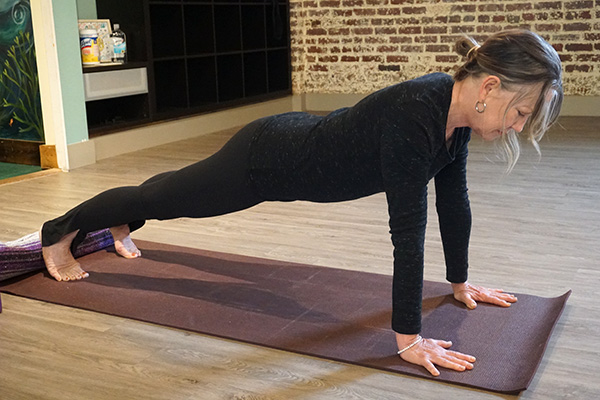 Patti Melton retired last year and decided to sign up for the 12-week challenge.
Patti Melton doesn't fall into any of those groups, but she has a story of her own. Retired last year she had, over the years, eyed the sign for The Breathing Room across the street from a favorite restaurant, and it occurred to her that she just might like to get back to Yoga "one of these days." Having dipped in and out of Yoga for much of the past 20 years, she is a self proclaimed "perpetual novice." In retirement, she decided "one of these days" was "now", and she enrolled for a 12-week challenge program. "My philosophy has been that, as I get older, I want to be able to enjoy life. I want to be more flexible and be able to walk the dog, move furniture around … and the more I 'move' then the better off I am," says Melton.
The practice of yoga is increasingly attractive to older, active adults who are focusing on overall well-being. Yoga lives by three tenets:  postures, meditation, and breathing that, done regularly, result in physical benefits such as greater flexibility and balance, along with building muscle tone, and better sleep patterns. Yoga offers a way to stay healthy and strong without the joint stress associated with running or other sports.
As Melton puts it, "Yoga for me is being able to focus on myself. I really enjoy the basic elements of Yoga. Body alignment, stretching, balance, and trying to keep focus … that's why I enjoy it so much. Yoga is a reset … I can reset my body and mind."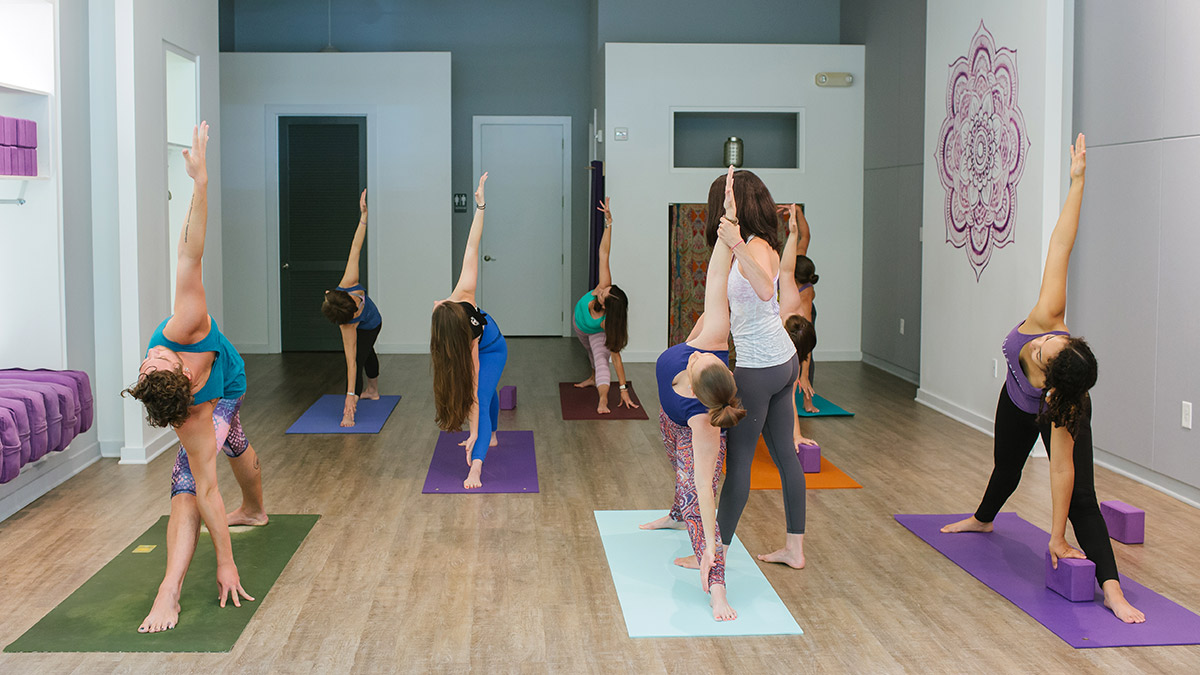 Colby Cooper, a ballet dancer through college, came to Yoga shortly thereafter. About 10 years ago she moved to Raleigh and got the inspiration to open her own studio, Bliss Body Yoga in 2013 where she actively instructs and manages a staff of 16 instructors. She wanted an inclusive space that would cater to all phases of life from pre-natal to those in the senior crowd.
According to Cooper, "Yoga is about the union of mind and body. Balance and flexibility are more challenging to maintain as we age." Yoga helps address balance and flexibility even for those that are very active. "Yoga should be in the mix to provide a good balance of strength and flexibility in conjunction with other activities which might be taxing on the body. Yoga can be the antedote to the more rigorous activities. Yoga can provide some balance to help make sure the proper stretching is done before the activity."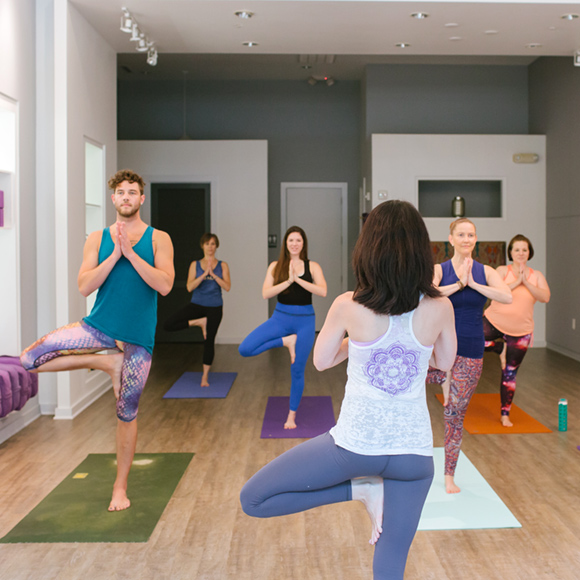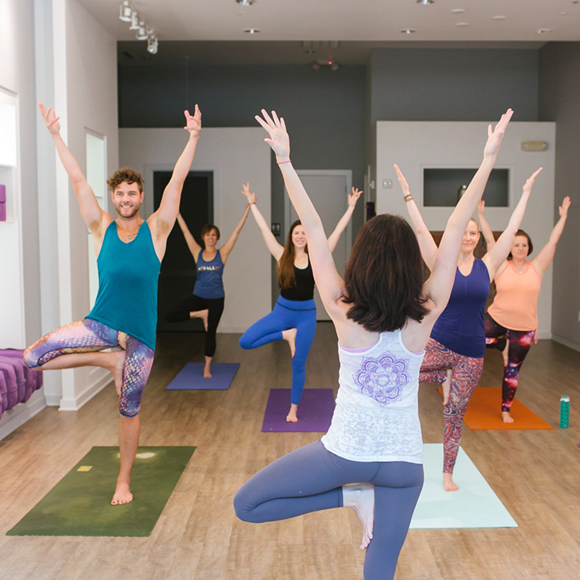 How does one get started with yoga? According to Cooper, "Yoga is accessible … it has an entry point whereby anyone can ease into it. Instructors teach a variety of approaches to yoga, with different poses (asanas) that can easily be modified or adapted to suit individual needs. People are often surprised to find out that there are eight types of yoga that range from easy with a concentration on breathing, to more physically challenging types of yoga. Finding the right style of yoga will take some time but the rewards are worth the work, and the results are lasting. Once people start, because it makes them feel good, it translates into other healthy aspects of living like drinking more water, eating well, and getting more exercise."
That's part of what drives Howie Shareff to continue his efforts as a Yoga missionary. You Call This Yoga, with their 10-12 instructors, has most recently taken Yoga to seniors through the Meal on Wheels Program in Wake County. His goal is to bring Yoga to individuals that might not otherwise be exposed to Yoga.
Where to Find Yoga
Finding Yoga classes is very easy. There are numerous studios in most every city and town in central North Carolina. The practice is so popular that many resorts, hotels, and vacation destinations offer yoga as part of the amenities package (yoga on the beach, on stand up paddle-boards, and more), as well as most active adult and independent living communities. Here are three outlets for Yoga Classes that are mentioned in this article.
Bliss Body Yoga
4035 Lake Boone Trail #111, Raleigh
919-480-2887
Offers over 40 classes a week with a Beginners' Series priced at $110 for 6 classes and an Intro Offer for new students of $40 for 3 classes. Monthly memberships run $110/month for unlimited classes. Students are encouraged to take classes and participate at their own pace so the activity remains fun and enjoyable.
Sportscenter Athletic Club
3811 Samet Dr, High Point
336-841-0100
Sportscenter Athletic Club offers a limited number of classes but you can't beat the cost which is $0 as its included with your membership.
The Breathing Room
918 Bridge St NW, Winston-Salem
336-608-6698
Offers a 12-week Challenge including unlimited Yoga Classes for $347 and packages that include 12 Yoga Classes for $200. Retirees get an across-the-board discount of 15%.