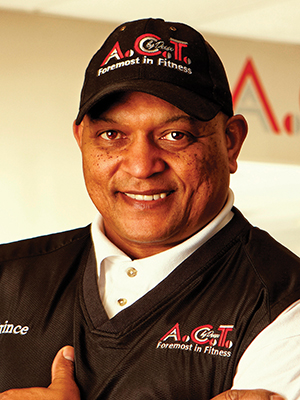 Prince Deese
Prince Deese, an All American Wrestler, a Hall of Fame Football Player, and a State Champion Body Builder, is a certified personal trainer and strength conditioning specialist. Prince Deese and Gina Deese own A.C.T. by Deese, a Fitness & Training Center in Greensboro, NC. Contact him at 336-617-5304.
"Age is just a number" might be a common saying, but why is it that age becomes a barrier when it comes to exercising and lifting weights? Well, it shouldn't.
As we age, our body starts losing its integrity. When you exercise, such problems may be reduced and improve quality of life. However, a personal trainer should assist to address safety and proper form. Because everyone is different and has a different set of problems, training techniques can vary dependent on the individual's needs.
Regular training and exercise have many benefits that help seniors remain independent. It's important for seniors to exercise consistently, set logical targets, and eat a nutrient-rich, balanced diet. Learning the proper foods for nutrition may allow for less calories so the body regulates a healthy weight with better habits.
It is a common discussion regarding suitable exercises and training for senior adults. This thought restricts seniors from certain training and implies that most of the workouts we are familiar with are inappropriate for elderly individuals. This entire dialogue is false.
Seniors are not limited to anything; as was implied earlier, "age is just a number."
Training programs for seniors should not be designed according to their age but rather according to their ability and capacity.
Physical trainers can help improve the physical capacity of seniors and recommend a workout that can help seniors achieve their goals of improving balance, strength, stability, and flexibility.
Moreover, a personal trainer will guide which equipment to use at the gym and the right way to use it while maintaining the right form.
A personal trainer will assess and teach exactly what to do and the right way to do it.
In addition, fitness development for senior citizens requires a lot of motivation, especially for those individuals who have not previously made fitness a priority. Seniors get easily demotivated when they face mobility and flexibility issues. Due to their lack of strength and balance, they get easily discouraged and believe that exercising and training are dangerous as they are too old.
And this is the most important role of a senior fitness personal trainer as they constantly motivate you, reassure you, and help you gain confidence, and that alone has its own set of advantages apart from physical fitness.
Hiring a personal trainer can assist elders in maintaining good health and physical fitness, as well as a positive psychological state.