Ameriprise / Richardson Private Wealth Advisors: Living Well Today and Tomorrow Webinar
September 25 @ 3:00 pm

-

4:00 pm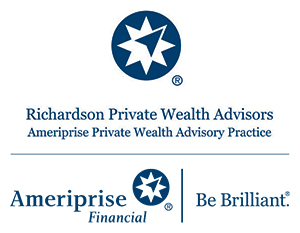 Living Well Today and Tomorrow
Presented By: James M. Richardson, CFP® ChFC®, Private Wealth Advisor, CERTIFIED FINANCIAL PLANNER™ practitioner, Private Wealth Advisor – Richardson Private Wealth Advisors
Hosted By: Richardson Private Wealth Advisors, A private wealth advisory practice of Ameriprise Financial, Inc.
Actionable strategies and an exploration of options for your portfolio
During this complimentary seminar, you'll learn actionable strategies that can help you:
Look at ways to make the most of your income. For example, we'll discuss how to maximize your workplace benefits.
Live the life you want today — and in the future — by understanding the basics of developing a smart investment plan.
Maintain financial balance by being prepared for risks and unexpected events; we'll outline what types of insurance may make sense for you.
Create a meaningful legacy today. For example, we'll identify the most important documents you should have in order.
To reserve a spot: email us at bishana.shipp@ampf.com or make your reservations online.