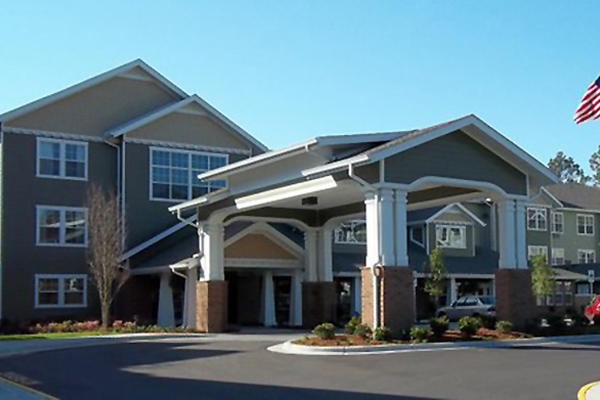 Southern Pines Gracious Retirement Living
Southern Pines Gracious Retirement Living is a Retirement Community offering Independent Living in Southern Pines, NC.
Gallery

Community Information
We believe that Southern Pines Gracious Retirement Living is so much more than walls and windows – it's a place to enjoy home-cooked meals, game night, or a quiet evening with family and friends. It's where you always feel comfortable, safe and secure.
At Southern Pines our management teams live on-site, and are available 24 hours a day. Our food is truly made from scratch, and served right to your table along with a smile from our friendly staff.
Enjoy the convenience of our comfortable bus for scheduled appointments, shopping trips and other errands. We also regularly plan special excursions to cultural events, day trips, museums, and other places of interest. If you'd rather stay home, the choice is yours. It's easy to be as private or as social as you wish; Southern Pines features beautiful common areas and there's always a variety of planned activities and a chance to socialize with friends and neighbors every day.
Features:
Studio, one, and two-bedroom apartments
Caring Live-in Managers available 24/7
3 Chef Prepared Meals Served Daily
Scheduled Local Transportation
Fun Events and Outings
Weekly Housekeeping and linen service
Emergency pull cords in each room
Fully Equipped Resistance Training Room
State of the Art Movie Theater
24/7 Soft Served Ice Cream
All Utilities Paid (except telephone)
No buy in fees or leases
Articles
Mary Ann
Just about one hour's drive to the south of the Triangle is a gem known as the Pinehurst/Southern Pines area. It's known for its great golf courses, but its reputation as a retirement destination continues to grow. While the central region of North Carolina known as the Sandhills had been settled by Highland Scots since the early 1700s, the area was at first slow to develop. [...]
Events
There are no upcoming events to display at this time.