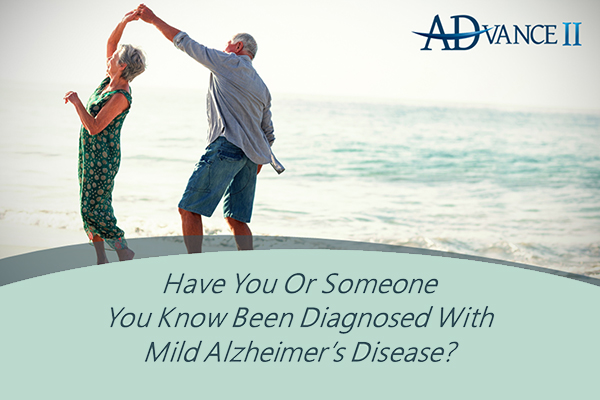 ADvance II
Have you or someone you know been diagnosed with Mild Alzheimer's Disease? ADvance II Study is researching a different approach for Mild Alzheimer's Disease using a neurosurgical procedure called Deep Brain Stimulation (DBS).
Gallery

Clinical Trials
All new drugs and many new devices come to market only after having been tested on a segment of the population through a process called a clinical trial. Clinical Trials are the program by which new drugs and devices are tested and evaluated to see if they truly are effective in treating patients.
There are benefits to participating in Clinical Trials! Aside from the fact that your participation in a clinical trial plays an important role in advancing scientific knowledge and helping bring successful treatments to market there are direct advantages to you. As a participant you may have access to promising drugs or devices before they are available to the general public.
Typically, you also will receive free healthcare during the trial and may give you the feeling of taking a more active role in your own health. You also will receive monitoring for the duration of the trial which will identify any side effects while monitoring your overall health.
Participating in clinical trials is good for your community and … good for you!
ADvance II Study Using Electrical Stimulation for Alzheimer's Disease
The ADvance Study is researching the use of a surgically implanted device that delivers mild electrical pulses to specific areas of the brain in people with Alzheimer's. This deep brain stimulation (known as DBS) will be given to the fornix, a place in the brain that plays a central role in memory. Based on results of a study of 42 patients with Alzheimer's, the ADvance II study is designed to determine if DBS of the fornix (DBS-f) is safe and has potential clinical benefit for patients with mild Alzheimer's.
The study will involve about 210 subjects 65+ years of age that have been diagnosed with mild Alzheimer's disease. The study is being conducted at sites in the U.S., Canada and Europe. The neurosurgeons participating in this study have extensive experience with DBS surgery. All subjects in the study will have a DBS-f system implanted, with the stimulation device turned on for two-thirds of the subjects and off for one-third. For those with the device left off at the start of the study, they will have it turned on after 12 months. All study participants will be regularly assessed for at least 48 months to measure their rate of Alzheimer's progression. The DBS-f system or certain components of the system are likely to remain in the body of study participants for the rest of their lives.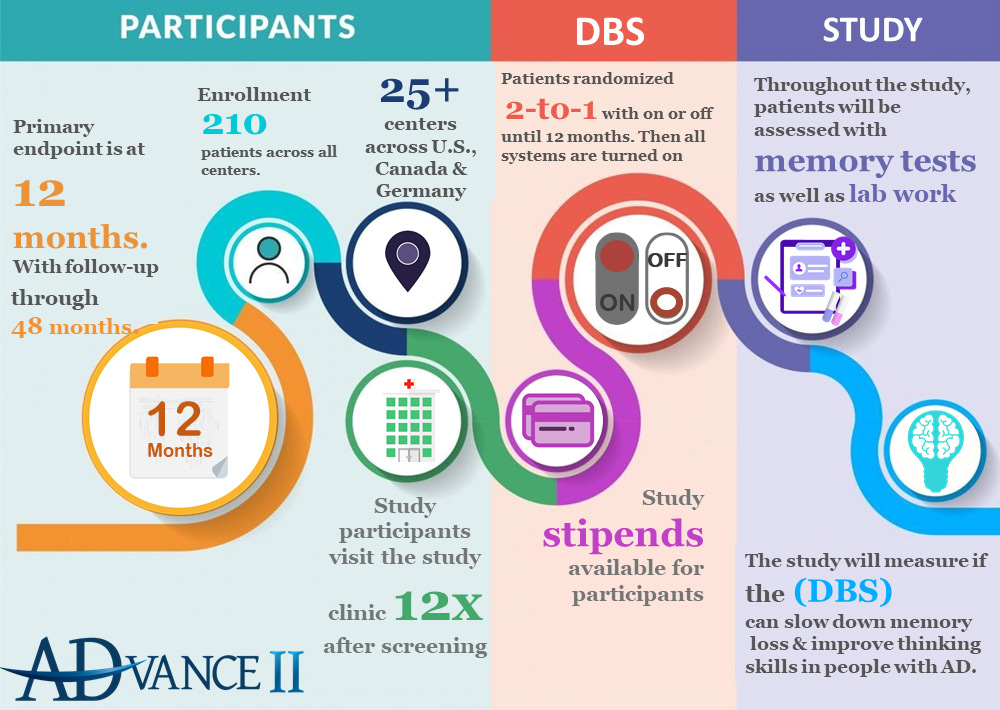 Articles