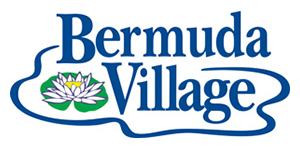 A joie de vivre is evident in the residents of Bermuda Village. Some say it's because of the social activities and special events which here abound. Others insist it's the health and wellness programs that keep life spinning, and don't discount the dining opportunities, both fine and casual, which residents enjoy. Actually it's all of these and more that make living at Bermuda Village the sine qua non of retirement living.
First, consider the social activities and special events like Murder Mystery Night, Beach Bash and Octoberfest. Holidays and seasonal parties offer frequent reasons to celebrate, drawing large festive crowds, while gatherings in Bermuda Village's newly remodeled pub discuss the world situation over a friendly potion. Frequent excursions to sports and cultural events in Winston-Salem, home of the first arts council in America, add to the marvelous variety.
However, it's the health and wellness of its residents that form an important part of the daily regimen for many in Bermuda Village. Lifefit-related facilities include: heated indoor pool open year round, exercise equipment room, steam and sauna rooms, hot tub, locker/dressing rooms with private showers, croquet and bocce courts, outdoor putting green, shuffleboard court, billiards and ping pong, Wii fitness equipment and games. Tournaments and mixers are routinely scheduled for residents. There are health and wellness lectures, relaxation seminars, walking outings, and brain games. Pilates, water-walking and balance classes are also offered with a certified personal trainer, also on site, who provides personalized one-on-one workouts at no additional cost. The annual indoor putting tournament remains a favorite of residents.
Both fine and casual dining are available in the main clubhouse at Bermuda Village as well as delivered take-outs. Private dining space is available for small parties, catered by one of the Village's professional chefs. Two Bermuda Run Country Club dining venues, located within the gated community, offer additional dining opportunities.
Whether you prefer to continue with an independent lifestyle, need occasional assistance with daily activities or require nursing care, Bermuda Village has it all.
Prospective residents who visit Bermuda Village are often surprised and pleased to learn of the community's affordability and selection.
As you, a loved one or a friend approach retirement and discover the many different retirement and health care options available, there is a challenge to continue the lifestyle to which you are accustomed with the added benefit of flexibility, security and peace of mind, all priceless commodities.
Retirement is often portrayed as the act of slowing down or stepping back. At Bermuda Village, it does not have to be that way. Look ahead and plan for your future and let Bermuda Village help in making it the best that it can be.
Please contact Shirley Moyer at 336-998-6112 with any questions or to arrange for a tour. You can also visit us at www.bermudavillage.net.