Current Issue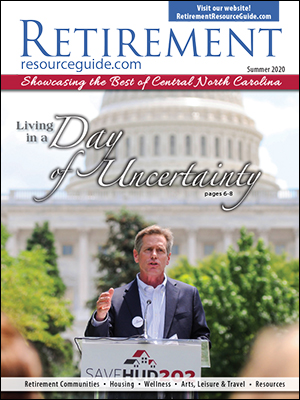 Get our Newsletter!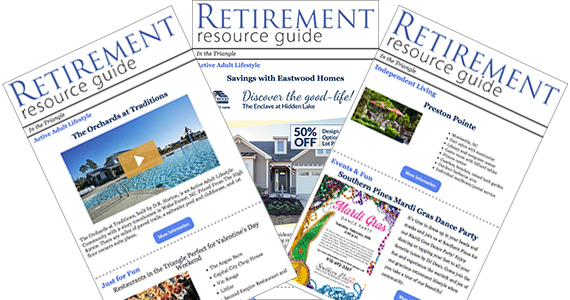 Subscribe to Guide!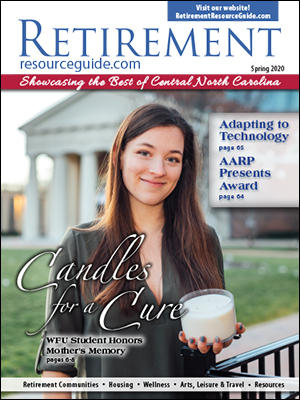 Free 6 Month
Magazine Subscription
Have the printed
Retirement Resource Guide
sent to you mailbox.
Cover Story
Navigating the senior housing landscape during the Covid-19 pandemic is challenging. Retirement Resource Guide recently had a conversation with senior industry expert Steve Fleming about what we can expect now and in the immediate future. "We are living in a day of uncertainty" says Steve Fleming, of Well•Spring [...]
Feature Articles
Friends Homes has broken ground on a $67 million expansion of its two campuses in Greensboro, Friends Homes Guilford and Friends Homes West. The project will offer more amenities and add 140 new residents to the community. "With this expansion, Friends Homes is making a significant investment in furthering our commitment [...]
Housing
Most communities in our area have revised their tour hours. We recommend calling ahead to the community to get up-to-date and accurate information on their policies or by visiting their website.
Retirement Communities
Kendall Oliver has announced the opening of a third Cambridge Village Optimal Living community in the Brier Creek area slated for Winter 2021. The Cambridge Brier Creek is located on 13.5 acres at the corner of T.W. Alexander Drive and Brier Creek Parkway in northwest Raleigh. The Brier Creek site [...]
Healthcare
Home is the Safest Place for Our Elderly During this Uncertain Time. We believe that home remains the safest place for our elderly population right now. Elderly people and those with underlying medical conditions are especially at risk and are most susceptible to the Novel Coronavirus (COVID-19). [...]
Service Providers
New Product Video for Thermador - Glass Care Center
Staying Fit & Healthy
It is the Spring/Summer, and soon to be fall, of COVID-19. As North Carolina starts reopening in phases, I thought it would be good to talk about some of the mental health issues you may be experiencing because of the pandemic; share some of the resources that are available; [...]
Arts, Leisure & Travel
Few of our memories from 1st grade stick with us but one 1st grade memory for Taylor Graustein remains vivid. The morning her mom dropped her off at school complaining of a splitting headache. It's the day her mom learned she had a tumor of the brain. What followed over the next 8 years doctors described as a miracle for someone with Carmela Graustein's cancer. [...]