Current Issue
Get our Newsletter!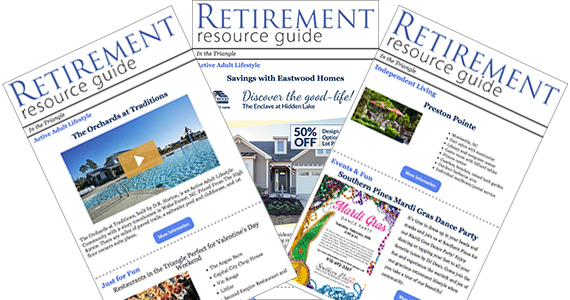 Podcasts
Retirement Resource Guide Podcast
Podcasts related to Retirement Lifestyle
United Healthcare – Medicare
United Healthcare – Medicare
Search Results placeholder
Cover Story
Retirees are learning to dance in increasing numbers. Aside from acquiring the skills to perform your own Fred Astaire/Ginger Rogers routine, learning to dance offers myriad benefits. It's good exercise and it makes you feel pretty cool when you can ballroom dance even moderately well. Ballroom dance also has emotional, physical, and mental benefits. [...]
Feature Articles
A Continuing Care Retirement Community may desire to provide or arrange for continuing care services, including home care services, to an individual who has entered into a continuing care contract with the provider but is not yet receiving lodging. [...]
Housing
Featured Amenity of the Week - Belmont Lake Preserve - 1,400-acre forested North Carolina golf and retirement community located in historic and scenic Rocky Mount. Every outdoor amenity imaginable is available from the serene 80-acre lake, to the community's lush 18-hole championship golf course. [...]
Retirement Communities
Featured Amenity of the Week - Bermuda Village - Bermuda Village located inside of the beautiful gated community of Bermuda Run is ripe with lifestyle amenities. High of the list for many is the beautiful, Bermuda Run Country Club (BRCC) [...]
Healthcare
Well•Spring Solutions announced that it is in the process of reopening the remainder of its adult half-day programs – "Connections, A Memory Club" – for older adults in the greater Greensboro and High Point areas who have memory issues. [...]
Service Providers
Medicare is confusing. Approaching your 65th birthday requires action on most people's part. Read below as Daniel Gomez, owner of Good Life Insurance Company answers questions from our readers. [...]
Staying Fit & Healthy
Am I a good candidate for Clinical Trials? Here are some questions to ask yourself before deciding to participate.
Arts, Leisure & Travel
At Fuquay Mineral Springs Inn & Garden, the art of cooking is celebrated with anyone who signs up for weekly classes. Whisk Carolina in Cary offers cooking classes, with 50 chefs leading classes that range from pie-making to how to make fresh pasta. [...]