Get our Newsletter!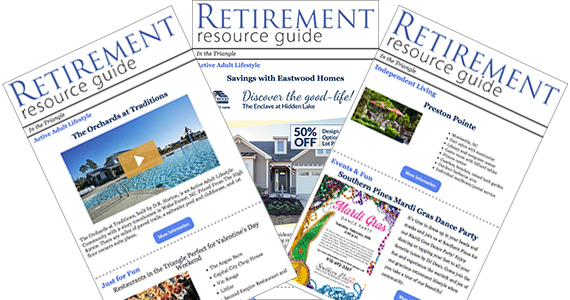 Cover Story
Over the late fall and winter, Retirement Resource Guide visited a dozen area wineries. While we love them all in their own special ways, there are four that make our "Top Picks." These four wineries are our "Must Do" wineries, if you are feeling it is time to begin thinking about venturing out again this spring and summer. [...]
Feature Articles
Well•Spring Solutions hosting a free online talk about the "10 Warning Signs of Alzheimer's," presented by the Alzheimer's Association on Thursday April 29.[...]
Housing
For realtors and professionals! As you know many people start their new home search with a realtor! These communities appreciate referrals so much, that they are offering special incentives to realtors and professionals!
Retirement Communities
A primary goal for Cambridge Village is to help residents become healthier, stronger, and continue to enjoy living independently in a community environment. To that goal, they developed the "Optimal Living Program" which enhances residents' physical and mental activity, social interaction and emphasizes healthy nutrition. [...]
Healthcare
Well•Spring Solutions hosting a free online talk about the "10 Warning Signs of Alzheimer's," presented by the Alzheimer's Association on Thursday April 29.[...]
Service Providers
1. Make your own checklist of deadlines, things to do and who to call. Keep it handy to keep you on track so you don't forget what needs to be done. 2. When looking at deadlines, put a mover on your list fairly early in the process. [...]
Staying Fit & Healthy
What a great thought for spring 2021! We are looking for ways to feel happy and engaged while still coping with pandemic concerns and rules. How about singing? If music is not a big part of your life, consider this: Singing familiar songs reduces stress [...]
Arts, Leisure & Travel
National Parks are open for business and offer an out-of-doors, socially distanced, alternative that is really fun. You'll get some exercise and it's a destination you can enjoy with relative safety. There are a number of National Parks along the eastern seaboard that can be accessed within a days-plus drive. [...]