Get our Newsletter!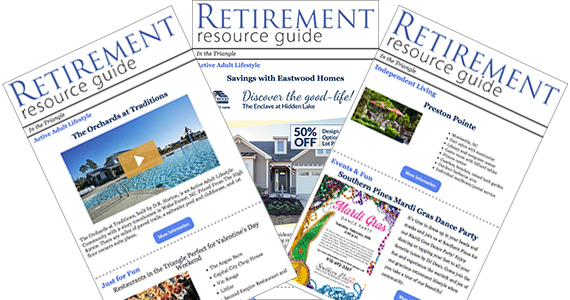 Cover Story
At Fuquay Mineral Springs Inn & Garden, the art of cooking is celebrated with anyone who signs up for weekly classes. Whisk Carolina in Cary offers cooking classes, with 50 chefs leading classes that range from pie-making to how to make fresh pasta. [...]
Feature Articles
I enjoy writing this column every quarter and I hope that my insight or the insight provided by other senior industry professionals has been helpful or enjoyable for you. This quarter I am going to share the wide spectrum of activity that we are currently involved with at my company, [...]
Housing
For realtors and professionals! As you know many people start their new home search with a realtor! These communities appreciate referrals so much, that they are offering special incentives to realtors and professionals!
Retirement Communities
A primary goal for Cambridge Village is to help residents become healthier, stronger, and continue to enjoy living independently in a community environment. To that goal, they developed the "Optimal Living Program" which enhances residents' physical and mental activity, social interaction and emphasizes healthy nutrition. [...]
Healthcare
Wake Forest Baptist Health has updated its visitation policy, effective today. These changes apply to all Wake Forest Baptist locations, with the exception of patients who have tested positive for COVID-19 or who are considered a patient under investigation (PUI). [...]
Service Providers
Don't fall for a cheap estate planning process and don't do your own planning. If you do, you may end up making serious errors. You should not sacrifice great planning for a supposed money-saving deal which likely won't work and will cost you or your heirs thousands. [...]
Staying Fit & Healthy
There are almost 66 million unpaid caregivers in the United States. Not nurses, doctors, and CNAs. Sixty-six million unpaid providers caring for children, parents, partners and siblings. What a generous contribution each of these people makes to the wellbeing of a loved one! [...]
Arts, Leisure & Travel
The NC Symphony (NCS) has a longstanding tradition of bringing its community together through music year-round, and at the holidays with Pops and Special Event Concerts. In the summer, thousands of North Carolinians gather for music under the stars at Summer Fest concerts at the Symphony's summer home, Koka Booth [...]