Get our Newsletter!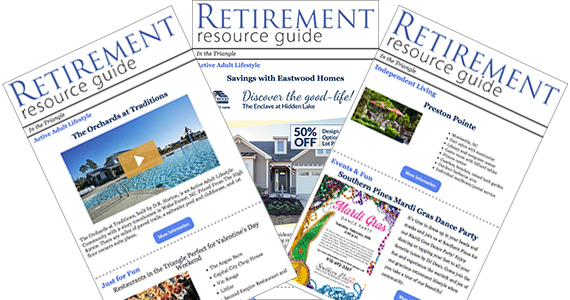 Subscribe to Guide!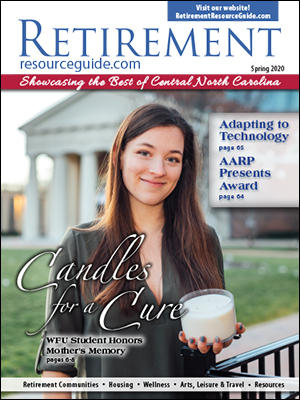 Free 6 Month
Magazine Subscription
Have the printed
Retirement Resource Guide
sent to you mailbox.
Cover Story
Navigating the senior housing landscape during the Covid-19 pandemic is challenging. Retirement Resource Guide recently had a conversation with senior industry expert Steve Fleming about what we can expect now and in the immediate future. "We are living in a day of uncertainty" says Steve Fleming, of Well•Spring [...]
Feature Articles
Greensboro Farmers Market Transitions To New Fall Hours: 8:00 am -12:00 pm Saturdays, Beginning October 31, 2020.
Housing
Most communities in our area have revised their tour hours. We recommend calling ahead to the community to get up-to-date and accurate information on their policies or by visiting their website.
Retirement Communities
Searstone is expanding our own horizons with The Highview, a new 4-story residential addition. Featuring 152 elegant apartment homes, a 5,000-square-foot auditorium and arts center and three exciting new dining venues, it's a next-level retirement living opportunity for those who have the foresight to envision a future in the heart of Cary. [...]
Healthcare
Five months of COVID-19 lockdowns have created a mental health crisis. When the coronavirus pandemic hit the U.S., long-term care facilities went into lockdown. Experts say that the lockdown is fueling a mental health crisis that's amplifying the devastating impacts of the pandemic on the long-term care industry. [...]
Service Providers
Retirement is an important milestone that often comes after years (or decades) of careful planning. But even the most seasoned planners couldn't have foreseen the severe market selloff that happened in March in reaction to the COVID-19 pandemic. The abrupt end to the 10-year bull market surprised investors [...]
Staying Fit & Healthy
It is the Spring/Summer, and soon to be fall, of COVID-19. As North Carolina starts reopening in phases, I thought it would be good to talk about some of the mental health issues you may be experiencing because of the pandemic; share some of the resources that are available; [...]
Arts, Leisure & Travel
Greensboro Farmers Market Transitions To New Fall Hours: 8:00 am -12:00 pm Saturdays, Beginning October 31, 2020.