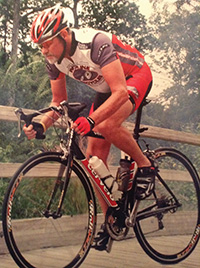 By Sarah Gray
Double hip replacement!?!?
I couldn't have heard that right!? The therapy, the pain, the long recovery!
These were the thoughts that flooded my mind when Tommy and I first went to see Dr. Blackman. However, I quickly learned, I couldn't have jumped to more incorrect assumptions.
Dr. Blackman was reassuring. "I'll be all dressed in a funny suit, and we will have a room. Why not do both hips while we're there?"
The more we listened, the more we liked what he had to say. But more important than what he said were the results of the surgery. Tommy walked the day of his surgery! His pain was minimal, and his recovery was quick! Dr. Blackman and his PA Clark Gill were available to answer questions at any point before and after surgery.
Tommy's uncle had decided to let Tommy serve as the Guinea Pig, judging by his experience whether to have his own hip replaced. Needless to say, at 83, after 15 years of putting off what Dr. Blackman had confirmed as one of the worst hips he'd ever seen, he had his own hip replaced. And like Tommy, he had minimal side effects and amazing results from his hip replacement.
Both Tommy and his uncle had extremely bad hips, but both had extremely good results with their surgical and recovery experiences with Dr. Blackman.