By Loring Mortensen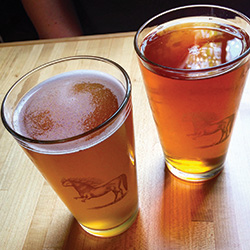 I remember a time when, due to the state alcohol laws, there was only one lonely brewery in North Carolina, the Weeping Radish. Alcohol laws back then made it very difficult to start a brewery, especially when the main rule was to have a restaurant on the premises.
That is what is exciting about the way breweries are allowed to operate today in North Carolina (and many other states). Loosening of the rules has resulted in a mix of different kinds of brewery models to organically develop. This adds customization of choice that makes each brewhouse unique. This leads to a new brewery food-model I hadn't seen before. When you visit the Taproom at Ponysaurus Brewing Co. on Hood Street in downtown Durham, you get cool snack options, plus food trucks, and now something truly different in a brewery setting—a grill reservation program.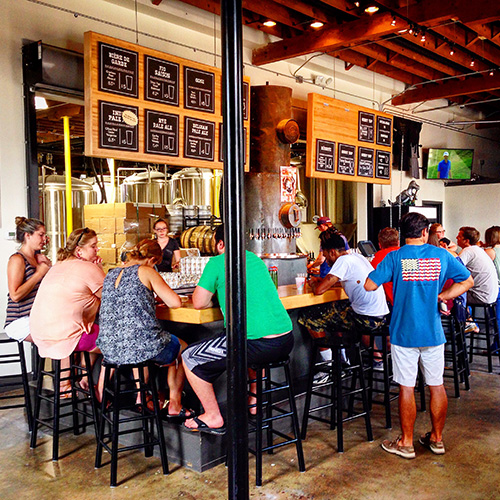 Ponysaurus offers the option of reserving one of its professional grills for your next gathering. Ponysaurus provides the grills, via free reservation; you purchase food from them, and you need only supply the friends. With a grill reservation, you are required to use only their food products (though you can bring your own dessert) which simplifies your barbecue party to just showing up with friends.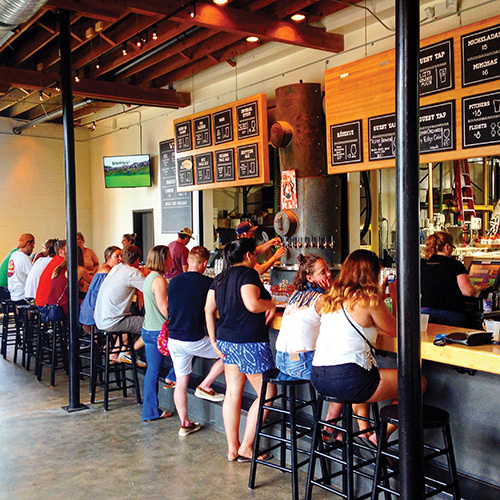 Ponysaurus is owned by "ringmaster" Nick H-Johnson, "brandmaster" David Baldwin along with "brewmaster" Keil Jansen. Their hybrid pony and dinosaur moniker was initially suggested by brewer Jansen, a special education teacher in the Durham school system. The group identified these two animals as key to their brand and eventually hit upon the idea of choosing both as their brew-spirit-animal.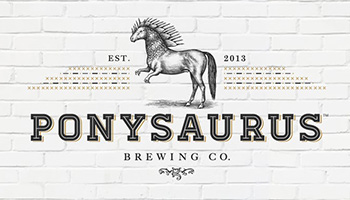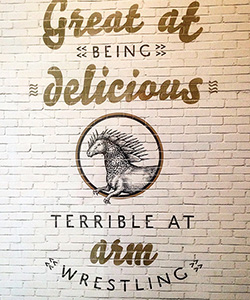 Thus "Ponysaurus" was born. Their slogan reads:
Great at being delicious…
Terrible at arm wrestling
As owner Nick H-Johnson explains, "The process of making beer is a magical process. Something happens in the process of making great beer, where the water and grain are made into something much more than the sum of it's parts. It's kind of like alchemy, reminding us that we are engaged in a magical endeavor, not just a job."
When deciding which brewery would be my next subject, I couldn't help but err in the direction of folks that know how to brew all things Belgian-Franco, or even toward specialty sours in the German-style. Ponysaurus hit all three of my targets with their Belgian Pale Ale, Bière de Garde, and perfectly sour Gose. They managed to round out their Germanic offering with an amazing Rye Pale Ale. Their top selling choices are the Bière de Garde and the Rye, and I'll have to second that opinion.
When we last visited we were lucky enough to try the Reserve Ale. Their description of "dates, strawberry, burnt-marshmallows" hits it on the head…and tasted much better than it sounds. I would be remiss to not mention the Fig Saison Ale as well, if you favor saison style ales and are a fan of figs.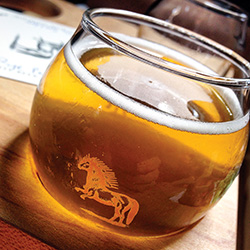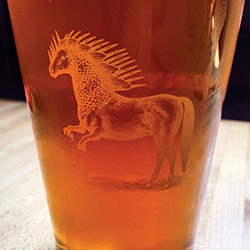 The owners also want to highlight their new Single Hop Program, a brewing idea to simplify the tasting experience by focusing on one kind of hops at at a time. While many brewers sometimes combine different types of hops for their recipes, one cannot experience the unique taste profile of a single hop variety. Their single hop beers "allows you to really get to know that particular varietal," as Nick explains it.
Their newest is the Lorel Single Hop, now available in the taproom. Ask about this single varietal version when you visit the brewery. It's a great idea to better train your taste buds to appreciate the subtlety of the single hop-elements in each brew.
Look to their guest taps when you go, as this will change each time you visit. When we stopped by, they had guest taps with Raleigh's Trophy Brewing Co., Urban Orchard (Asheville) and Durham's Bull City Ciderworks with other drink offerings. Pints, pitchers and kegs are options, as is the proverbial "flight" selection of four choices off their main beer menu or their guest taps.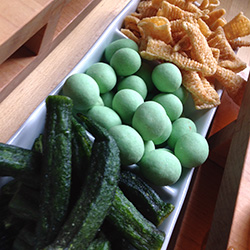 Check their events calendar and be sure to also sync to the upcoming football season. Ponysaurus offers tailgating with their grill reservation set up. Reservations will be open Thursday through Monday so fans can watch the game in the taproom (with four TV screens) and grill some burgers and brats. Just remember to call in advance to reserve a grill. They cannot accommodate walk-ins.
Football and brews are not the sole draw to this neck of Durham's refurbished industrial area. Come for the beers, but also visit the surrounding art galleries and The Golden Belt, a fully restored, historic textile mill with artist studios, live/work loft apartments, offices, restaurants, retail, live music and other events. The complex is the largest LEED Gold certified campus in the Southeast and Ponysaurus is right around the corner.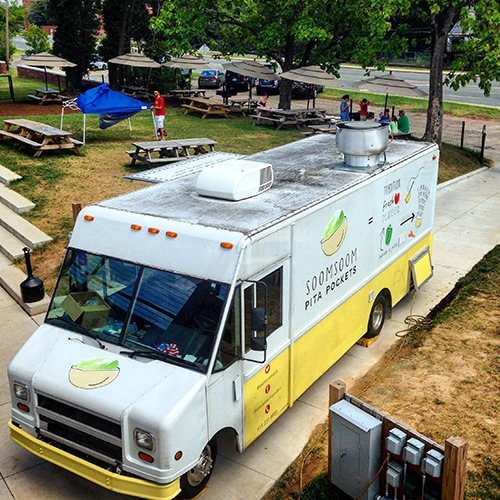 There is much brewing magic in this neck of the Triangle, and repeated visits always manage to both pique and quench my appetite for something new. This particular mythical brewery on the outskirts of downtown is worth sipping and believing.