By Loring Mortensen
Many are familiar with the spirit of Nathanael Greene in Greensboro, but how many know that there is a small example of Thomas Jefferson's philosophy brewing on Lewis Street just around the corner from South Elm.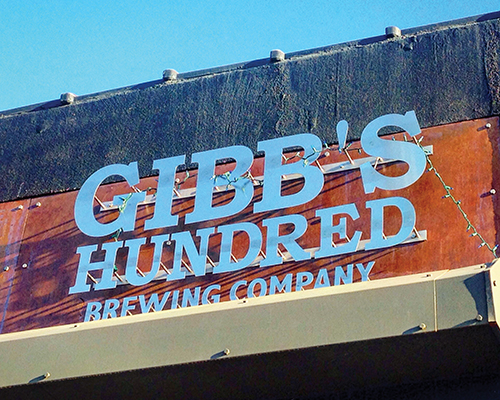 Gibb's Hundred Brewing is sitting on fertile ground, sowing the idea put forth by Mr. Jefferson who "believed that the HUNDRED was the perfect number of families to self-govern and educate, yet small enough for everyone to know each other well." This is the simple concept Mark and Sasha Gibbs embrace within the Gibb's Hundred moniker.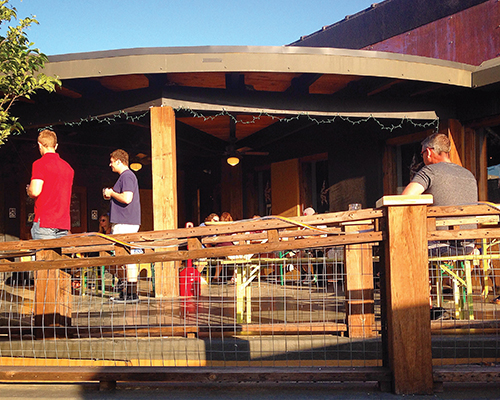 On any given visit to Mark and Sasha's brewery, you will find a unique mix of customers: families with kids, rescue dogs, bearded clubbers, hipsters, and startup entrepreneurs sipping on Gibb's finest.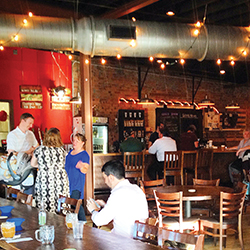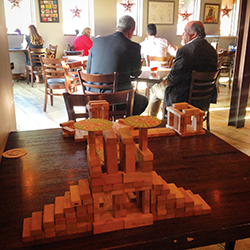 Gibb's does not provide meals but regularly schedules food trucks. Friending Gibb's on Facebook serves up notifications of which food trucks will be available or visit their website calendar. During our last visit we ordered from Baconessence, a bacon-fueled menu that somehow manages to include Nueske's slab bacon in every dish in madly, ingenious ways.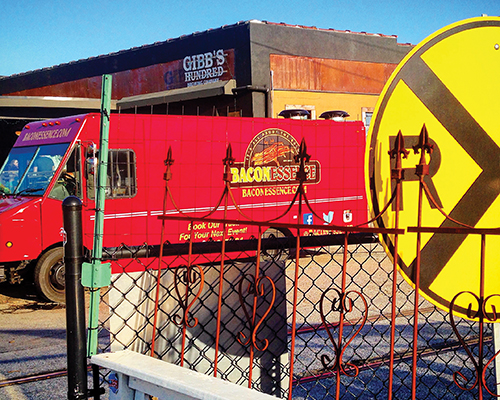 But, I digress. The main reason to go to Gibb's is for their brews. The master brewer is John Priest, who studied at Siebel Institute of Technology in Chicago and Doemens Academy in Munich, Germany. Before joining the Gibb's team, he brewed for Bell's Brewery in Michigan. To certify his talent, note that Gibb's Guilty Party ESB (Extra Special Bitter) was a recent Great American Beer Festival (GABF) Gold Medal winner.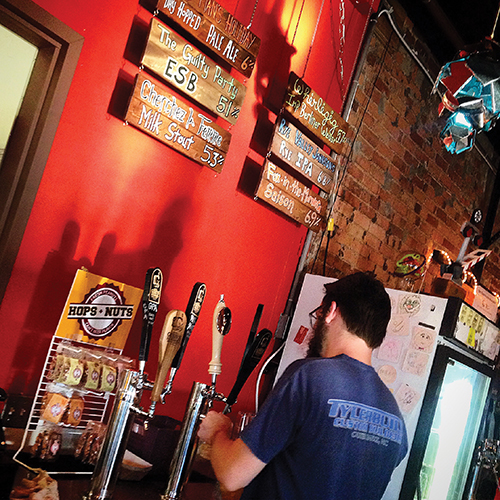 For those with tastes on the other side of the spectrum might ask for a Whirligig Imperial Berliner Weisse, my first choice, or the Fox-in-the-Morning Saison. Both are cloudy and golden and go down way too easily. Gibb's Saison is slightly fruity and tart, best experienced with a farmhouse-style saison like Fox-in-the-Morning.
Ryan, Ross, and Tyler are the three bearded-tenders, but I swear these guys are clones. Mark Gibb tells me there is a fourth brew assistant who also sports a beard. It makes sense then that this is the main meeting place of the Beard and Moustache Club of North Carolina (BMCNC).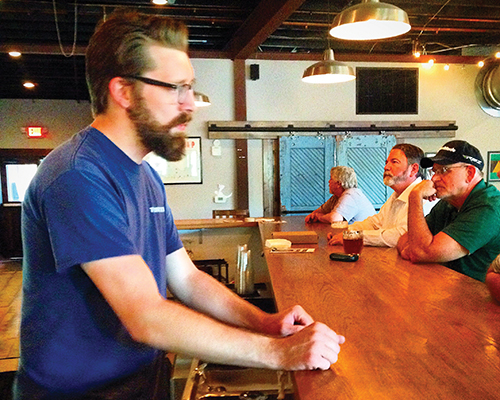 Gibbs is the spot for free yoga on Sundays, trivia Wednesdays or feed your mind with their monthly Sunday book club. Be on the lookout for guest taps at Gibb's as well as something from Haw River Farmhouse Ales out of Saxapahaw. During our last visit, they had six of their beers on tap including their milk stout, Cherchez La Femme, and the Rye Valley Johnson's IPA. If you need to narrow your choices, ask for a sampler flight. And don't forget to ask about their First Draft small batch series where there might be something special that you didn't know to ask about.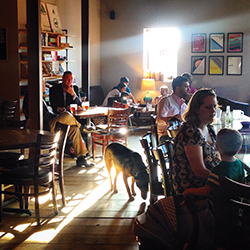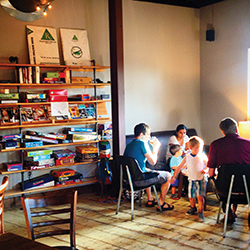 Alternatively, if you are traveling around the state, you can find Gibb's brews in hundreds of establishments from Murphy to Manteo. They have a full up-to-date list of where you can find their beers on their website, but it just seems better to join the HUNDRED at Gibb's, add your family to cross the tracks.
Families with kids, rescue dogs, bearded clubbers, hipsters, and startup entrepreneurs all gather round to enjoy brews crafted by master brewer John Priest, including Gibb's Guilty Party ESB, which is a recent Gold Medal winner of the Great American Beer Festival.