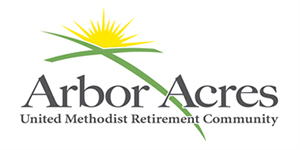 How Arbor Acres Retirement Community quietly impacts the local community.

Arbor Acres United Methodist Retirement Community in Winston-Salem, N.C., and its residents understand the power of giving and service—a spirit of philanthropy infuses the culture. Since its inception 40 years ago, this retirement community has been generous in its contributions of time and support to local organizations and causes that share its mission to help and care for those in need.
On any given day, residents are out and about delivering Meals-on-Wheels, volunteering at local hospitals, tutoring at elementary schools, serving as a guardian ad litem, cooking and serving meals in food kitchens, participating in social outreach activities through their churches, or raising money for local charitable causes to improve the lives of children, families, and individuals.
Arbor Acres and its residents are passionate about helping others. Here are some of the ways they are quietly making a difference.
Raise the roof!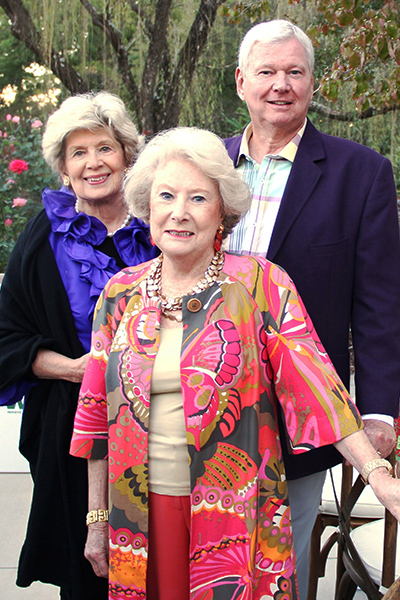 The extraordinary leadership of Barn Raiser fundraiser co-chairs (l-r) Carroll McCollough, Mary Kepley and Hayden Kepley plus the generosity of residents helped Arbor Acres raise almost $120,000 for The Crossnore School & Children's Home against a goal of $109,000!
In 2018, the residents of Arbor Acres launched a major fundraising campaign for its neighbor The Crossnore School & Children's Home on Reynolda Road. The shared history between the two organizations made this partnership a perfect fit.
Back in 1975, The Children's Home donated 70 acres to The Western NC Conference of the United Methodist Church to construct a retirement community in Winston-Salem—and that is how Arbor Acres was born!
The Crossnore School & Children's Home currently operates a more than 200-acre working farm on its campus to help children recover from the trauma of abuse and neglect. Children interact with and care for farm animals as part of their therapy and vocational training. Many of the animals were rescued from situations where they, too, were abused or neglected. The children form emotional bonds with the animals as part of their healing process.
Arbor Acres residents learned that the roofs on the barns that house the farm animals were in dire need of repair and restoration in order to remain functional. Residents saw how they could help—by launching a "Barn Raiser" fundraiser to help restore the barn roofs.
In honor of The Crossnore School & Children's Home's 109th birthday celebration in 2018, fundraising committee co-chairs Hayden and Mary Kepley and Carroll McCullough set a fundraising goal of $109,000. At the campaign's conclusion in the fall of 2018, residents had raised almost $120,000, exceeding the campaign goal by nearly $9,000.
Earlier this year, Crossnore School & Children's Home replaced the roofs on all their barns, ensuring their safety and usability for the children they serve for years to come—a perfect example of how gifts can come full circle.
Re-purposing with a purpose
On any given Thursday afternoon throughout the year, Arbor Acres residents Judy Culley, Liz Vinson, Jackie McFall, and Phyllis Stubbins can be found, weather permitting, in a heatless and air conditioned-less storage building on the Crossnore School & Children's Home campus sorting and organizing household items for the Youth in Transition (YIT) program. YIT supports young adults between the ages of 18-26 who have aged out of foster care, including helping them set up and furnish their first apartment at no cost.
When Judy and Liz first learned of the needs for this program from YIT Program Director Karon McKinney last year, they immediately went to work soliciting household donations from Arbor Acres residents and staff using the mantra "No clothes, No food, No books, No money."
The response was overwhelming. In the past year, more than 100 individuals have donated items to the program, exceeding all expectations, with donations now filling five well-organized storage rooms. The entire Arbor Acres campus is helping by moving, transporting, cleaning, and laundering all donated items. Even residents in Arbor Acres' licensed healthcare areas are participating by sorting and bundling sets of donated silverware.
Success begets success. Crossnore School & Children's Home has now asked Arbor Acres to expand the availability of its household donations to include families participating in the Crossnore Clinical Services Program, which served 250 families last year.
Every Thursday afternoon, Arbor Acres residents (l-r) Jackie McFall, Judy Culley, and Liz Vinson examine each donated item to the Youth in Transition Program to make sure there are no spots, knicks or dents before cleaning and placing them on well-organized shelves.
Helping the fight against homelessness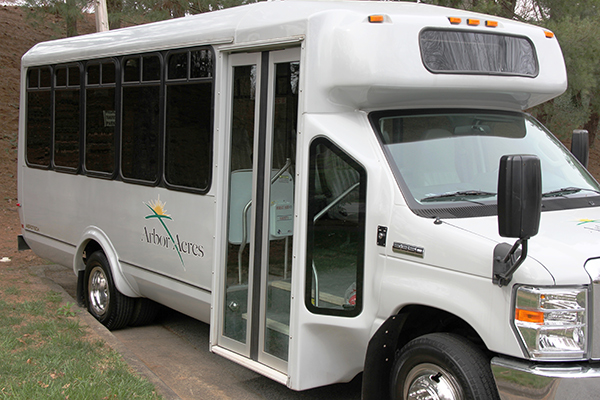 From December 1 – March 31 each year, Arbor Acres donates one of its vans to a driver from Centenary United Methodist Church to pick up and bring the homeless to one of the shelters around town as part of the City with Dwellings program.
Centenary United Methodist Church in downtown Winston-Salem partners with City with Dwellings to provide persons experiencing homelessness a meal and a warm place to sleep during the coldest months of the year, December 1-March 31. Arbor Acres supports the transportation of the homeless to overflow shelters around town by donating one of its vans to a volunteer driver from Centenary each Sunday, Monday, and Tuesday evening during the service period.
Pooling resources
The Shepherd's Center of Greater Winston-Salem is well-known for its mission to support successful aging by providing services, volunteer opportunities, and enrichment programs for older adults and adults with developmental disabilities. Arbor Acres supports the mission of The Shepherd Center by contributing books throughout the year to the annual book sale fundraising event. Arbor Acres is also a host site for The Shepherd Center's Warm Water Exercise Program, which is open to adults from the community who have referrals from their doctors to participate in warm water therapy programs.
Three afternoons each week, Arbor Acres opens up one of its Wellness Center pools to Mike Simpson, a certified aquatic therapist with The Shepherd's Center. Mike guides participants through a series of movements designed to rebuild strength and balance and ease pain. The sessions, which are also open to Arbor Acres residents, have become quite popular, with as many as 18 adults attending each session.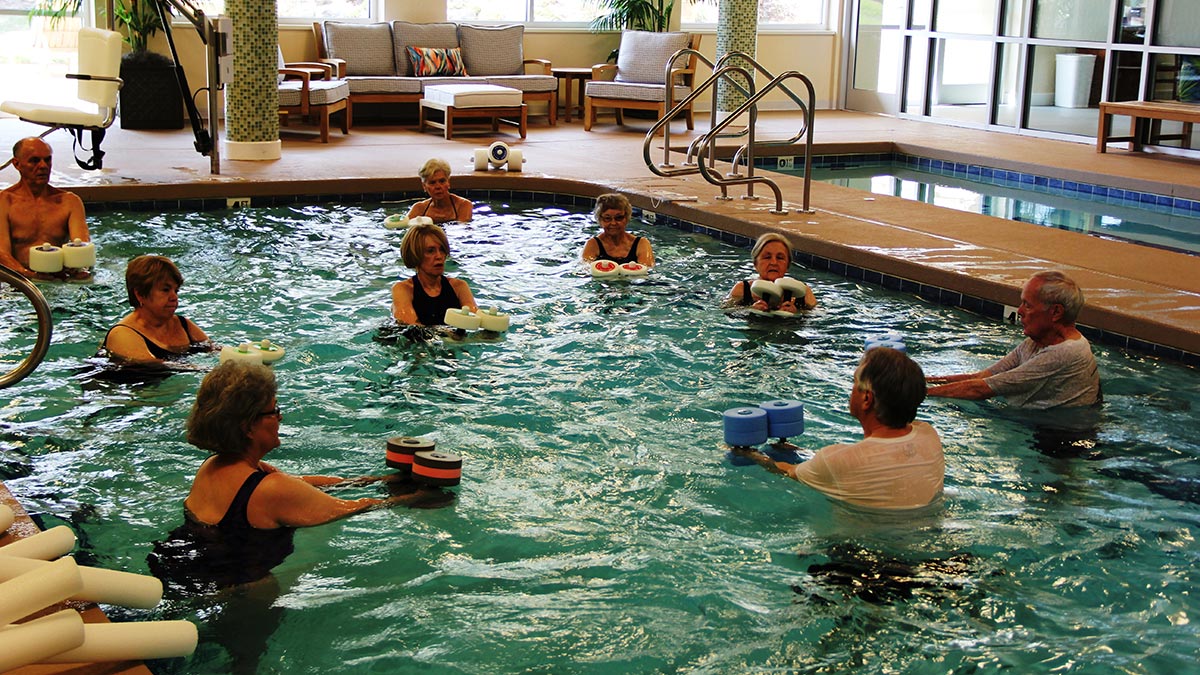 Three days a week, Arbor Acres opens its aquatic facilities to The Shepherd's Center to help members of the community experience the health benefits of warm water therapy.
Aiding those in need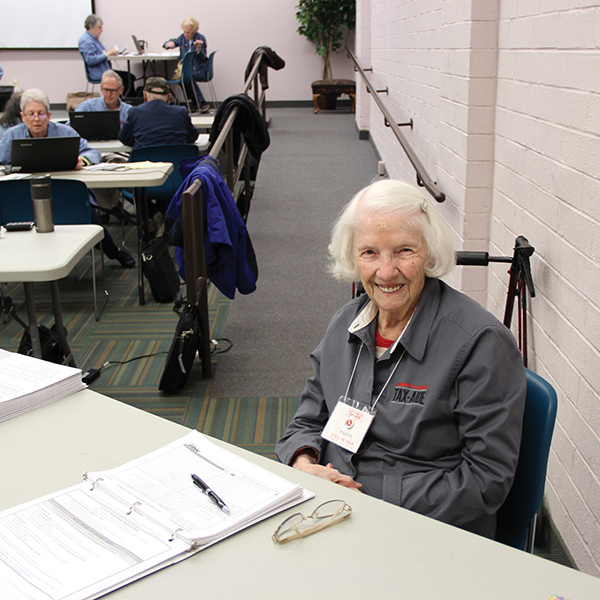 During tax season, Peggy Brennan brings her passion for helping others to the Reynolda Manor Public Library as a Client Facilitator for AARP Foundation Tax-Aide.
When resident Peggy Brennan moved to Arbor Acres from Florida four years ago, she brought with her a passion for helping others. Once a week, from February 1-April 15 each year, Peggy drives to the Reynolda Manor Public Library on Fairlawn Drive to serve as a client facilitator for AARP Foundation Tax-Aide, a volunteer-based program that provides free tax preparation to low- to moderate-income taxpayers. Peggy, who retired from the Institutional and Governmental Banking Department at SunTrust Bank, says she offers her financial background to this position as a way to give back to people who have helped her along the way. Peggy embodies the true spirit of giving.