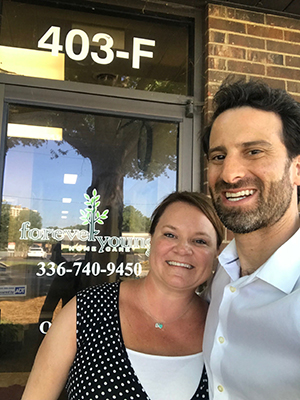 Arosa+LivHOME, a Bain Capital Double Impact company, has bolstered its presence in Greensboro, N.C., with the acquisition of Forever Young Home Care. The acquisition will strengthen its mission to provide superior service that reaches the greatest number of clients. Arosa+LivHOME's local presence is known as Nurse Care of North Carolina.
Forever Young Home Care has built a strong regional reputation by serving residents of Guilford, Forsyth, Alamance, Rockingham, and Davidson counties. Founded in 2011 by Jennifer Parker, the company provides personalized in-home care services to help people cope with the immediate and long-term needs of their ailing friends and family.
"I'm excited to join a well-respected in-home care leader who truly understands the complexities of caring for our older adults," says Parker. "By joining forces with a national company, we will better support our local residents and provide them access to high-quality caregiving services."
Retention of caregivers is a source of pride
Home care companies in Greensboro, and across the nation, are faced with the stark reality that there are fewer caregivers to serve older adults in their homes. The booming senior population is requiring more in-home caregivers; therefore, the importance of attracting and retaining care professionals is greater than ever before.
"When I met with the Arosa+LivHOME team, I was captivated by their mission to attract, train, retain, and treasure the best care professionals," says Parker. "Now our combined team will help care for and assist those who desire to remain in their own homes for as long as possible."
Forever Young Home Care will strengthen Arosa+LivHOME's presence in the Triad. Nurse Care of North Carolina initially entered the Greensboro market in 2015. Nurse Care provides both private in-home nursing and non-medical care.
A journey beginning in Gate City
Ari Medoff might have traveled the world, graduated from Harvard Business School, and climbed new heights to become the CEO of Arosa+LivHOME, however, Greensboro always holds a special place in his heart. His childhood home is less than five miles from Forever Young Home Care and he remains deeply committed to the Greensboro community.
"It's been an honor to bring quality in-home care and support to the amazing people and families I have known all my life; it means so much to me," says Medoff. "It is personal and deeply heartfelt."
The two local in-home companies have been providing high-quality care to Greensboro residents for more than 12 years on a combined basis.
For more information, contact Arosa+LivHOME, 1132 North Church St., Suite 201, Greensboro, NC 27401, 562-228-5425, or visit arosallc.com.