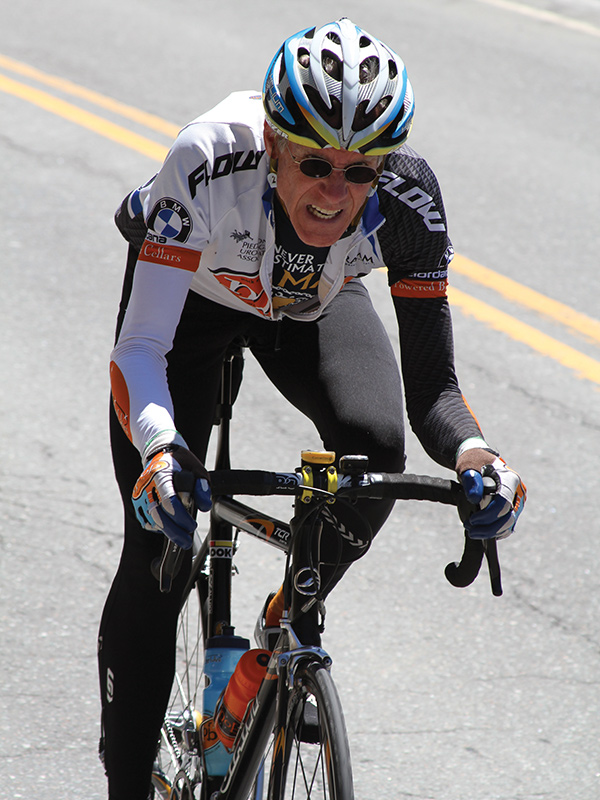 Ross Mason
Steve Hudson knows his mama would rather him be in church on Sunday. However, more often than not, Hudson can be found on a Sunday morning cycling down some beautiful North Carolina country roads. "I always told her "when I'm riding… this is my church… this is my spiritual time" says Hudson. "This is where I can think about the things I need to think about." Hudson is an experienced cyclist who has had his share of hard-charging rides that resembled more race than ride. "I've changed", says Hudson, "I now have a turtle in the road policy…if I see one, I stop and move it out of harm's way". Or as he explains, he takes time, literally and figuratively, to stop and smell the roses when he cycles.
At 67 years old Hudson looks at least a decade younger than his chronological age. His build is solid and he's brimming with energy.
"I enjoy fly fishing and kayaking and a good hike". And I like working at the Trek Bike Shop…I sort of came with the building and have been here ever since. I really like working with people… especially people that enjoy cycling or want to get into cycling" says Hudson.
Ross Mason, at age 70, is slightly older than Steve Hudson but no less of an avid cyclist. Having competed and won many races in his 40's, 50's and 60's Mason, like Hudson, also embraces a pace that allows him to "stop and smell the roses". "I love a group ride,' says Mason "it's a social affair, but these days I really just enjoy going for a solo ride in country leaving right from my home. And these days, instead of focusing on speed, I check out the beautiful scenery or that '67 Chevy sitting under someone's carport." Mason came to cycling after distance running took its toll on his body. He found cycling to provide every bit as much of a workout but it is easier on the body… cyclists don't complain of shin splints, wrecked knees, hips and the like. And it's just plain fun. Both men speak of the simple joy of traversing the countryside, taking in the scenery and feeling great at the end of the ride.
Common among both men, aside from obvious great overall health, is what you'd have to call boundless enthusiasm and energy.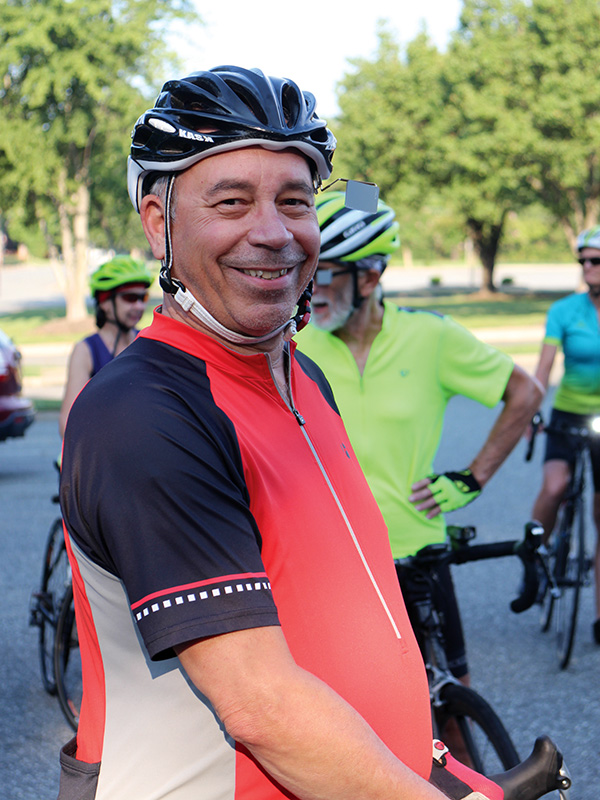 Steve Hudson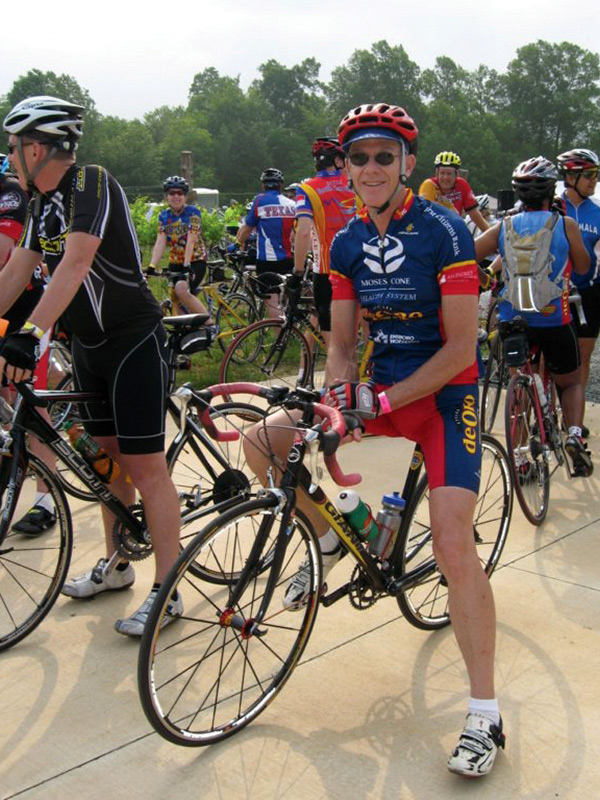 Ross Mason
Both men talk about how easy it is for people of any age to get into cycling. Until recently, Hudson led a weekly ride every Saturday morning from the Trek store. He explains that riders classify themselves based on the type group ride they seek. "A" riders are an elite few that are active racers. "B" group riders are those that are in tip-top physical shape and would like to be in the "A" group but just aren't there yet. Then you have group "C" and "D" riders. These are folks that are looking for exercise, the safety, comaraderie and social interaction that a group ride offers. If you are new to cycling, or coming back to cycling, group rides are easier than ever to locate whether you're looking for a group of 2 or 32. Today, Hudson still leads a group ride most Sundays and he usually has about 20 or so men and women show up for the ride. Hudson invests time before each ride in finding new routes that even he has never ridden. People show up for my rides and I won't tell them where we are going but I will tell them the vertical… they want to know how many hills they'll encounter… and how far we'll be traveling. The rest I like to make an adventure."
Deborah Tollefson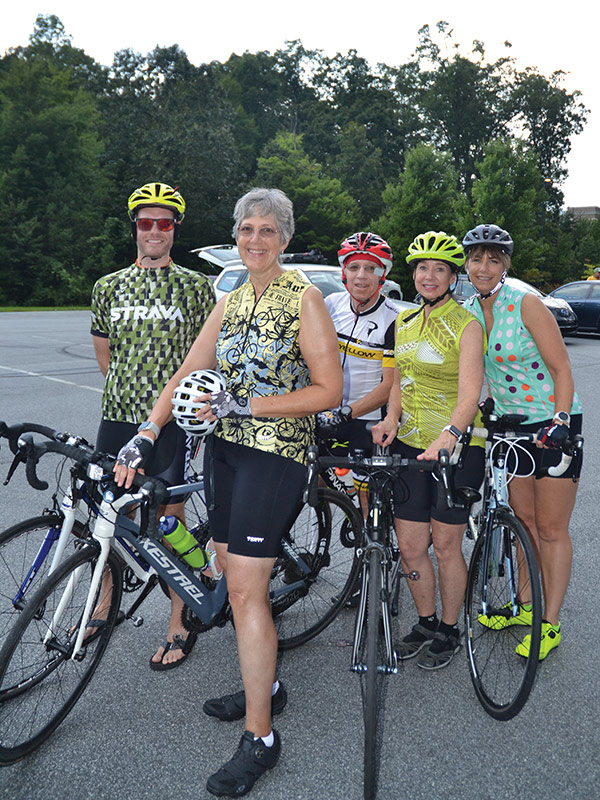 Deborah Tollefson with cycling group
Just in case you're starting to think cycling is just for the guys think again. Or, better yet, meet Deborah Tollefson. She moved from Oregon a number of years ago and has a stressful career in student financial aid. In Orgeon, cycling was her primary means of transportation, not an exercise outlet, and she used her bike accordingly. "My daughter still remembers being dropped off at daycare on the bike", says Tollefson. That was 25 years ago. "When I moved to North Carolina, cycling in those days was not as prevalent as it was in Orgeon, or as well accepted, so I gave it up for a car. Four years ago, however, she got a wake-up call. While enjoying a run, "I had a heart attack!", she says with just a hint of indignation. Her cardiologist recommended cycling so she started slowly riding some of the area's greenways. Soon, she felt comfortable with the higher speeds and began road-biking with group rides. She likes to ride every Saturday and Sunday and enjoys a Wednesday afternoon group ride with her typical ride being between 25 and 40 miles. I call myself a "C" level rider… I like a pace of about 15 mph. She's out to enjoy the ride and reap the health benefits. "When I get on a bike", says Tollefson, "stress falls away. "When riding you're forced to focus on the ride… the upcoming hills, the curves of the road and enjoying the beautiful countryside and the company of your riding companions. You let go of the non-essential." Cycling has stress-relief benefits and obvious cardio-vascular benefits but, according to Tollefson, it also builds core strength which is essential to overall physical well-being. In addition to a regular cycling schedule, Tollefson maintains a gym membership and enjoys strength training and building core strength. This she reports, helps her cycling. She has also very recently taken up running again with the goal of getting back to her 3-4 miles, 3-4 times-per-week routine. Cross-training, she says, benefits her cycling.
"People sometimes comment that I seem so calm… but I tell them no… I'm just exhausted," jokes Tollefson. She has found not only a great stress-relief in cycling but also, significantly, a wonderful social outlet. "Fellowship", she says, is key component of this sport".
Deborah Tollefson, Steve Hudson, and Ross Mason will tell you that cycling is a daily or weekly endeavor… a lifestyle choice with wonderful benefits. Cycling also provides access to experiences that otherwise would be unattainable.
Three People—Three Adventures
South Of France
Deborah Tollefson rides a fair number of organized rid, usually for charity. The ride to benefit MS Research in New Bern NC the Bike NC ride in Edenton NC and many others. Her greatest riding adventure to date, however, is yet to be. This fall, she, along with three friends she met through riding, will be traveling to the little town of Apt France where they'll spend 10 days riding through the French countryside. To be accurate, Tollefson's friends are retired so they are going for 3 months while she'll take off from work for 10 days to join them. "We've rented an apartment in this little town 1 hour south of Avignon and we'll be enjoying day rides from there. We'll also have a van so we can reach rides that are farther afield" says Tollefson. She will ride the river gorge and the mountainous regions of France, enjoy great food, great scenery and the company of good friends. And get some good exercise.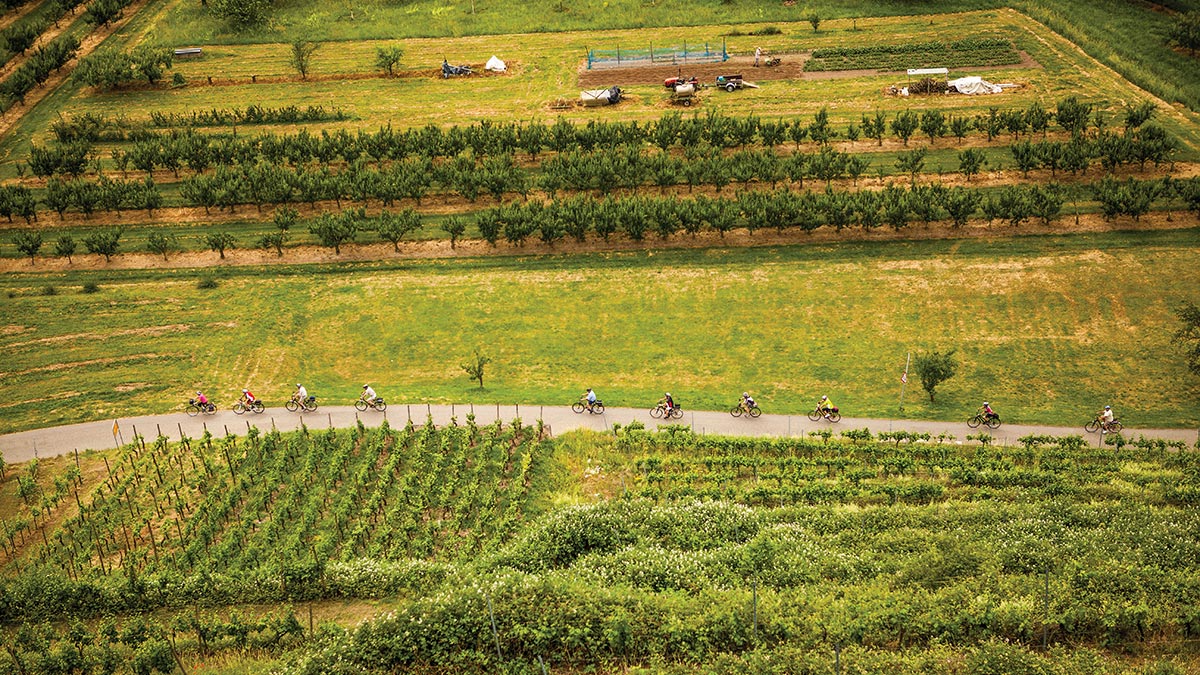 Deborah Tollefson will enjoy a variety of rides in France spanning from the countryside to the more mountainous regions.
Chesapeake-Ohio Tow Path
The Chesapeake-Ohio Tow Path features 76 locks as it traverses nearly 200 miles of countryside.
A favorite trip for Steve Hudson is the Chesapeake-Ohio Tow Path. George Washington and Thomas Jefferson recognized that an active transportation link between the coalfields of the Allegheny Mountains and the urban markets at the upper reaches of the Chesapeake Bay, would connect the coastal nation to the vast resources of the continental interior.
Construction of a canal to link the two, a canal with an adjacent "tow path" for mules to pull the barges, began in 1828. Unfortunately, by the time it was completed in 1850, the B&O Railroad had already reached Cumberland making the canal obsolete. Nevertheless, the canal operated until 1924 and people continued to live in cabins along the canal for another 45 years, until the national park was established in 1971.
To appreciate this historic tow path and a big helping of our country's history one can only do it justice on a bike… its simply the only way to truly appreciate it.
This is a favorite trip for cyclists and one Hudson has completed more than once. Although the trip can be made on a mountain bike, Hudson and company recently completed the trip on road-bikes with fatter tires. "it was muddy and we got lots of rain" says Hudson "but it was a blast". We break from the tow path to eat at restaurants and we take our time and see the sites of the little towns along the way so it ends up being a 390 mile long trek for us… but we're out to enjoy it".
The French Alps
Ross Mason speaks fondly of a recent trip he took with cycling friends that took his riding to a whole new level… literally. He flew his cycling gear to Paris and from there they embarked on a tour of the Alps that included "all the epic climbs" says Mason. Mont Vontoux was a 20km climb straight uphill as were other famous routes like Alpe d'Heuz and Telegraph. Famous peaks that he enjoyed from the most scenic of perches atop his bike.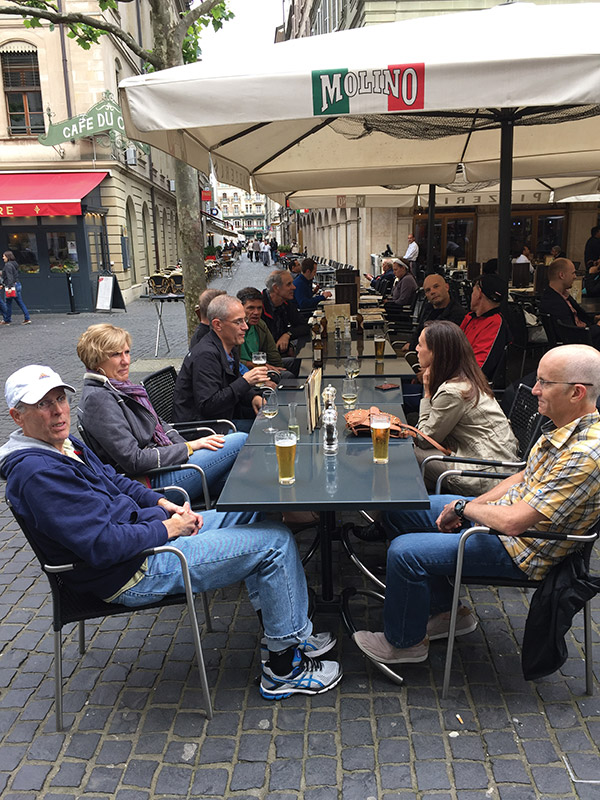 Ross Mason's group enjoyed more than just the beauty of the French Alps.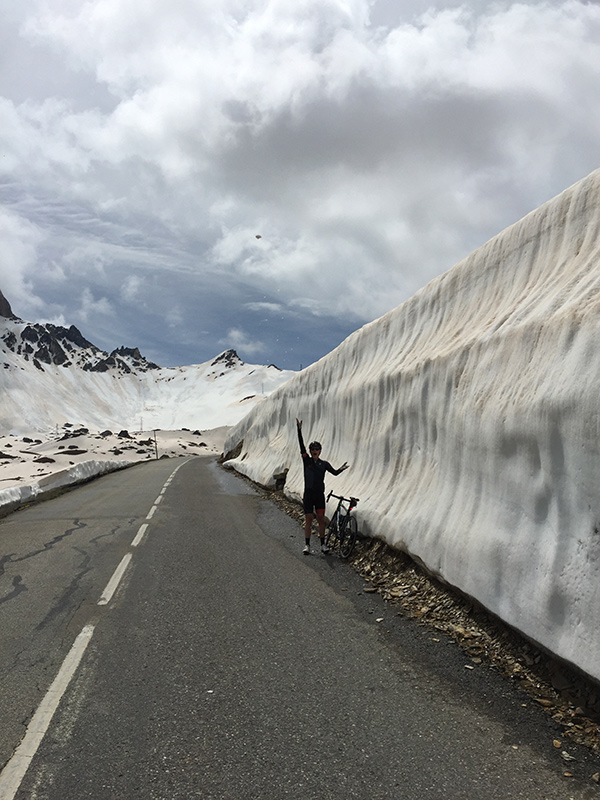 The French Alps
Trips like these can be life-changing but whether you just want to increase your level of general fitness with a two or three day-a-week jaunt or you want to achieve a high level of fitness and open yourself to these opportunities… regardless of your age… cycling has much to offer.