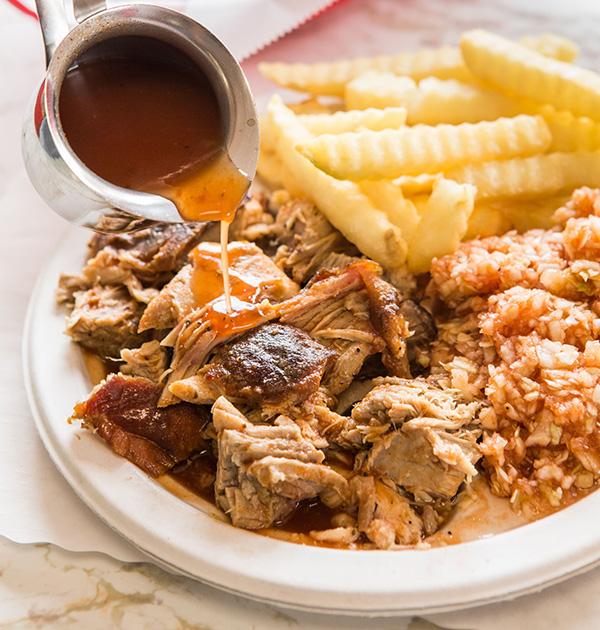 Lexington Barbecue Plate
What cannot be disputed (if you're a native North Carolinian) is that Lexington, North Carolina is the Barbecue Capital of the world. For North Carolinians, barbecue (BBQ) is a sacred culinary tradition. What also must be understood, if you aren't from around these parts, is that the best Barbecue comes from "joints…barbecue joints" to be precise, not "restaurants". Lexington barbecue is legendary. Lexington can trace its barbecue roots back to the first barbecue place which opened in 1919. That first "restaurant" was a tent — a tent in the middle of town, set up by Sid Weaver. Actually, as early as 1916, Weaver had begun coming to town on "court days," cooking barbecue and selling it when court recessed for lunch. The first brick-and-mortar pits were built in the 1930s across from the courthouse. Visitors can see those pits today as they were uncovered, quite by accident, during recent renovations of City Hall (the historic first Lexington pits were located behind a closet) and were thus preserved.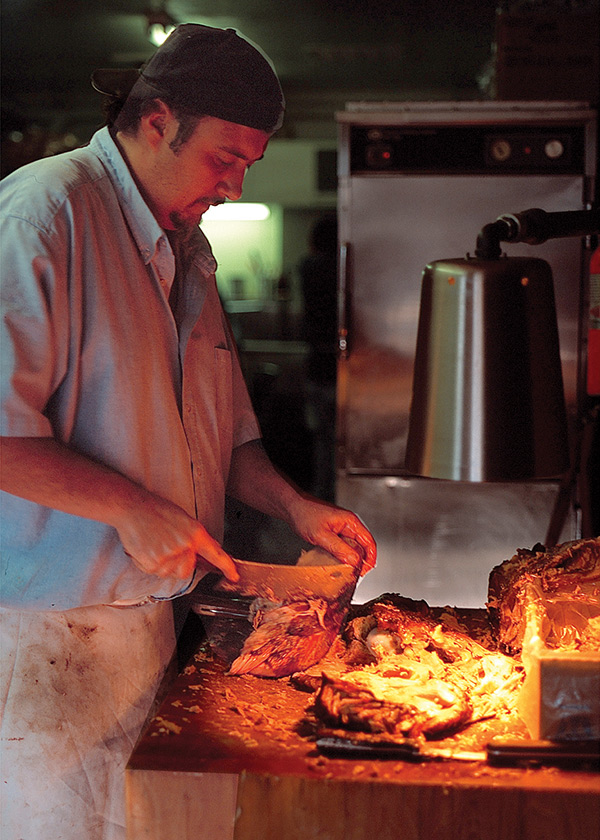 Lexington Barbecue Chef
Not too long after Weaver opened that first location, Jesse Swicegood opened a barbecue stand. Business boomed and both Weaver and Swicegood and another familiar name, Warner Stamey, soon were training others in the art of barbecue.
In the 100 years since Lexington style barbecue made its debut many barbecue restaurants have cropped up across central North Carolina. Even to this day, the development of barbecue in Lexington and nearby towns reads like a family tree, with today's techniques for cooking and preparing barbecue only slightly different from the ones Sid Weaver and Jesse Swicegood used a century ago. Regardless, we are fortunate today to get great Lexington-style Barbecue across the entirety of central NC.
So, you may ask, just what is it that makes Lexington-style barbecue so different? First, it's pork; of course, and specifically, the shoulder is the cut of choice for authentic Lexington style. The cooking process is long and slow averaging about an hour per pound-and always cooked over hickory or oak wood until the pork is fall-apart tender. It's a process that can't be rushed and the chef must baste the shoulders with "dip", which is a mixture of vinegar, salt, and pepper. During the cooking, some of the dip mixes with the fat that drips onto the coals, creating smoke that rises up, surrounds and completely permeates the meat. The result is a rich, smokey flavor. Typically BBQ is served chopped, however, it can be requested to be served sliced which results in a slightly leaner experience. Regardless of whether you go chopped or sliced you always enjoy it with more basting sauce on the side.
Lexington style barbecue is enjoyed by local folk and world leaders alike and has been ordered for everything from family gatherings to Economic Summits and it's not unusual for it to be "air-expressed" to fulfill requests from all over the United States.
An Annual Barbecue Festival takes place every fall in Lexington and has been recognized state-wide and nationally for its excellence. The Barbecue Festival has received such accolades being one of the "Top Ten Food Festivals in America" by Travel & Leisure Magazine, designation as a Top Twenty October Event by the Southeast Tourism Society, and part of the Library of Congress' Local Legacy Event. Additionally it has won more than 50 awards and accolades through The N.C. Association of Festivals and Events Excellence Awards program. It was also named "One of Ten Great Places to Celebrate Food" by USA Today.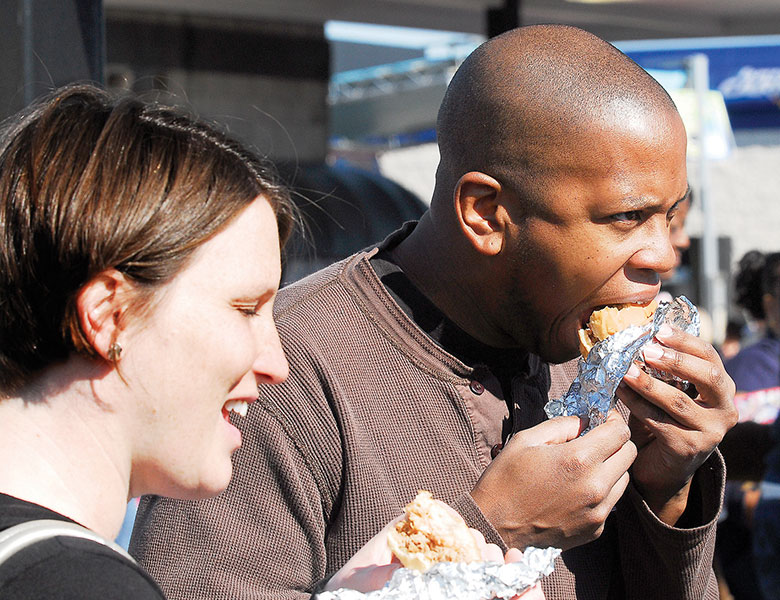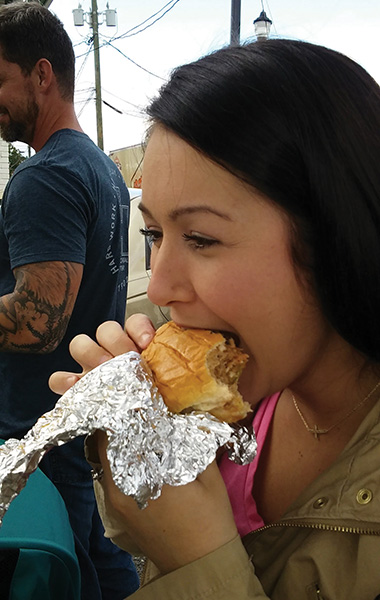 Lexington is located in the Piedmont, nearly in the center of the state just 20 miles south of Winston-Salem and 30 miles south of Greensboro at the intersection of US 29/70 and US 52.
---
Must-Know BBQ Terms
How to Order a Plate, Tray, or Sandwich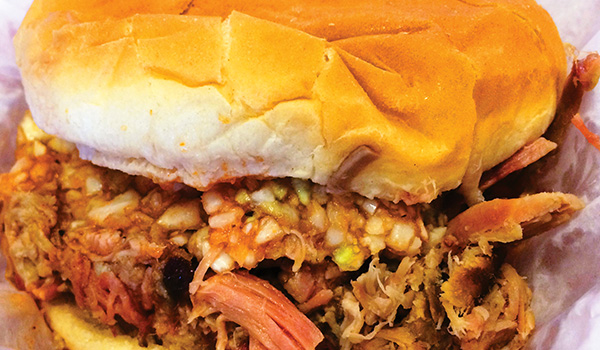 Ordering barbecue can be as simple or complex as you like.
Barbecue is served finely chopped, coarsely chopped and sliced. It is not "pulled".
When the pork shoulder is cooked, the crunchy crust that forms on the outside is full of flavor and is called "outside" or "brown". Ask your waitress to add a little to your order.
There are two kinds of cole slaw: "white" and "red". Most folks are accustomed to the white, mayonnaise based slaw. In Lexington, they serve barbecue slaw, which is red, made with ketchup and vinegar. It complements the meat very well and is served on all sandwiches, unless you tell the waitress otherwise. Some restaurants serve both kinds. And, if you're ordering a fish sandwich, hot dog, or hamburger, be sure to ask what kind of slaw they'll put on it.
You can order a sandwich, plate, or tray. The sandwich is barbecue and slaw with a little "dip" added. The plate comes with barbecue, slaw, french fries, and either rolls or hushpuppies. The tray is a small container with the meat on one side and slaw on the other.
"Dip" is a sauce served with all barbecue and is made from vinegar, water, salt, pepper, and sugar. Each restaurant has its own secret recipe. Unlike thick barbecue sauces, "dip" has a thin texture and tastes great on meat, hushpuppies, and fries.
Hushpuppies are made from cornmeal and are deep fried. They do not have whole corn kernels in them but they may have onions.
Iced Tea is the standard beverage and is served sweetened. But, you can ask for unsweetened or mix the two together for half 'n half.
And, don't forget dessert. Most restaurants offer homemade goodies—pies, cobblers, cakes, and banana pudding.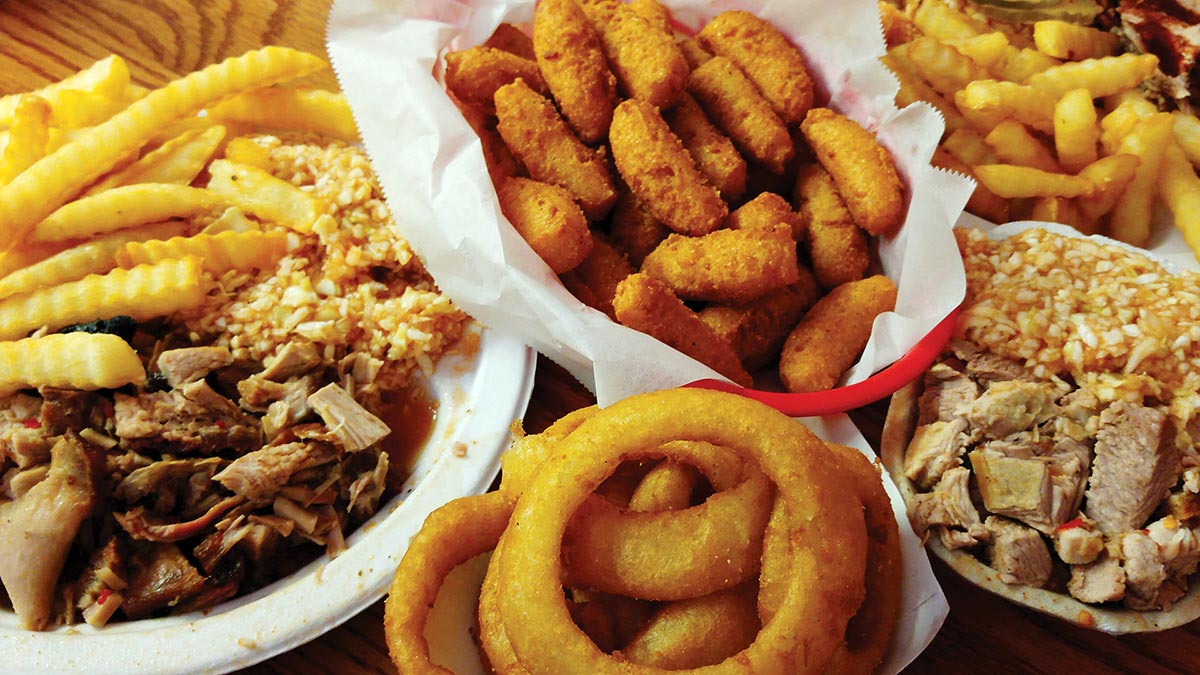 Information Provided Courtesy of the Lexington Tourism Authority