The Carolina Renaissance Festival is an outdoor medieval amusement park, a 16-stage theater, a twenty-five-acre circus, an open-air arts and crafts fair, a jousting tournament, falconry, swimming mermaids and a feast – all rolled into one, non-stop day long adventure. After taking a hiatus last year for the pandemic the Festival is back and visitors couldn't be happier.
As the wildly popular Carolina Renaissance Festival returns to celebrate its 28th year, organizers are committed to community involvement by providing reoccurring support to non-profit organizations located throughout the region.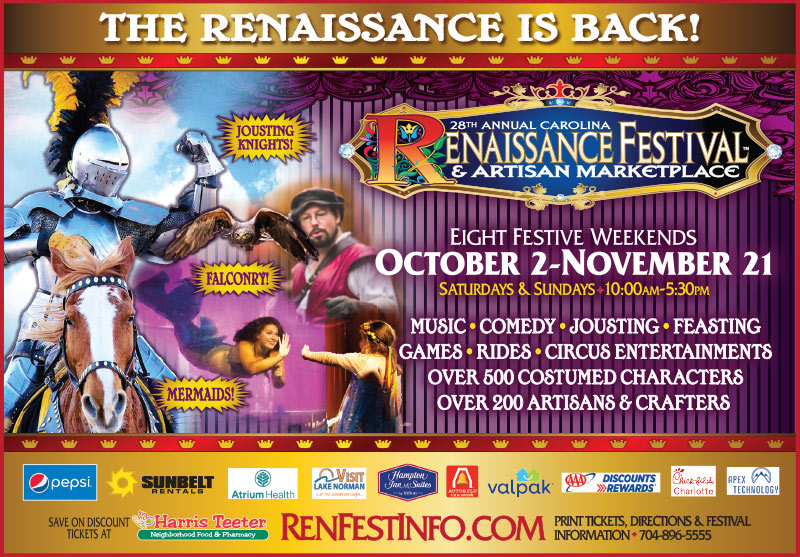 Over 100 non-profit organizations are selected by the Festival to be recipients of complimentary admission tickets and prizes for use in auctions, raffles, and other fund-raising events. Additionally, free admission opportunities are made available to the public in exchange for the donation of charitable items servicing a variety of needs. In total, the Festival makes available over $300,000 in free admission opportunities, according to Festival organizers. For example:
This past weekend, October 23 and 24, was Celtic Music Weekend; a special themed weekend dedicated to celebration of Celtic Music and where visitors are encouraged to donate gently used or new coats for children in need in exchange for free child admission to the Festival. The event is made possible courtesy of WSOC-TV's Steve Udelson and his annual Coats for Kids charity drive with coats distributed by the Crisis Assistance Ministry.
November 13 and 14 is Time Travelers' Weekend; a special themed weekend where the Festival encourages visitors to attend as they are or dressed as their favorite characters inspired by film, comic books, and literature and "time travel" to the renaissance. Special events include a costume contest and book signings by popular local authors. And children ages 12 and under are admitted for free with the donation of school supplies and/or books at the Festival entry and with items benefiting Classroom Central and the Charlotte Mecklenburg Library. This weekend is made possible with the support of Parent Teacher Magazine.
November 20 and 21 is the Festival's Final Huzzah; the final weekend of the season and last chance to chomp a turkey leg before Thanksgiving. Children ages 12 and under are admitted for free with the donation of can food items at the Festival entry and with donations benefitting Second Harvest Food Bank of Metrolina.
The Festival also works with the American Red Cross by helping coordinate an annual blood drive and providing free admission opportunities to those who donate. This year's blood drive resulted in the collection of 66 pints of blood, which may save or sustain 198 lives, according to the American Red Cross.
And new this year, organizations can raise funds by coordinating teams of volunteers to perform a variety of volunteer tasks at the Festival. Tasks may include assisting with serving food, directing cars, litter control, and/or being stagehands for one of the Festival's 16 outdoor stages. The Festival will donate to the organization, or a charity of their choice, a total lump sum that equates to $15 – $20 per volunteer service hour, per each volunteer.
Non-profits interested in partnering with the Festival can learn more at the Festival's website at Carolina.RenFestInfo.com.
Dates & Hours:  The Carolina Renaissance Festival is open every Saturday and Sunday, October 2 through November 21. 10 a.m. until 5:30 p.m. rain or shine.
Location:  Just north of Charlotte between Concord and Huntersville on Highway 73 at Poplar Tent Road (between I-77 and I-85). Exit 25 on I-77 or exits 52 or 55 on I-85.
Advance Discount Tickets & Parking:  $27 for adults, $17 for kids ages 5-12, available at Harris Teeter Stores region wide. Children 4 and under are always free. Tickets purchased at the gate are $1 more. Print your own tickets on-line at Carolina.RenFestInfo.com. Senior discount tickets (60 and over) and military discount tickets are $25 at the gate. Park FREE courtesy of Harris Teeter.
More Information:  Visitors should call (704) 896-5555 or visit the Festival web site at Carolina.RenFestInfo.com.