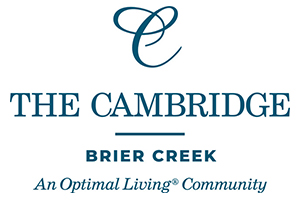 The Cambridge at Brier Creek:  Fitness Center
The Cambridge at Brier Creek is a new luxury … some call it super-luxury. This Independent Living Community is located in Raleigh's Brier Creek area, which means there is something to do all the time.
Even with the lifestyle that the Raleigh-Durham area offers – restaurants, shopping, cultural events, and more – the amenities at The Cambridge at Brier Creek make it easy to never leave home. Wellness is always important and even more so at the busy holiday season.
The on-site fitness facility – all 23,000 square feet – has state-of-the-art equipment and keeps residents in shape at all levels. Take a swim in the Olympic-sized pool, join a cycling class or work out with free weights. To start the day on a high note before holiday shopping, take time to stay fit and healthy.