By Lynne Brandon
Photography by Andrea Lewis
Everyone loves a good story. For some, stories told through different art forms, whether it is a piece of pottery, sculpture or painting, is the best lens in which to view life and all it offers. Art lovers are inspired to watch artists at work in studios, stroll through collaborative gallery spaces, and take a class to wake up their inner artist.
Keeping the creative side of life engaged is easy both in the Triad and in the Triangle, where art is shared and highlighted in collaborative spaces. In Greensboro, 205 Collaborative shares its passion for art with the community in studios where artists work together to share their love of art and tell their own individual stories. In Raleigh, Artspace brings together more than 35 artists, exhibitions featuring national and community artists, art classes for all ages, and more.
On a crisp, fall morning in October, art lovers, including myself, drifted throughout Greensboro to see artists in various locations as part of the 24th annual Artstock Studio tour. I took my time at The 205 Collaborative, where visitors could see the collection of works by local artists that call the space home. The building is a former plumbing warehouse, but now it houses the largest working artist collaborative in Greensboro.
This year six artists participated in the annual Artstock Tour – Carol Long, Emily Myrick, Lisa Ethier, Susan Ridenour, Brenda Olds Carter, and Angela Gunter. Other artists were also on hand to talk with visitors about their collections. Even if their medium of choice differs, what unites these artists is passion and purpose through art.
Their spaces were as unique as their works of art. Located downtown near the train station, The 205 Collaborative is aptly named. The space is a true collaboration of private working spaces and home to more than 30 artists on two floors. Each artist and creator brings a unique experience and background to the collaborative. A relaxed yet energetic ambiance permeates this thriving artist community that showcases works in metal, pottery, sculpture, oil and acrylic painting, mixed media, and more.
Among the artists are people of all ages and backgrounds:  former and current art educators, a retired business psychologist, a former bartender turned muralist, and others. Some have art degrees and some are self-taught. Art is a second career for many after years spent working in professional workplaces. No matter their history, all admit to being passionate about their time in the studio.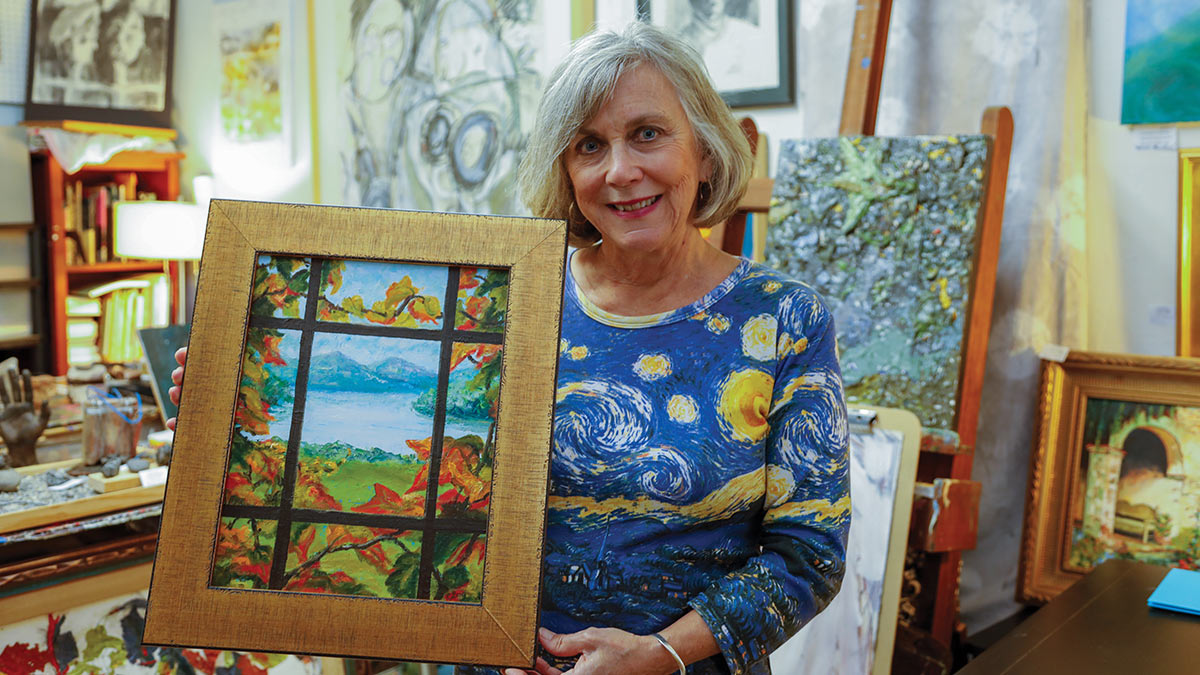 Carol Long finds inspiration for landscapes on her travels.
Carol Long is a retired art teacher who specializes in oil painting. She found her inner artist on travels across the U.S. and abroad with her husband. Landscapes from Ireland, California, and other locations often end up on canvas as a journal of sorts, telling the stories of her travels. All her paintings are close to her heart, but a favorite is an oil painting taken on a trip to Ireland. The image was painted from a photograph looking through a castle window.
Long's sister, Emily Myrick, is a mixed media painter using traditional charcoal, Russian sauce media (charcoal pencil from Russia), and acrylic paint. Russian Sauce is a cross between a soft pastel and a Conté crayon explains Myrick. It combines high-quality pigment with Chasov Yar clay and carbon for a velvety smooth drawing crayon. Myrick studied art during college at UNC-Greensboro.
Susan Ridenour has created pottery for 20 years. Like some artists at The 205 Collaborative, her former profession as a social worker did not involve art. Ridenour says she found pottery on purpose. "I work in stoneware as opposed to porcelain," says Ridenour. She fires pieces in a large natural gas reduction kiln with four burners at high temperatures (up to 2,300 degrees).
Ridenour makes pottery pieces both by throwing on a wheel and with the "hand build" method (using the potter's hands to form and pinch the clay into shapes). One of her favorite pieces is an offering bowl inspired by alms bowls carried by Buddhist monks. "It is a dynamic piece that says you will receive enough," explains Ridenour.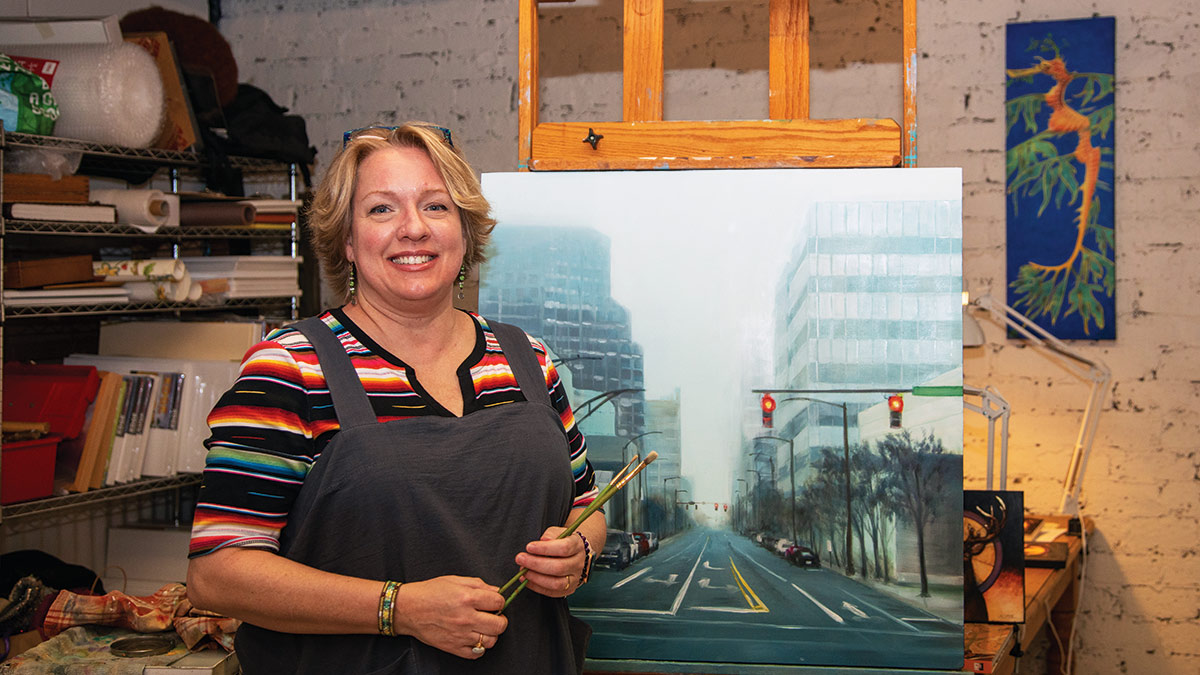 Angela Gunter with her painting, "Downtown off Lindsay".
Angela Gunter's enthusiasm for her craft is on display along with realism paintings found in her retro-vibe studio complete with a velvet sofa and chair. The self-taught artist reveals, "Growing up I learned how to draw on my own, watching others and copying what I see," says Gunter. "Now we live in the age of information," she adds, "YouTube and taking online classes, it's a great time to learn anything your heart desires." Her lifelong love of learning led to receiving an art grant in 2021 through the non-profit Arts Greensboro. Gunter enjoys painting realism in oil paint, and still life portraits. "I want to explore the whole world of color – at night when I close my eyes I see countless colors and shapes, like mosaics, or stained glass," she laughs.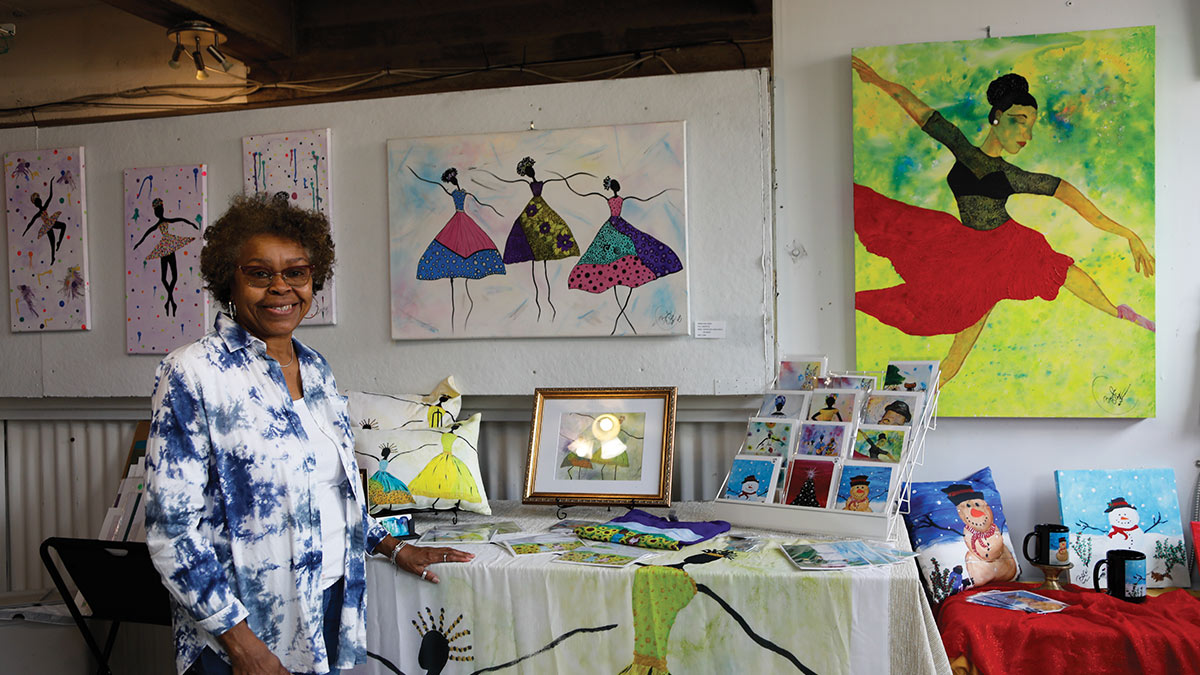 Brenda Olds Carter is a part-time teacher who specializes in mixed media.
Brenda Olds Carter loves teaching art so much that after retirement she returned to the classroom part-time in 2021. "Happy Dance" is Carter's first painting she completed after retiring. Done in mixed media, the image depicts ladies wearing colorful dresses while dancing and fanning themselves to stay cool on a hot Sunday in church. Her best known work, "Black Butterflies," depicts colorful ballerinas. The dancing ballerinas are reproduced on pillows, scarves, and cards. Carter's work has been juried locally at galleries in Winston Salem, Mebane, Greensboro, and the DKG online gallery.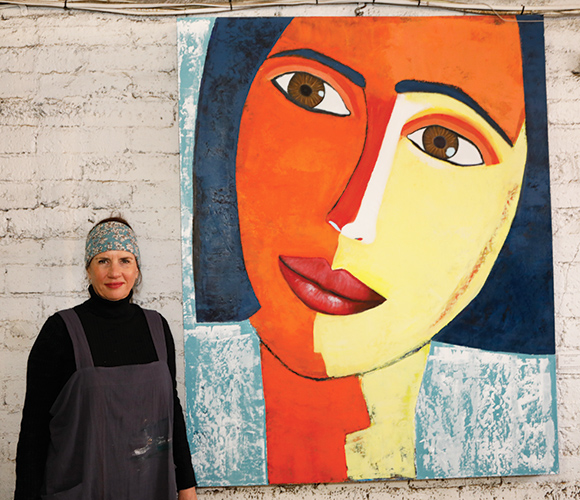 Lisa Ethier, a retired business psychologist, works with oil paint and cold wax.
Lisa Ethier, a retired business psychologist, is embracing art in her second career. Only this time, "work" is more relaxed in her serene studio complete with a living room, several large working tables and easels, and a wall of windows. Now Ethier spends her time and energy creating works of art with oil paint and cold wax.
Like the best things in life, the decision to become an artist was not planned. After a long day of business travel capped off with a deer hitting her car on the way home from the airport late one night, Ethier decided it was time to do something different. Enter art. "I always enjoyed the creative aspects of planning events for my children and friends, cooking, and home decorating, but I had no inclination toward painting," says Ethier. Two events coincided that would seal Ethier's path to painting. A visit to the River Arts District in Asheville piqued her interest in painting when she saw a few artists using cold wax and oil paints to create large abstract paintings. When she and her daughter, Maya, visited the 205 Collaborative to find a space for Maya, also an artist, Lisa saw an available studio and decided to take the leap herself. She has been painting for almost four years and relies on YouTube and remote classes to learn the basics. "I'm having a blast trying to figure this out. I am still astounded that this vibrant artist community, with such seasoned and talented creators have been so open, generous, and accepting of someone like me who rented a space without any supplies, training, or experience whatsoever. I feel really lucky."
"I will have an emotion that I feel I can't put into words, but I can see images when I meditate," says Leah Finch when describing her relationship with art. The part-time artist is also a scientist working on COVID research. "It can be difficult to find a balance between my work in a COVID research lab and my work as an artist," says Finch. "I love everything about painting even down to the smell and feel of the paint on canvas. All of it provides an emotional release for me."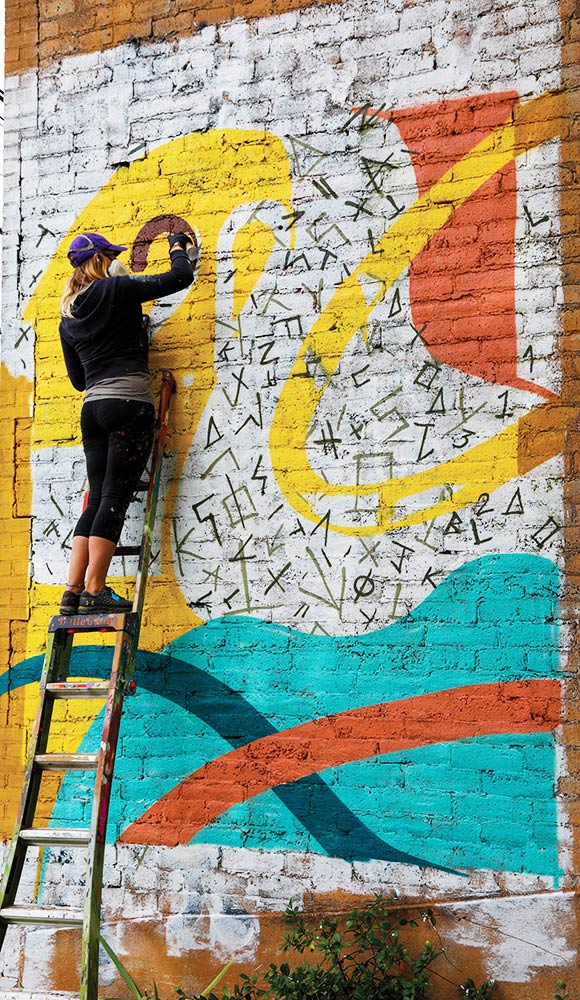 Jenna Rice creates a new mural for the 205 Collaborative.
Jenna Rice's idea of "happy hour" is with spray paint in her hand and a dramatic canvas like a brick wall. After moving to Greensboro seven years ago, Rice knew she needed to find an art community. In time she found an artist group through time spent at the Bearded Goat where she was a bartender. In 2020, she decided to take the plunge as a full-time artist. "I was ready to take a leap of faith," says Rice.
Rice did chalk art and window painting initially, but the pandemic changed the course of her career. During the pandemic Rice's friends that were nurses inspired her, and without prior experience as a muralist, she painted a tribute to nurses that went viral nationwide and made front page news.
She started getting commissioned work and traveling to other cities for mural projects. Now she is one of the visual artists who have put Greensboro on the map as a "Top Ten U.S. Mural City." One of her next projects is a 40 x 150 foot mural in Eden for Kotis Street Art. As she turned back to her current mural on a brick exterior wall at The 205 Collaborative, she smiles, "I love having a job that makes people happy."
205 Collaborative
205 S. Lynton St., Greensboro
Open to the public by appointment
www.205collaborative.org
In the Triangle:
Artspace
Artspace is a non-profit visual arts center located in Downtown Raleigh that inspires positive community impact through art.
Visit Artspace for exhibitions featuring national and community artists, more than 35 artists working in their studios, artists in residence, and art classes for all ages and abilities.
301 E. Davie St., Raleigh, NC
Open Wednesday – Saturday 11 a.m. – 7 p.m., Sunday 11 a.m. – 4 p.m.
First Friday's 11 a.m – 10 p.m.