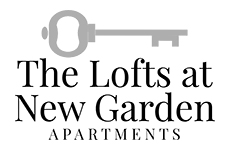 The Lofts at New Garden Apartments prove that apartment living is simply not what it used to be. These mid-rise super-luxury apartment homes offer an amenity-rich resort-living environment. Few traditional homes come with a fitness center. At the Lofts at New Garden in Greensboro, the gym is outfitted with punching bags, dumbbells, and even kettle bells.
The fitness center has a universal weight machine, a variety of cardio equipment including treadmills and stair climbers, and more. Yoga enthusiasts are not left out with plenty of room for Yoga classes. The fitness center is wonderfully equipped with plenty of room for your workout and gives residents the unique experience of having their own personal fitness club.
The Lofts at New Garden Apartments is an Active Adult Lifestyle community located in Greensboro with convenient access to the Target shopping center (New Garden Crossing), restaurants and more. Along with the fitness center, amenities include a resort-style swimming pool and much more.