By Lynne Brandon
North Carolina wineries and vineyards promise a day of fun and relaxation, and for some a vacation. Nearby attractions and outdoor assets make wineries the perfect overnight or weekend trip, with many wineries offering onsite accommodations. Some have restaurants and some are adult only.
Overmountain Vineyards
In the foothills of North Carolina a winery called Overmountain Vineyards serves up more than wine. It offers a new kind of vacation that connects people to the great outdoors surrounded by natural beauty and time spent in the slow lane.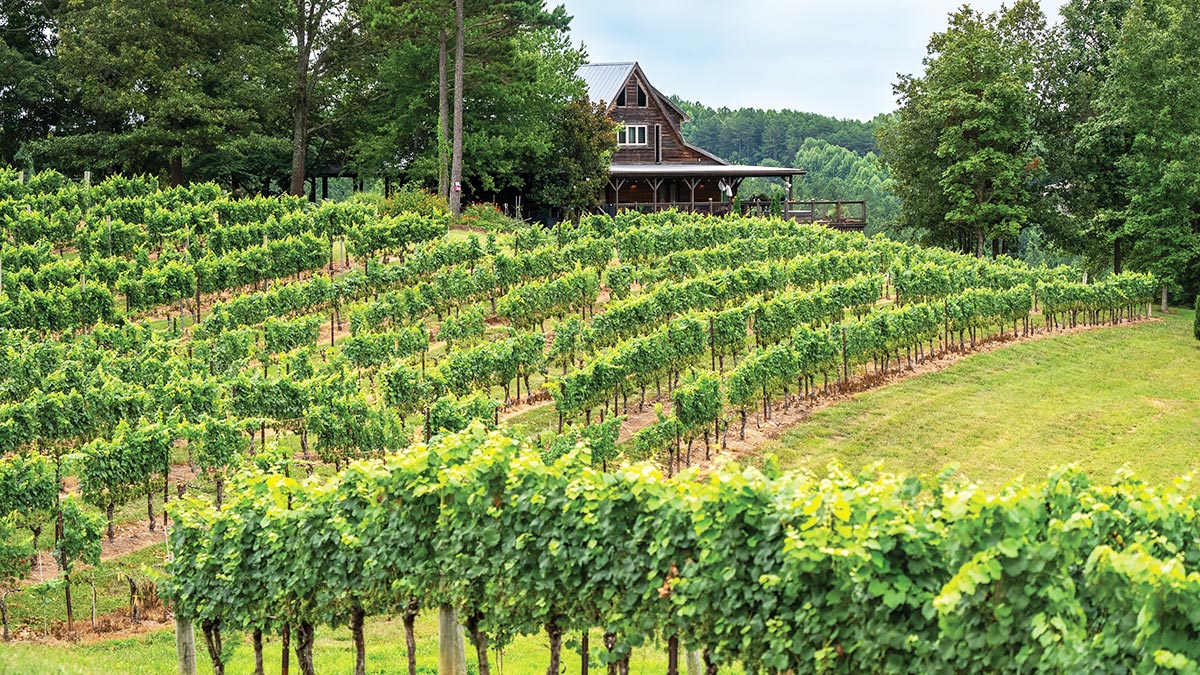 Overmountain Vineyards
Overmountain Vineyards is family owned. Above are Frank Lilly with his daughter Sofia and one of the family dogs, always a visitor favorite.
The Lilly family are farmers who make a living on the land and share the experience with visitors from across the U.S. "Our winery is not a business, it is a lifestyle," said winemaker, Sofia Lilly. She works with her father Frank using innovative techniques to develop handcrafted and distinctive French-style wines.
Visitors (only adults over 18) are attracted to Overmountain wines (Petit Manseng and Petit Bordeaux are popular) and its beautiful location in the foothills. After a tasting, visitors have plenty to see and do. Equestrian lovers come for events at Tryon Equestrian Center, home of the World Equestrian Games. To get outside, golf fans have local, scenic golf courses to play, and nature lovers have trails to explore.
Sofia touts their location in the foothills with something to do for everyone from nature based to big name attractions. "We are less than one hour from Biltmore, less than one hour from downtown Asheville and its beer culture (which wine lovers also like), as well as nearby lakes for boating and hikes with waterfalls. We also have guests who stay with us just to relax and don't go anywhere," said Sofia. Overmountain is also conveniently located within an hour drive of Greenville, South Carolina, a popular destination known for its pedestrian-friendly downtown with more than 100 restaurants.
Stay:  Take your choice of two luxury villas tucked into the Overmountain property with a serene view of the vineyards. Contemporary villas (Meadow Villa and The Vineyard Villa) sleep four guests in two bedrooms, two full bathrooms, with a fully stocked kitchen. Relax and enjoy a glass of wine on your private patio. $300 per night. Visit overmountainvineyards.com/villas.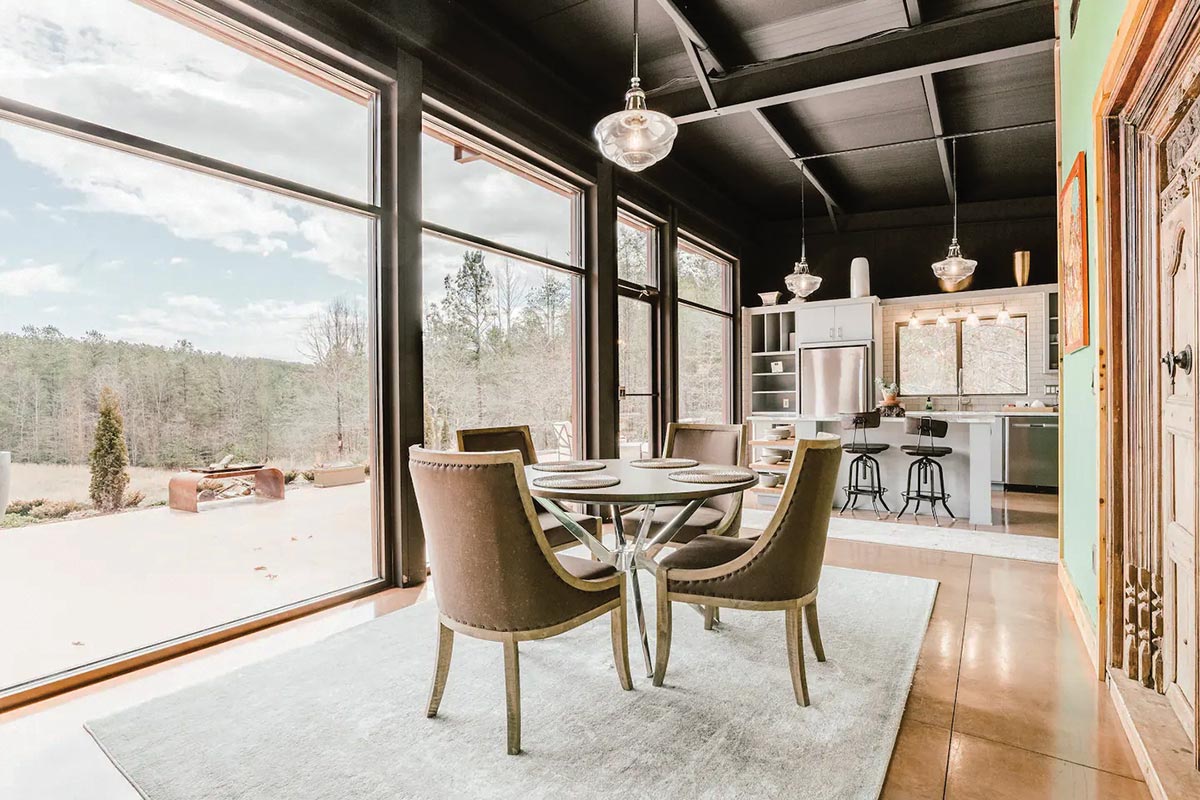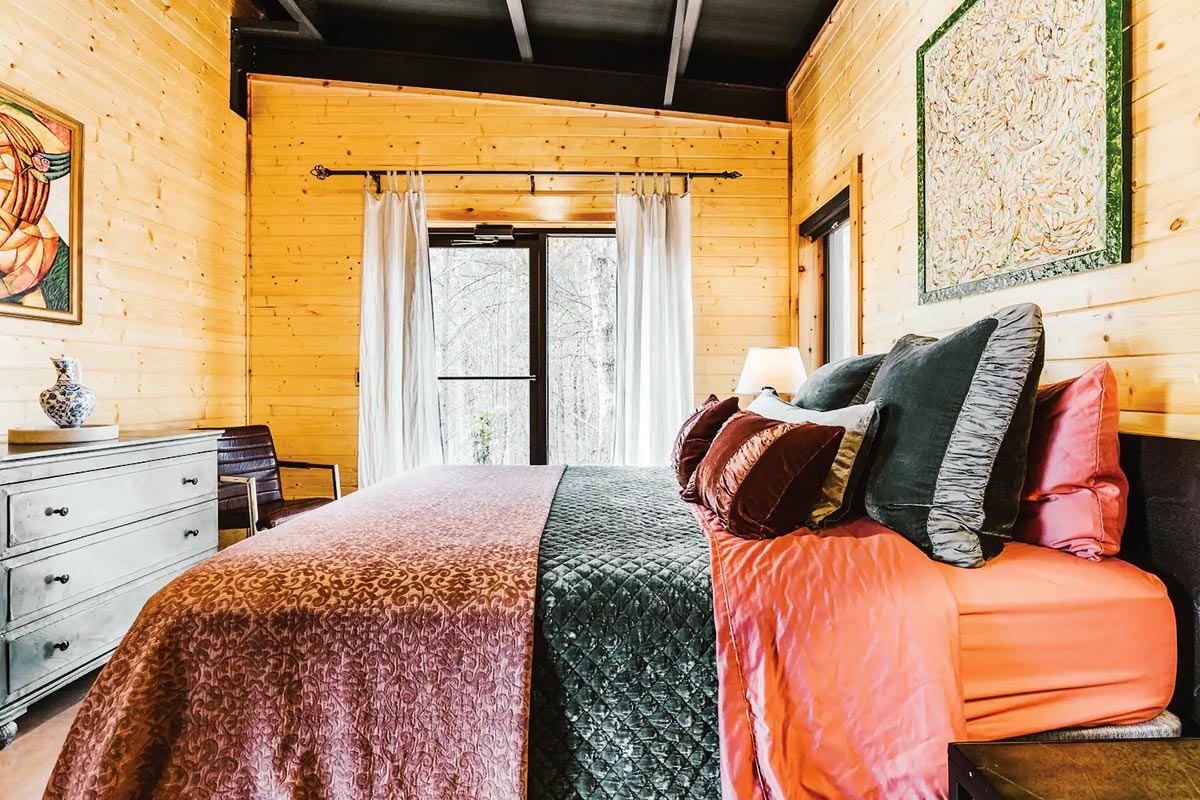 The Meadow Villa, one of the luxury villas for overnight stays at Overmountain Vineyards.
Burntshirt Vineyards
To go to higher elevations, wine lovers can make the trek to Burntshirt Vineyards for a taste of the High Country. The winery is located in a favorite mountain destination, the town of Hendersonville. Anytime is a good time to visit the town known for its outdoor lifestyle and as North Carolina's apple country.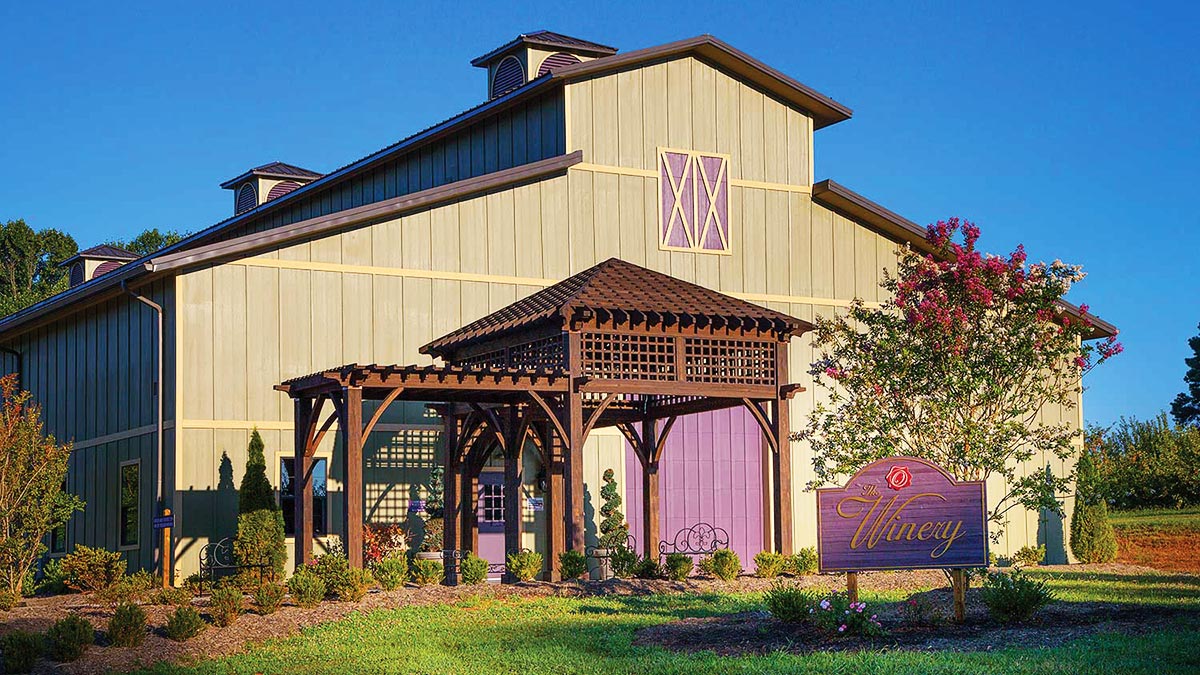 Burntshirt Vineyards winery, located next to the tasting room, is available for guided tours of the winemaking process.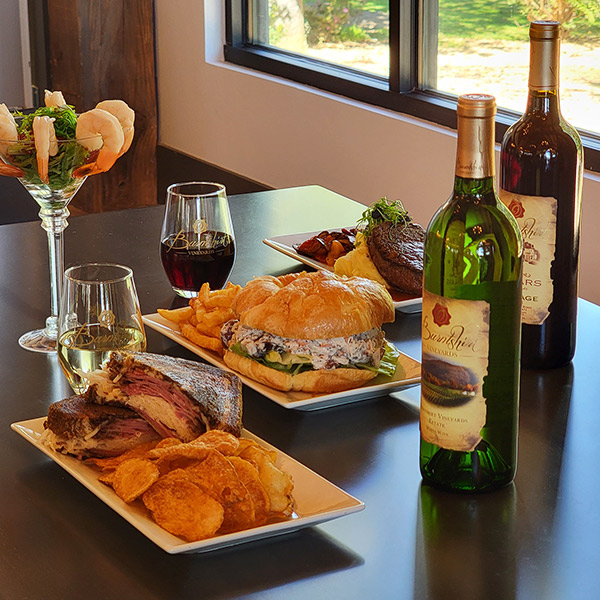 Vintner's Table restaurant and wine bar serves up farm-to-table dishes paired with a favorite wine.
Visitors come for a wine tasting of award-winning selection of wines in the Tasting Room (flights are $16 and guided tasting is $10), and stay for lunch at the Vintner's Table next to the tasting room. A winery tour (2 p.m. daily) is also popular to see the space that mimics the caves of European wineries. Most weekends live music is on tap.
There are plenty of reasons to stay overnight at the vineyard. Hendersonville is close by and its vibrant main street is filled with local shops, and plenty of restaurants, coffee shops, bars, and taverns for every taste. Cultural attractions include Flat Rock Playhouse, the official state theater of North Carolina, and Carl Sandburg Home National Historic Site.
To get outside, visitor take a waterfall hike at DuPont State Recreational Forest or a secluded nature hike at Holmes State Educational Forest. Jump Off Rock, just 15 minutes from downtown, features a small park on a mountain top showcasing one of the most popular views in the mountains.
Stay:  Vitner's Cottage, with two bedrooms, sleeps up to 4. $108 average per night. Visit burntshirtvineyards.com.
Elkin Creek Vineyard
Pizza pairs perfectly with wine especially at Elkin Creek Vineyard in the town of Elkin. Big Elkin Creek flows through the property for an idyllic setting with flowing water as nature's soundtrack. Owners, Nick and Jennifer White, and Louis and Carrie Jeroslow (all formerly worked in the Blue Man Group) connected over their love of wine set in a rustic setting.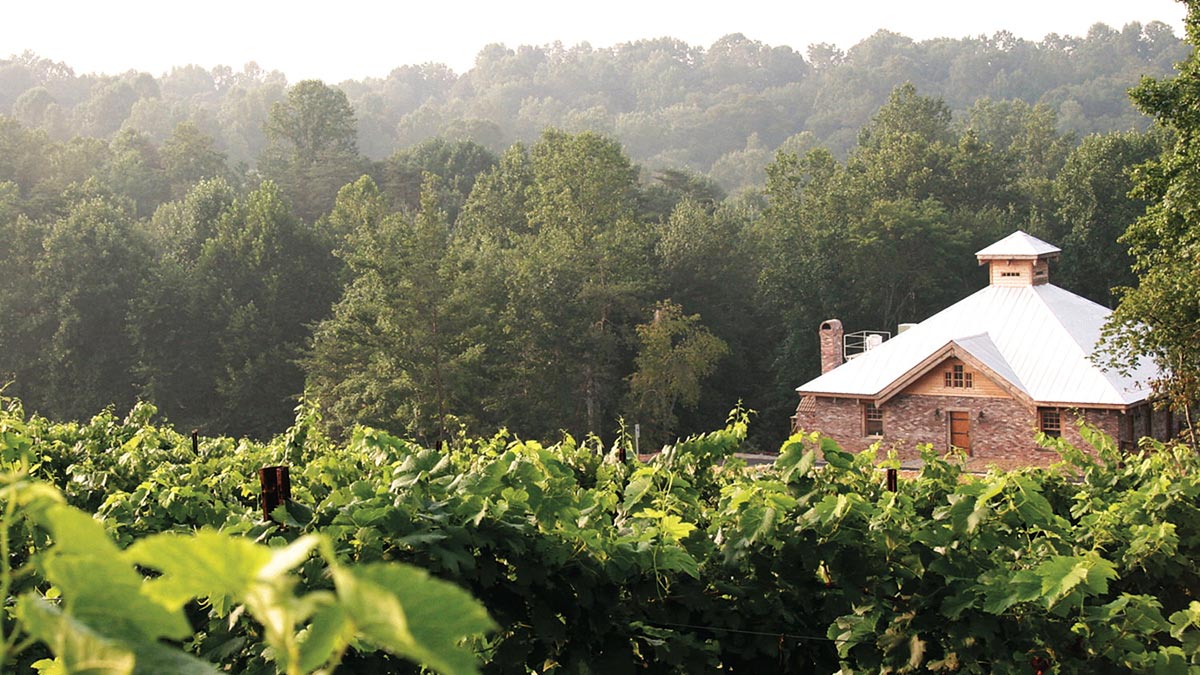 Elkin Creek Vineyard
When not enjoying time at Elkin Creek, visitors shop in the downtown filled with restaurants (many are pet friendly), shopping, bakery, coffee shop, and more. The artsy town showcases a mural hike (see all 10), Reeves Theater, and its Foothills Arts Center. Monthly Cruise-Ins, Food Truck Fridays, and Downtown Block parties bring in crowds. Or to get connected to nature, get on the water at Crater Park. Mount Airy is another nearby popular destination, as well as the Blue Ridge Parkway, which is less than an hour away.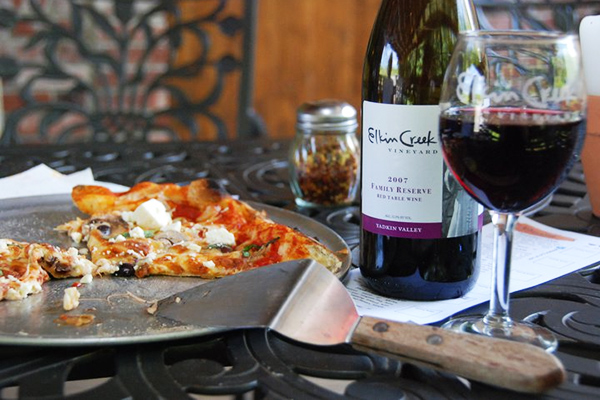 Elkin Creek Vineyard offers brick-oven pizza on Sundays.
Sundays are a highlight at the vineyard with wine tasting and brick-oven pizza for dinner (12-5pm, reservation only). After the tasting ($15), guests find respite in luxury, creek-side cabins to relax or celebrate a special moment in a place graced by nature's beauty in every corner.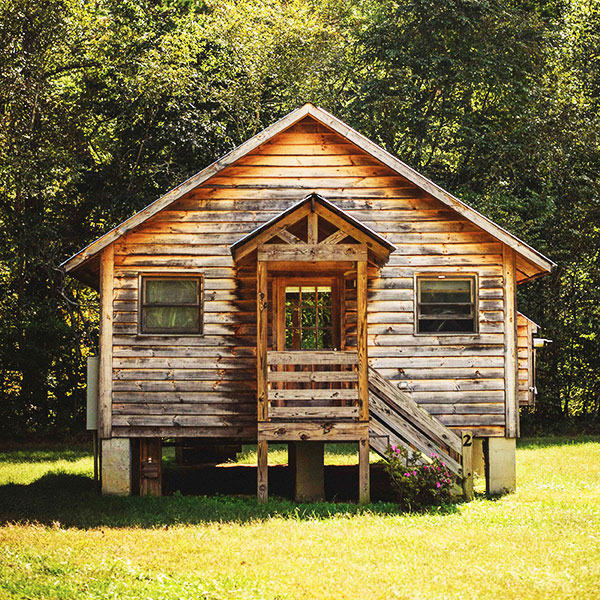 Creekside cabins at Elkin Creek Vineyard provide a relaxing retreat.
Stay:  In the evening retreat to one of four intimate, creek-side cabins for a rustic get-away with modern conveniences. Nestled in the woods and surrounded by the gentle sounds of flowing water. Rates: Weekdays (Sun-Thurs) – $149/night; Friday/Sat – $169/night. A special couple package combines wine, meals, and private tasting. Visit elkinvineyard.com.
North Carolina has nearly 200 wineries to explore, so get out your calendar and plan a different kind of getaway. Stay a night, weekend, or longer in a cabin, lodge, or luxury Airbnb. For a simple getaway that won't break the bank – wine vacations are the best kind. Visit ncwine.org.