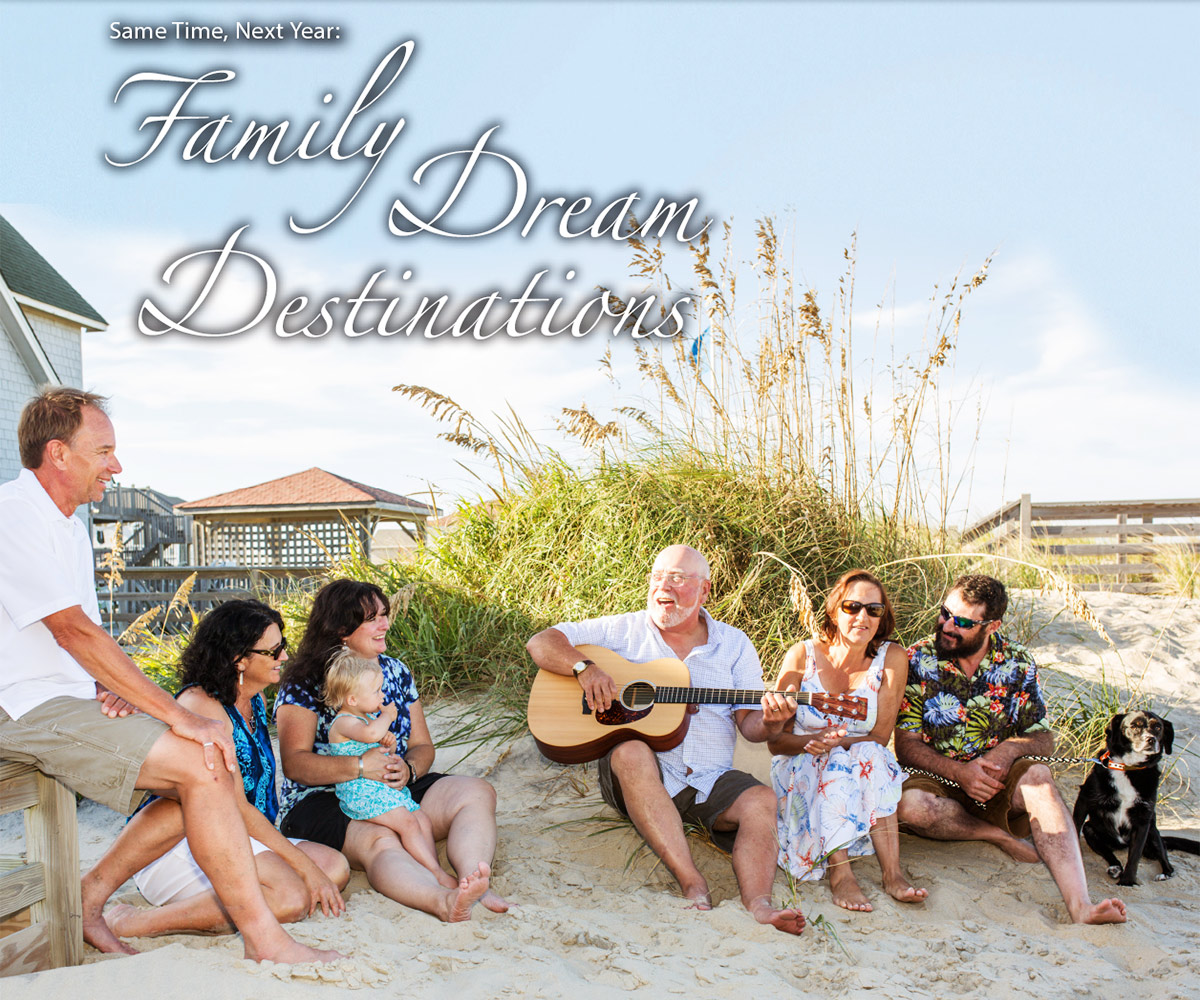 By Lynne Brandon
From the mountains to the coast, North Carolina is a vacation dreamland. Whether the choice is mountain peaks or sandy shores, destination vacations are becoming more popular as people strive to reconnect, recharge, and relax with extended families.
In today's world it can be a challenge to gather multi-generations together. And, as second generation families and grandkids move across the country (or globe) challenges mount. Modern conveniences and luxury amenities have also raised the bar on expectations with all generations who want the latest-greatest technologies and amenities in their vacation home.
How do you entice grandparents, parents and grandkids to come together under one roof? With advance planning it can be done. And, the good news is that vacationers have property choices like never before – from small cottages to mega-mansions.
To find out how to make a dream vacation happen, RRG talked to professionals at the coast and the mountains who shared tips on planning a family get-together that will be remembered and talked about for a lifetime.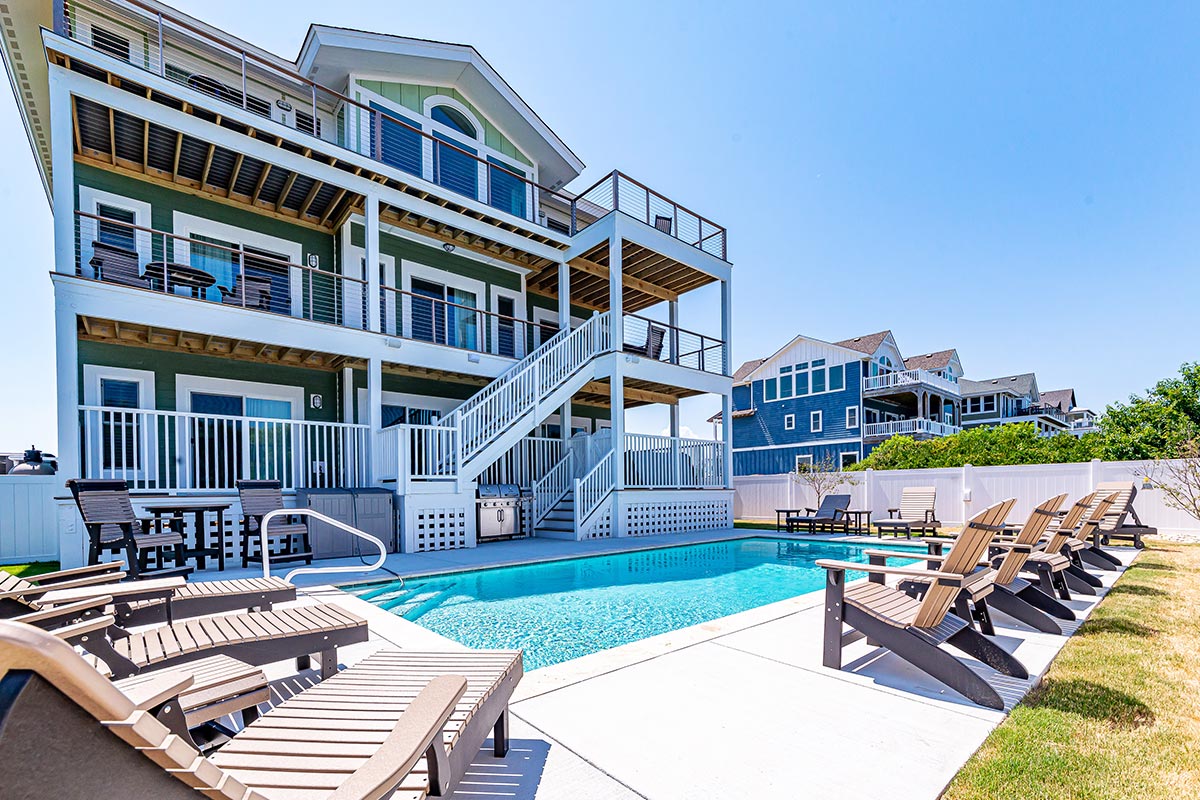 Seaside Dunes – Corolla, NC
Location, location, location
First, decide what climate and scenery is preferred along with the season. Nature-based destinations with access to beaches or mountains are among the most popular with families who want attractions that take them outside. North Carolinians have the best-of-the-best choices in prime vacation markets like the Outer Banks in the east and mountain towns like Asheville to the west.
Head East:  Beach Blast
Anytime is the right time to go to the beach but June, July, and August are the prime summer time for vacation rentals according to Tiffany Moldovan, Director of Property Management, at Beach Realty NC. The company specializes in Outer Banks (OBX) properties in Duck, Corolla, Kill Devil Hills, Nags Head, and other OBX destinations. "We have seen a lot of changes in the past decade," she continued. "Online booking has been a game changer and offers real time availability. It used to be 80% of grandparents doing the booking, but now their children are making the reservations. Vacations are often planned around school calendars, when kids are out of school."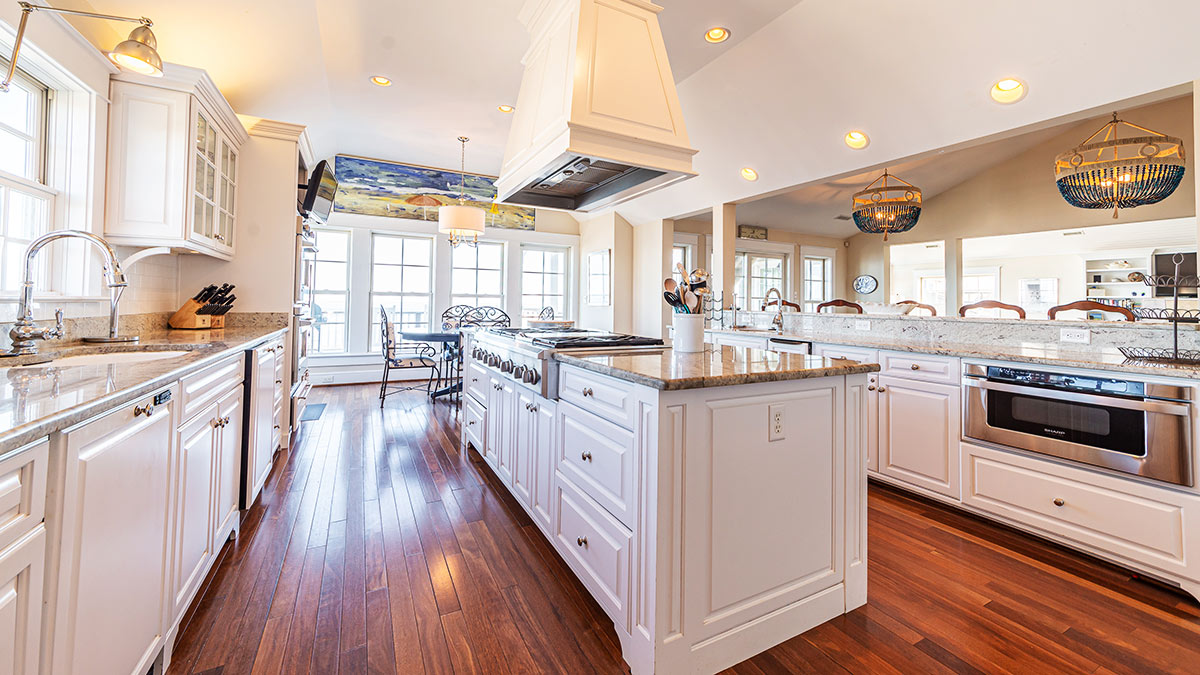 Frankly My Dear – Corolla, NC
I can personally relate to the perfect multi-family beach trip. The experience of being with extended family on a sandy beach for a week is one that I still cherish. With advanced planning we were able to get everyone together for a week. After a day on Kure Beach in the Cape Fear region, we ate dinner in and spent nights together talking and playing board games, with lots of laughter mixed in. We did not know then it would be our last family vacation with three generations. My mother has since passed away, and we are all grateful for that memory of laughter, lazy days playing on the beach, reading, walking, and even taking a nap under the tent.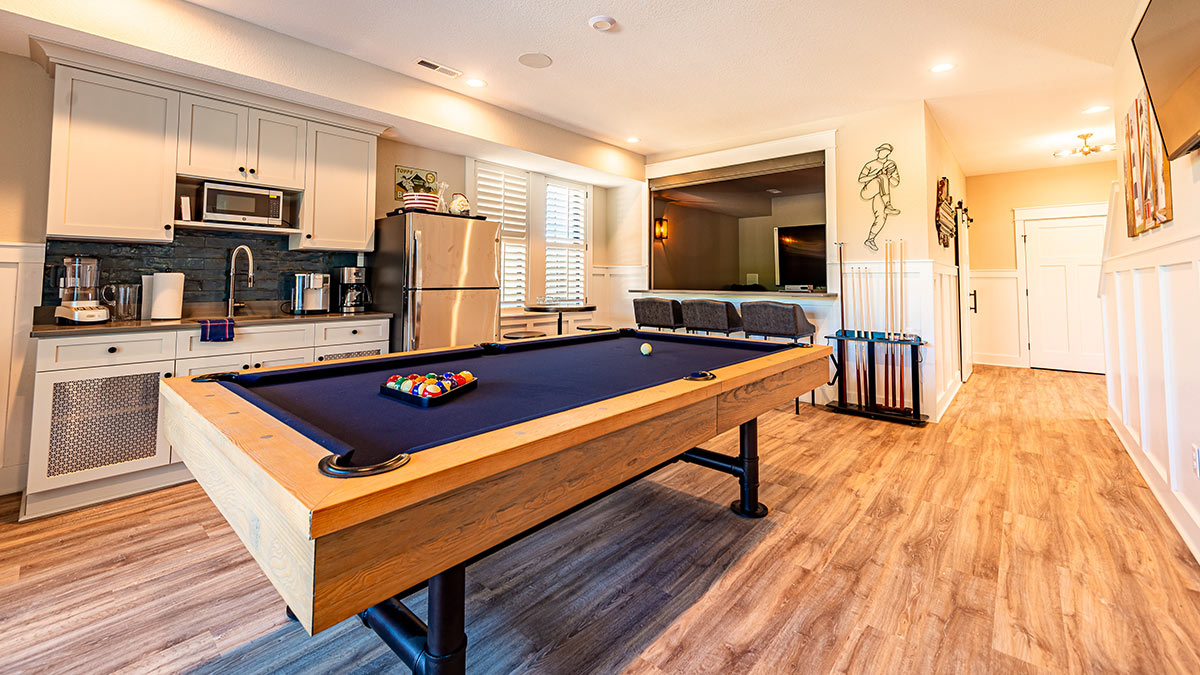 After Math – Corolla, NC
Beach Realty reported that rental property choices run the gamut from small cottages for a couple, to mega-sized homes with 10-plus bedrooms. "Outer Banks properties are getting bigger, with four-story homes being built with up to 24 bedrooms," said Moldovan. "Multiple families tend to rent the mega-homes with amenities like home theaters, pools with enhanced water features, tiki huts, and more. The 5-6 bedroom properties tend to draw the same families who return each year. And, some homes have enough repeat business that the property never comes on the market to rent."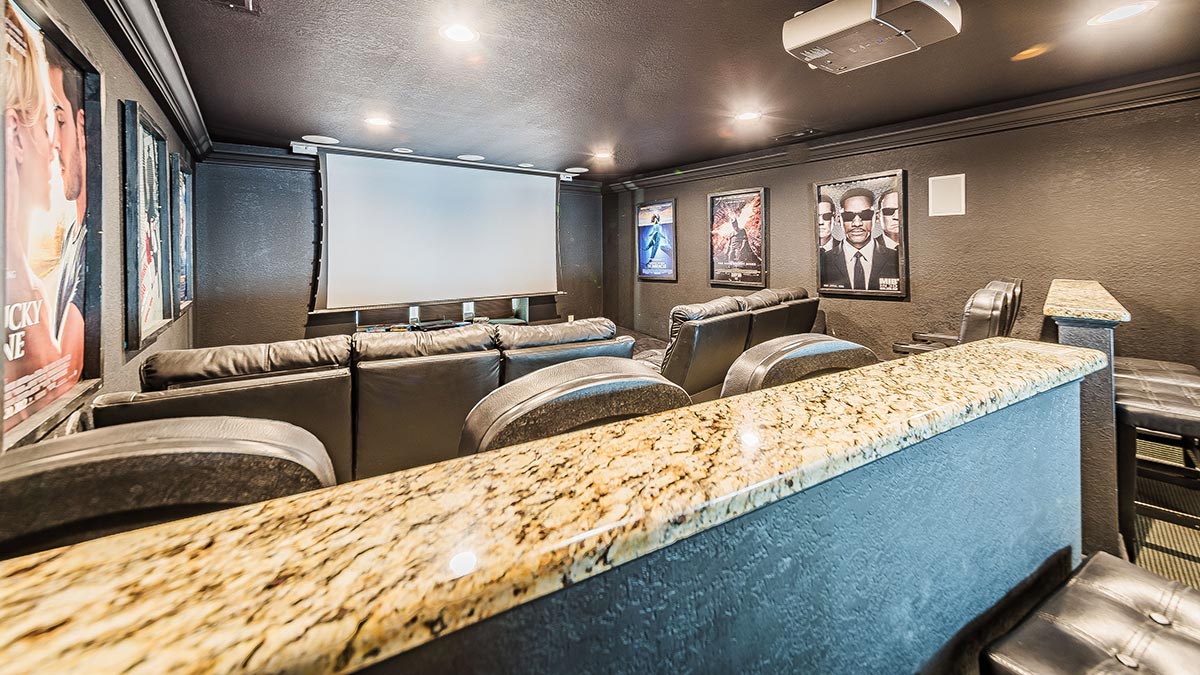 Outside In – Nags-Head, NC
Moldovan stated that repeat business is 70% of total rentals, with 10-15% booking the same house for the same week each year. The majority of rentals are for 5-6 bedroom homes, and mega-homes make up 10% of the market. Favorite amenities include hammocks and hot tubs, as well as technology such as tech gear charging stations and Amazon Alexa devices. EV (electric vehicle) charging stations are increasingly becoming a must-have. "Whatever the size or need, we have something for every taste and budget," said Moldovan.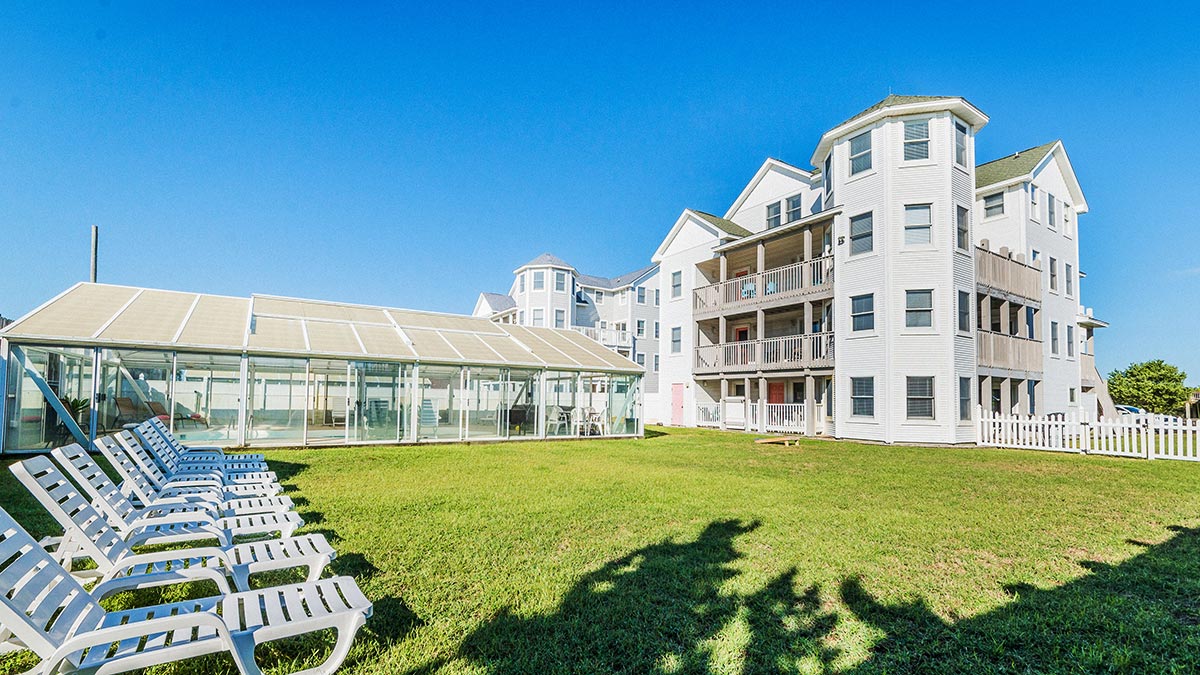 Glad Tidings – Kill Devil Hills, NC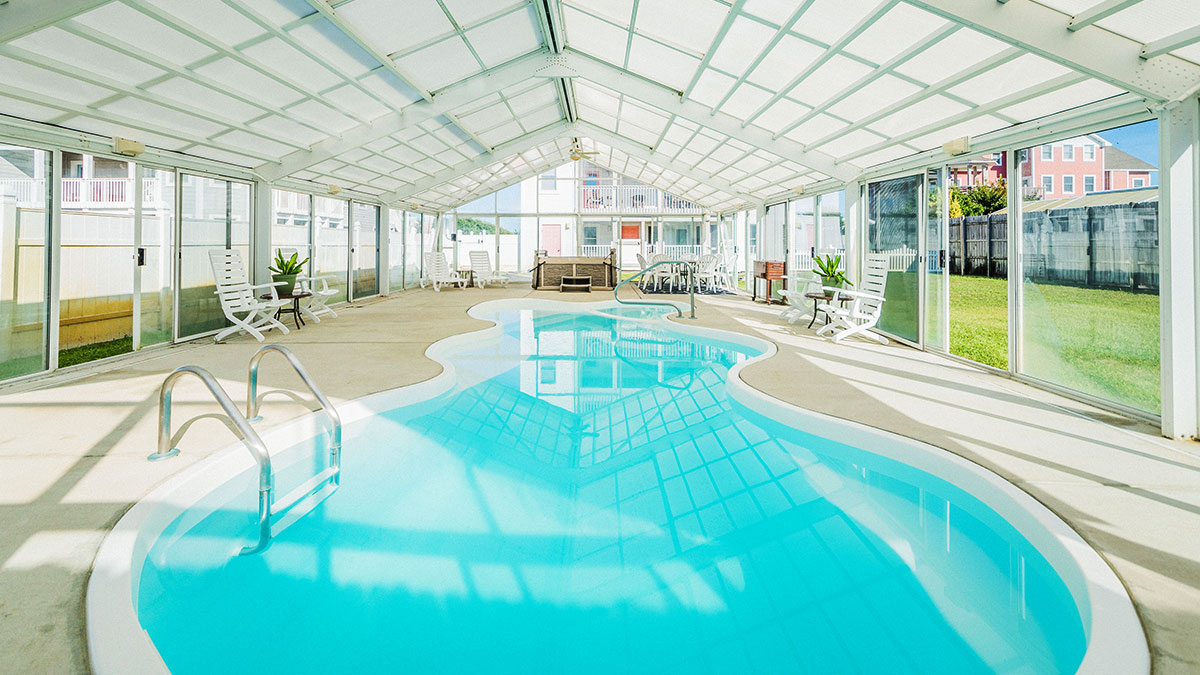 Glad Tidings – Kill Devil Hills, NC
Head West:  Mountain Moments
For some, the preferred tonic is mountain peaks that beckon "go west". Yonder Luxury Vacation Rentals specializes in vacation properties in western North Carolina, and has diverse options from one-bedroom cabins to 10-bedroom private estates. The most common size rentals are 5-6 bedrooms. "We are a luxury premium brand that manages homes and handles everything from 'soup to nuts'," said Mark Bastin, CMO of Yonder.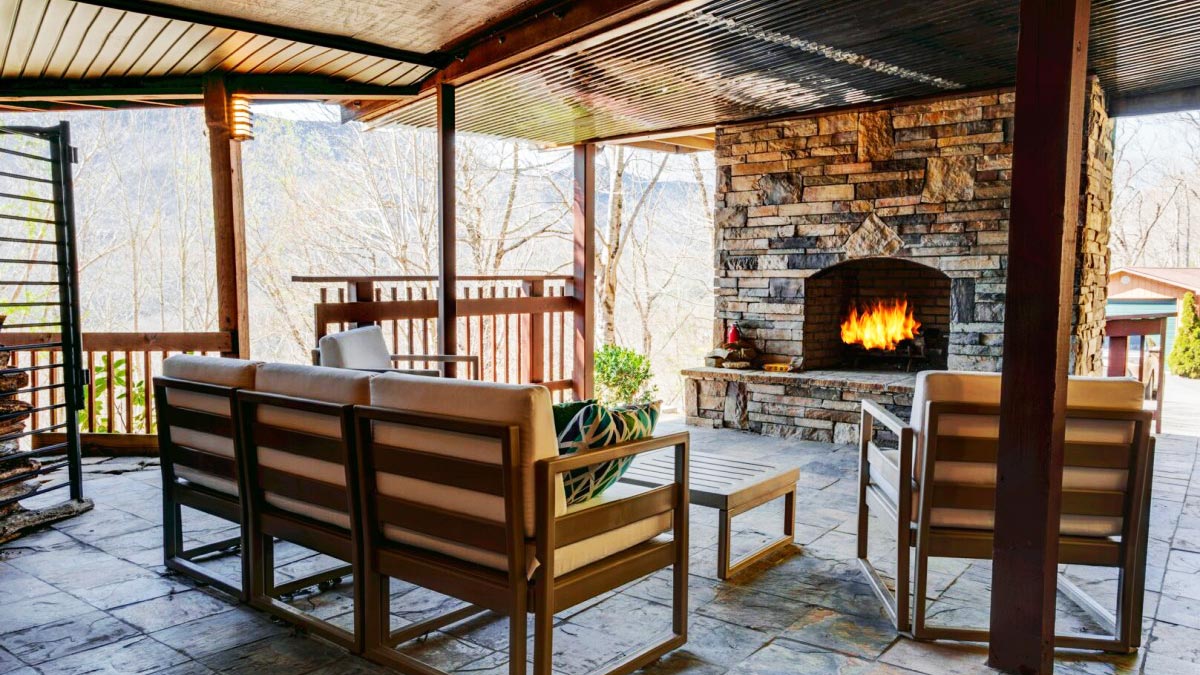 Falling Waters Lodge – near Burnsville, NC
Yonder's properties are in 14 counties in western North Carolina, and Lake Lanier, South Carolina. Popular mountain vacation spots are found in Asheville, Hendersonville, Brevard, Waynesville, and other mountain towns. "From the start in 2011, Yonder has enjoyed steady and intentional growth, but since 2020 we have experienced a spike in vacation rentals. Supply has certainly increased to meet the demand," said Bastin. He continued, "Technology has also changed this industry with dynamic pricing (shifting according to seasons) and demand data (ability to view amenities, dates, and other metrics that people are looking for). Yonder's rentals are used for micro-weddings, corporate retreats, as well as vacations."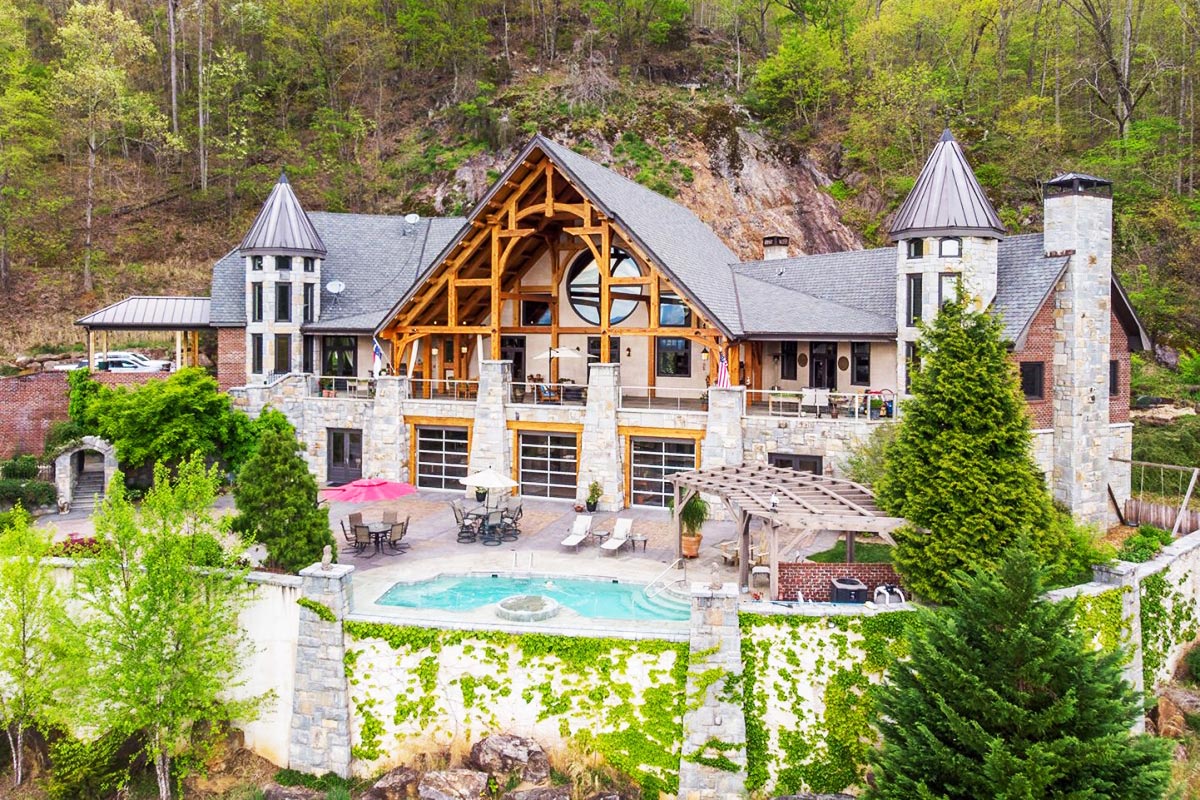 Legacy Lodge – near Franklin, NC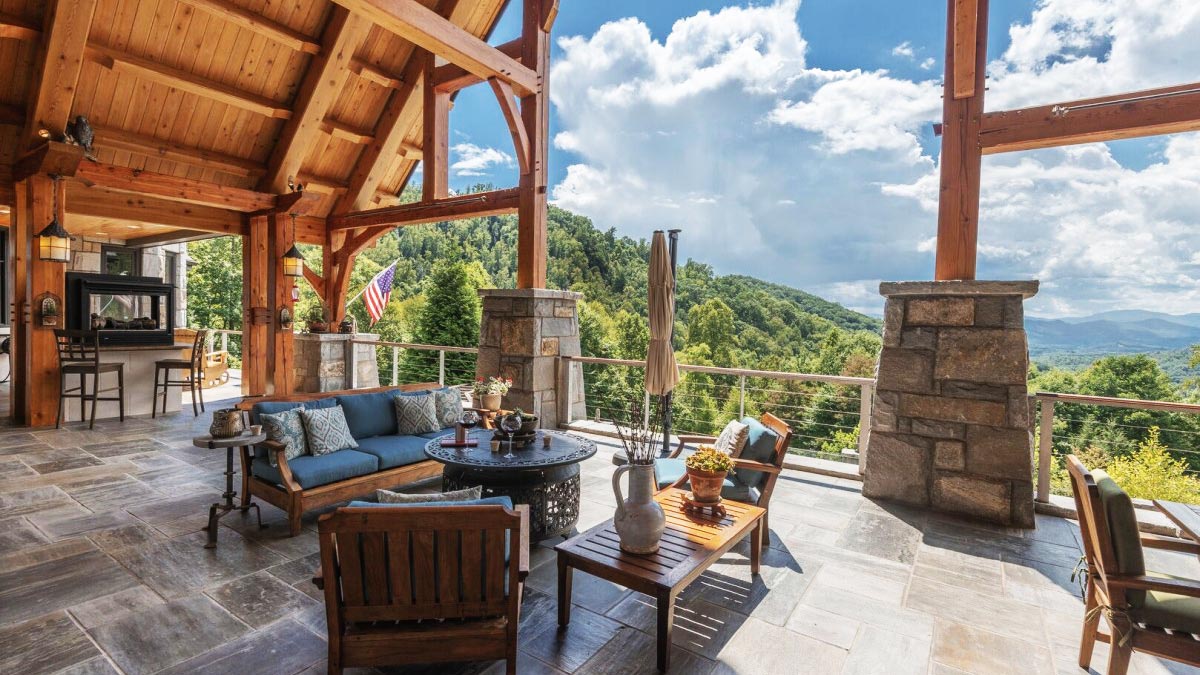 Legacy Lodge – near Franklin, NC
"Since Yonder started, we have seen an increase in several families and multi-generational families traveling together. Large homes offer privacy, freedom, value, space, amenities, and proximity to local attractions without the cost and the shared area of a hotel."
Yonder sites hot tubs and pet-friendly accommodations as the most requested amenities. Yonder has more than 100 pet-friendly properties, all with special cleaning protocols in place. Customers appreciate fully stocked kitchens and other comforts. During the summer, swimming pools and lake front homes take center stage as requested amenities. Yonder's knowledge of the local area and all it has to offer is especially appreciated by guests.
Panoramic Pool Paradise – Lake Lure, NC
No matter the destination, with proper advanced planning lasting memories will be made. "We want to fill a vacation with smiles and experiences through human connection for a vacation to remember," said Bastin. "Helping people create memories in the mountains is the most rewarding part of the job."
Photos courtesy of Beach Realty NC and Yonder Vacation Rentals.
It is a dream for most people to have the entire family (and friends of family), or multiple families in one vacation house or near one another in side-by-side homes. Here are some tips for making that dream a yearly reality.
Book Early – Whether the rental is a first time or repeat booking, do so in advance and as far as possible for the best rates and availability. Many "repeaters" book a year in advance. Viewing and booking homes online has never been easier and browsing for your dream vacation is part of the fun – so get going!
Know what you want and what you are willing to pay to get what you want. Read rental reviews and check for availability for after hour emergency assistance, etc.
Book Direct – Yonder recommends booking direct with a local property manager to avoid fees that are associated with platforms like VRBO, Airbnb, Booking.com and others. "It also gives guests local knowledge and availability that they can't get with a booking platform," said Bastian.
Communicate – Communication before the trip is key to a successful trip. Beach Realty NC recommends families communicate up front and delegate duties so everyone can relax during the vacation. This also includes discussing costs of the vacation ahead of time. No surprises equal a great experience for all.
Plan for Fun:  Check out Local Attractions – Plan fun things to do that include all ages and interests. Favorite outdoor activities at the OBX:  H20BX waterpark, the First Flight Adventure Park, Corolla Wild Horse Tour, Kitty Hawk Kites (kite boarding and wind surfing), climbing Currituck Lighthouse and more. For more information, go to:  www.beachrealtync.com.
In the mountains, nature is the backdrop for a zip line experience, a hike to see waterfalls in DuPont Forest, paddling down the French Broad River and more. For others a perfect day is time spent at The Wheels Through Time Motorcycle Museum. "We get a lot of inquiries asking our advice and recommendations on things to do, " said Bastin. "Especially when it's a multi-generational family with a wide range of ages visiting."
Yonder has an exclusive program for guests such as a partnership with Biltmore Estate. Other packages for guests include cooking classes, French Broad Adventures, private chefs, summer classes at Warren Wilson College and more. "We can handle pretty much any request with our concierge service," said Bastin. www.yondervacationrentals.com/yonder-experience/.