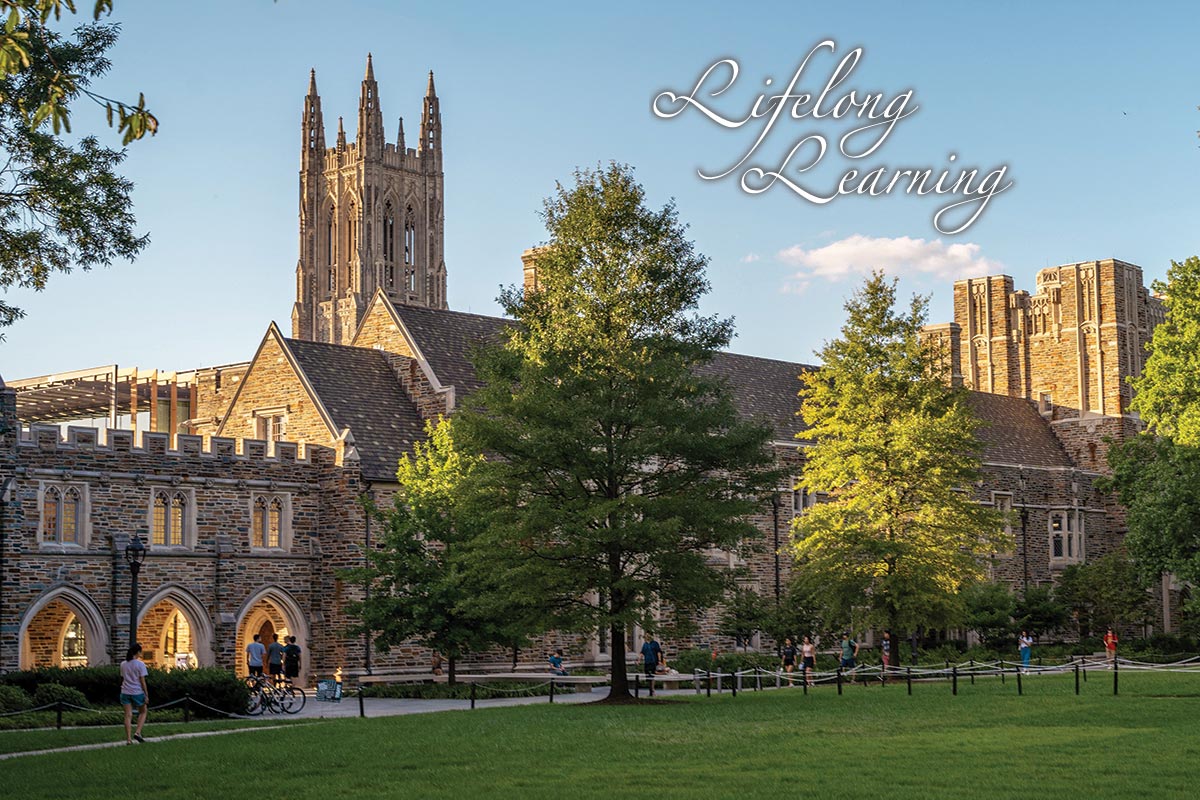 Duke University campus in Durham, NC – Photo Credit:  Discover Durham
By Lynne Brandon
The idea of Mayberry is comforting and makes for great TV. Since the late 60s, the Andy Griffith Show has often portrayed older adults as living life in the slow lane without a lot of outside activities. Mostly folks spent evenings sitting on the porch and taking life easy. No one was working overtime in their retirement years, learning a new skill or going back to school. The show is still popular and rightly so, but it does not represent today's active and energetic retirees who want to be active, physically and mentally.
Fast-forward to 2023 and North Carolina is more popular than ever as a travel destination or a place to call "home." The region called the Triangle and Triad – primarily Central North Carolina, is one of the most sought after retirement destinations in the country and its popularity continues to accelerate.
The reasons are simple … as noted by tourism and economic developers: North Carolina has four distinct seasons with winters that are relatively mild, and a convenient location within three hours of the coast with beaches ready for strolling, or mountain peaks to climb to the west. Add in a multitude of parks, green spaces, and trails that connect all ages to nature, and it is easy to see why North Carolina ranks high on real estate livability lists.
Cultural amenities in the region are rich, from museums – Raleigh is known as the Smithsonian of the South – to live music venues, performance venues (Durham Performing Arts Center and Tanger Performing Arts Center in Greensboro are favorites), and more. The region's low cost of living is the cherry on the top.
Chapel Drive leading to Duke University in Durham, NC
Expanding Your Horizons
Having the world at your fingertips with restaurants, entertainment, sports, and more makes life sweet, but the Central region offers another key element – easy access to nationally and internationally ranked universities and colleges. These institutions are not just for college-aged kids, but offer continuing educational opportunities for older students who have retired from full-time work, but want to remain engaged in today's world with access to continued learning whether it is online, attending lectures, or in a classroom setting.
Auditing classes for free (age 65 or older) or low-cost is available at most colleges and universities for older adults who are residents of North Carolina. Auditors typically are allowed to participate when space is available and with approval of a department head or the instructor. Course credit is not involved, exams are not required, and grades are not reported for those who want to expand their minds with education without the pressure of tests.
All that is required is an open mind and willingness to learn about anything and everything from a traditional English literature course, to a class studying film making, wine or beer production, and much more. Learn a new language or skill. Renowned professors, and instructors teach the courses.
Hit the Books for Free (or almost) in North Carolina Universities and Colleges
North Carolina's diverse educational offerings are available at nationally ranked research university's as well as one of North Carolina's 58 community colleges like Randolph Community College (ranked as one of the best commercial photography programs on the East Coast), Surry Community College in Dobson (home of the state's first and only viticultural program for the lucrative NC wine industry), and others.
Duke University's Continuing Studies program attracts individuals, organizations, and communities to engage in innovative, interactive, and transformative learning experiences. Each year the division engages with eager learners ranging from adventuresome middle-school youth, to focused working adults, to inquisitive retirees who expand their horizons by participating in a noncredit course, workshop, certificate program, or summer camp. While the Osher Lifelong Learning Institute (OLLI) is a welcoming community for all ages, most OLLI members are between 50 and 90, with courses developed and designed for this audience. OLLI offers courses for a variety of interests from reading Jane Austen, writing your first children's book, or learning about historical events.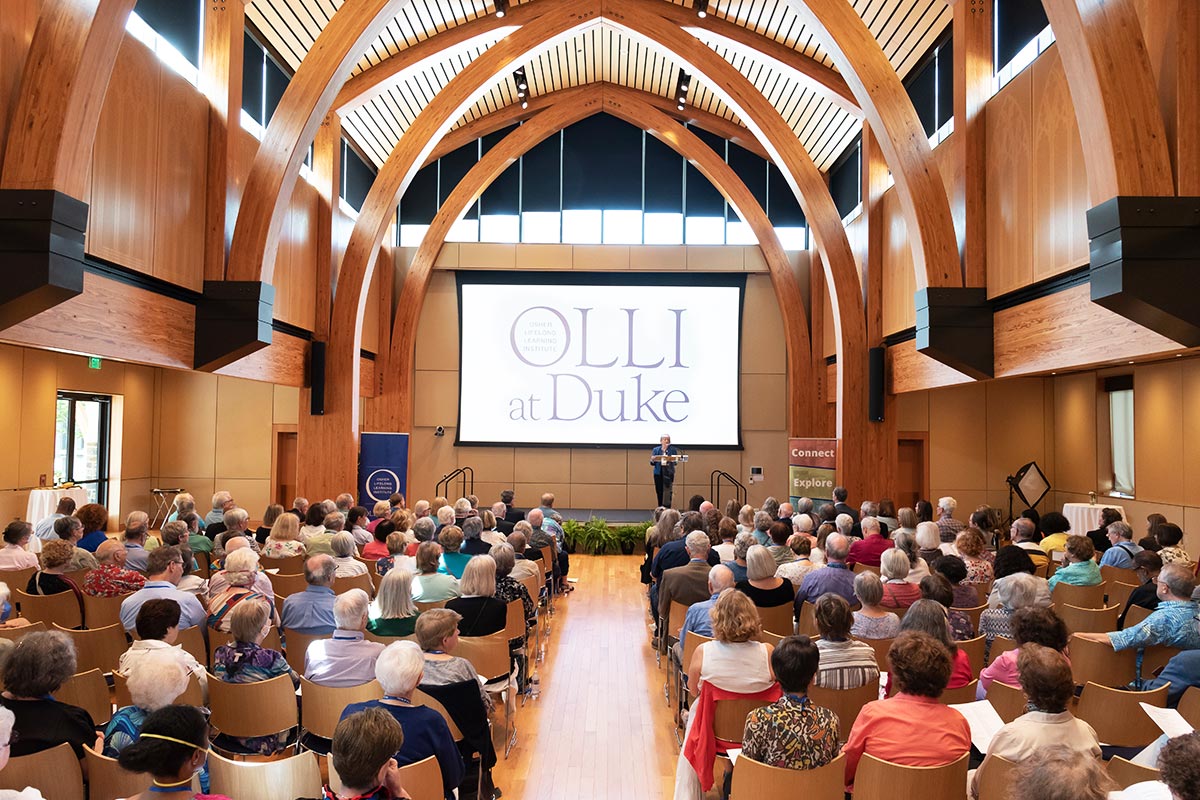 Attendees at a lecture at the Osher Lifelong Learning Institute at Duke
UNC-Chapel Hill (UNC) touts its life-learning program with the slogan, "learning never stops." Digital and Lifelong Learning is UNC's primary continuing education unit, with a wide range of educational programs and services from courses with credit to auditing a course without credit. Community programs are available at no cost to the public, such as classes on sustainability and the environment, to social conscience courses linking basketball and race, to the American Dream, and others.
NC State University (NCSU) in Raleigh is the home of the red team, also known as the Wolfpack. The Osher Lifelong Learning Institute (OLLI) makes it easy for continuing learners age 50-plus to take a non-credit short courses, study trips, or attend a special events. Topics are wide-ranging in the liberal arts and sciences and range from one-time lectures to six-week courses.
Anne Sides in Raleigh is a devoted OLLI student. The retired Foreign Service officer found out about lifelong learning at a seminar and NCSU's OLLI program. "This program sold us on living in Raleigh," said Sides. "In fact, we went to NCSU to check out the program before we committed to moving to Raleigh." Sides started taking classes with her husband, Randy in 2011, and during Covid, the couple continued taking classes by Zoom. One of their favorite courses to date is Forensic Engineering. The couple is currently taking a course about WWII, which they will continue by iPad while on a cruise ship.
In the Triad, Wake Forest University, UNC-Greensboro, Guilford College and other higher education institutions have enriching continuing education programs and guest lecture series.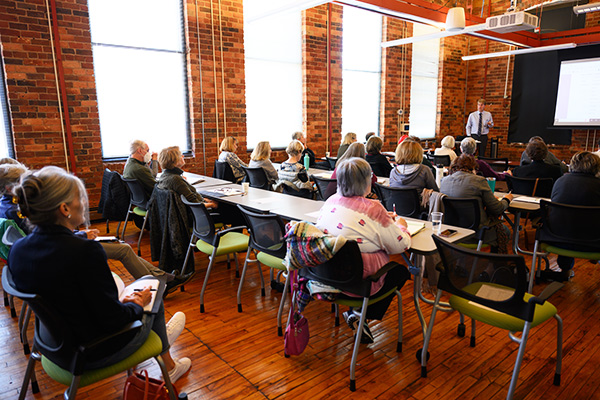 Adult learners at Wake Forest University Lifelong Learning program – Classes are taught by faculty and community leaders at the historic Brookstown Inn.
Wake Forest University's Lifelong Learning program has something for everyone from guest lectures, non-credit/non degree six-week courses and even traveling. "There are no homework assignments or tests," said Ron Von Burg, Director of Liberal Arts Studies/Lifelong Learning, Wake Forest University. "The LLL program is purely learning for the sake of learning. In addition to the LLL program, we offer a series of community events, such as the annual Fall Lecture, Regional and International Adventures in Lifelong Learning, where we take LLL on the road." In summer 2023, lifelong learners spent a week in Venice, Italy, learning from local faculty at Casa Artom, Wake Forest's property on the Grand Canal.
Seniors and retirees interested in continued learning may audit a variety of courses on campus at UNC-Greensboro (formerly Women's College), a part of the 16-campus UNC College system. Auditors are not given the same privileges as credit-seeking students and do not have access to Jackson Library or other on campus facilities. The Emeritus Society is a noncredit, lifelong learning series aimed at retirees with classes taught off campus on subjects such as politics, history, literature, pop culture, and more.
The Emeritus Society provides stimulating opportunities for adult learners by providing a learning community that affirms the unique attributes that older adult students bring to the classroom, intellectual savvy, and substantial life experience. A small fee is required.
Guilford College is a private college with a rich history. It was founded in 1837 by the Quakers as a co-educational boarding school. More than a century later, the four-year liberal arts college is the oldest coeducational college in the South. Adults who wish to pursue college-level work without receiving grades or college credit may enroll as auditors. Senior discounts are available for auditing courses. These students register on a space-available basis by obtaining permission from the instructor or contacting the Registrar.
The school is known for its popular lectures in the Bryan Series that showcase former presidents, prime ministers (Tony Blair), journalists like Anderson Cooper, authors, film makers, and other trail blazers, who share stories of inspiration to educate and engage the public about today's issues. The series is held at the Steven Tanger Center for the Performing Arts.
Guilford Technical Community College (GTCC) offers a variety of lifelong leisure learning and personal enrichment courses. Whether students are interested in enhancing skills or turning skills into an entrepreneurial opportunity, GTCC has a course for every interest from furniture reupholstery, art classes, massage therapy, and more. The school has one of only two North Carolina culinary schools that is accredited by the American Culinary Federation's Educational Institute at the Exemplary level.
Wake Tech Community College offers courses designed especially for adults age 50 or older in the Plus-50 program. These classes educate and inspire students from planning for retirement (classes on maximizing Social Security and healthy aging), or exploring personal interests with Spanish and other foreign language classes. With more than 100 fully online programs, Wake Tech consistently ranks at the top for online instruction.
The message is clear – it is never too late to learn a new skill or take on a new hobby. For adults who are curious about the changing world we live in, retirement is the perfect time to pursue new interests, participate in college-level courses or lectures designed to stimulate the mind and satisfy a hunger for intellectual growth without the pressure of tests and grades. Being a lifelong learner opens up the world of possibilities, and the opportunities abound right here in our backyard.
Continuing Education in Central NC Comes in all Sizes*
North Carolina educational institutions have different approaches to lifelong learning but all offer classes that enrich and educate the mind for active, older adults. For more information about individual schools and to learn about auditing, course policies, and available resources go to our website and check out links to these institutions: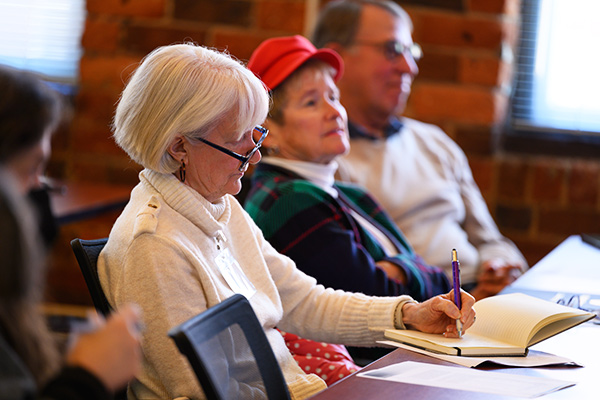 Duke University
NC State University
UNC-Chapel Hill
UNC-Greensboro
Guilford College
Wake Forest University
Guilford Technical Community College
Wake Tech
Durham Tech Community College
Randolph Community College
Alamance Community College
Surry Community College
* This is a sampling of the many institutions in central, North Carolina. For a more complete list of North Carolina colleges and universities, go to https://www.franklin.edu/colleges-near/north-carolina