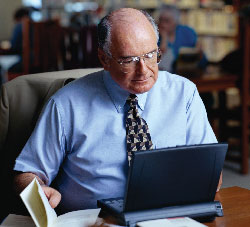 As living decisions become increasingly complex, seniors often find themselves searching for someone who can cater to their unique legal needs. An elder law attorney specializes in areas of the law that are specifically concerned with senior citizens and their family members.
Elder law attorneys generally focus their practices in one or more of the following areas particularly pertinent to seniors' issues: long-term care planning, estate planning, long-term care insurance, Medicare, Medicaid, Medigap insurance, Social Security, public and private pensions, age discrimination, conservatorship and guardianship, durable powers of attorney, living trusts, living wills, and/or elder abuse. Because elder law attorneys are focused exclusively on serving seniors, they are able to offer a distinctly attentive ear concerning the decisions involved in aging.
In addition to providing legal counsel, elder law attorneys can refer clients to other professionals and/or non-legal resources that are available to help meet seniors' needs. For example, elder law attorneys realize the importance of paying close attention to the tax repercussions of any legal action and will advise clients to consult a tax professional if necessary. Elder law attorneys are also able to recommend public or private resources that are available to assist seniors in a number of areas.
Because of the expense of legal services, you want to be absolutely certain that your situation necessitates the assistance of a legal professional. Before consulting an attorney, consider the following questions: Is this a complex legal issue? Is it likely that I will have to go to court? Are there non-legal resources available to help? Can I resolve this difficulty on my own? If you're not sure, you should consider consulting an attorney who specializes in elder law. After all, it's hard to put a price tag on your peace of mind.
This article was adapted from the National Academy of Elder Law Attorneys' and the National Elder Law Foundation's websites. For more information, please visit their sites: www.naela.org or www.nelf.org.