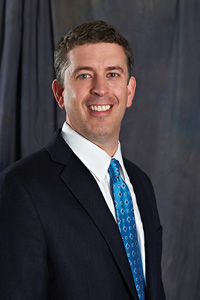 Although Dr. Christopher Blackman, who joined Piedmont Orthopedics in 2005, performs all types of orthopedic surgery, he has a special interest in knee and hip replacement surgery. He was the first orthopedic surgeon in Greensboro to regularly perform anterior approach hip replacement surgery, a less invasive technique that helps to preserve muscle and generally results in less pain and faster recovery for the patient.
"What I most enjoy about being an orthopedic surgeon is the ability to help someone with a fracture or with severe arthritis return to a high level of function," he says. When a new procedure for less painful hip replacement was introduced, he was the first surgeon in the area to undertake the training. To date, he has performed anterior total hip replacements with laudatory results.
Dr. Blackman graduated from and completed his residency at the Bowman Gray School of Medicine at Wake Forest University. He and his twin brother, Douglas, a general surgeon in Greensboro, grew up in High Point, where his parents still live.
Many people in the Triad remember his father. "I still enjoy people coming up to me and asking about my father, Fred Blackman, who was a television news anchor at WGHP-TV8 for more than 30 years," he says. When not relieving the pain of others, he enjoys family adventures with his wife, Yvette, and their daughter, Lindsay.