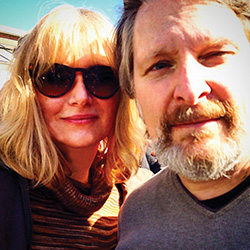 Loring & Lee Mortensen
Loring Mortensen is the marketing and publicity officer at the Weatherspoon Art Museum. His wife, Lee Mortensen, is the director of the Greensboro Farmers Curb Market. Both reside in Greensboro where breweries are (happily) popping up left-and-right these days.
When out traveling, the first thing my wife and I do is a Google-search of what craft breweries might be in the town of arrival. Most of the time that search-result motivates us to visit certain towns or go a little out of our way to stop at an interesting brewery (or two).
As self-professed foodies, the more "craft" the brewery, the better. We especially like to seek out breweries known for experimentation. That may mean brewers that promote locavore ingredient-sourcing, or even those that practice foraging techniques.
Since North Carolina has the largest number of craft breweries in the South (135, and counting!), we don't need to travel far to find examples of the best craft brews available. Starting with Greensboro and Winston-Salem, we'll be writing about some of the stand-outs we love to visit.
Out of pride, we will begin in Greensboro with one of the more recent startups, Preyer Brewing Company, located in the downtown area within two blocks of the Greensboro Hoppers baseball stadium.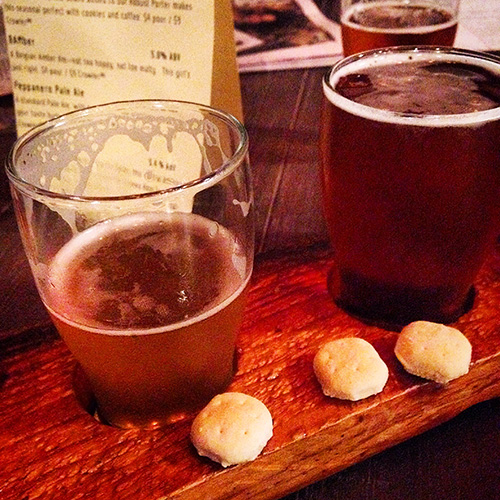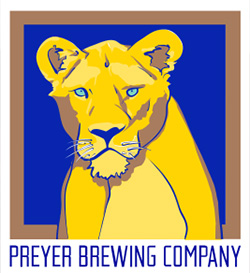 Preyer Brewing Company was opened last May by Calder Preyer, founder and head brewer, with his parents, Britt and Alice, his wife Nicole, and two brothers Will and Britt. They chose a lioness as their brewery logo to celebrate their family crest and the fact that to them the pride lioness symbolizes the true, female-centric history behind the origins of craft brewing.
Preyer does not operate a restaurant inside the brewery but chose to concentrate on the art of brewing. Providing a food option, they fostered a neighborly relationship with the eatery next door, Crafted The Art of Street Food (a recent spin-off from Crafted The Art of the Taco). The brewery wisely designed their space so customers can grab a draft beer and order from a take-out window connecting the two establishments.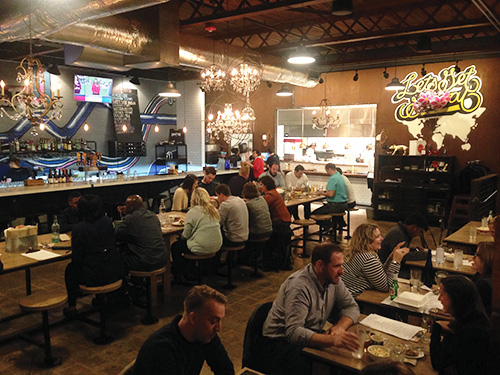 Crafted The Art of Street Food embraces the new global street vendor food trend. Chef Kris Fuller and her team execute menu items in perfectly portioned options that pair beautifully with crafted beer. At our last Preyer visit ,we shared a Mexican Torta with crumbled chorizo, black beans, roasted jalapeños, cilantro and ajillo sauce. Sharing a few side items is a good way to go. (Indian spiced fried green beans and lobster tacos are also a great choice.)
The first thing you notice entering the brewery is the industrial wooden beam structure inside and out. The seating suits any gathering from intimate comfy chairs to sofa-like long benches, bar stools, and large party table sets. Behind the bar you glimpse the brewing equipment (and maybe brewers at work) behind a wall of windows. Décor in one area includes Preyer family history through photos, campaign promos, and other items.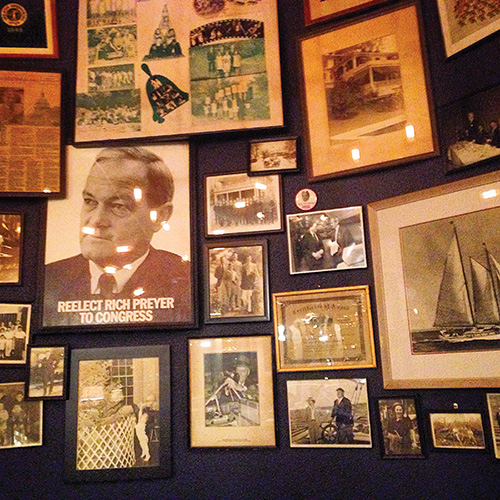 Most breweries encourage sampling and have flights as a menu option. At Preyer, you pick four options, which is helpful if your palate may not appreciate hoppy IPAs or stronger high-gravity ales. Once you find the brew you like, ordering a pint (or half pint) guarantees that you got what you came for. As spring arrives, you may get lucky enough to imbibe their seasonal Strawberry Wheat Ale, brewed with organic strawberries and ho, a huge hit among many (including myself).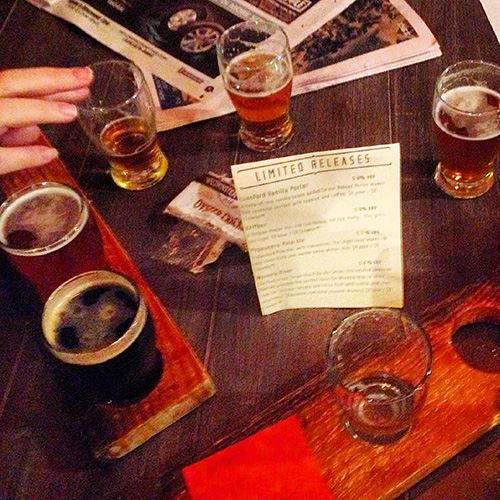 Seasonal and experimental brews are always on tap and give you a chance to try something different with each visit to Preyer. During our last tasting Lee fell in love with their Peppanero Pale Ale that had a perfect hint of habaneros and went well with the amazing mash-up Mexican-Japanese Lobster Tacos from The Art of Street Food.
Inevitably, exploring local brews and food means traveling a little up the road. Heading West out of Greensboro takes about 35 minutes to wind your way into that other Triad downtown—Winston-Salem. Zipping off I-40 and onto Cherry Street, continuing to Fifth Street is our next foodie-brewery, Small Batch Beer Company, located a half-block from the parking deck ($2) on Cherry Street (helps avoid circling to find street parking).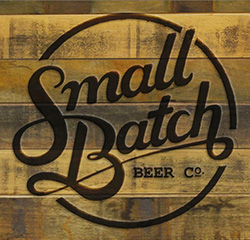 Small Batch Beer Company is the creation of another partnership of local-loving, special-ingredient-sourcing brewers Ryan Blain, Cliff Etchason and Tim Walker. They launched their brewery by successfully using a Kickstarter campaign. Lee and I try to visit Small Batch whenever we are in town because we don't know what will be on their eclectic food menu next—and we always find something new and interesting on tap.
They call themselves Small Batch because it is important for them to stay small and to brew one to three cask brews at a time, creating them with care and specialized to what is in-season. As with Preyer, all brews are made in-house. At Small Batch it's about quality, not quantity. They want visitors to have a special drinking adventure each time they visit.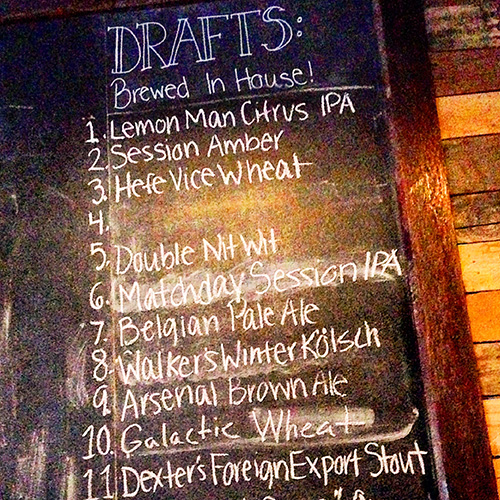 Even the physical space is unique with walls covered in rustic pallet planks. Seating is at the bar, inside a banquette, high table tops, or old French picnic tables at the front street-level window. The obligatory dartboard is also present, as is their hip event programming that ranges from Harry Potter movie screenings, Manchester United soccer matches, to trivia nights. (I honestly wish this place was located in my neighborhood.)
If you visit their website, they have an interactive, real-time tap accounting web app that lists which brews are currently on tap and how much is left in each batch (see photo). Wondering what brews will be left? Available choices are just a click away on their website.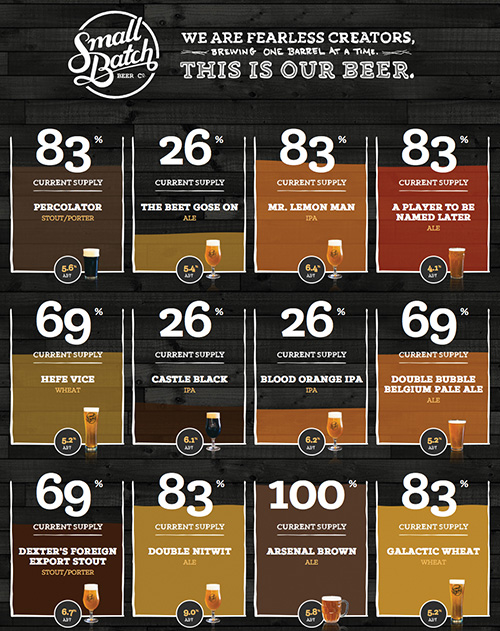 At our lastest visit they had 12 brews on tap, as varied as their flagship favorite Mr. Lemon Man IPA, a Session Amber, Hefe Vice Wheat, Double Nit Wit, Walker's Winter Kölsch, even a gose (sour-saline German beer) named The "Beet Gose" On… to name a few. A brown ale, a second wheat, other IPAs and a stout also fill out choices for any taste. Again, a flight sampler is a good suggestion. One never knows what brewed oddity might just light up the senses.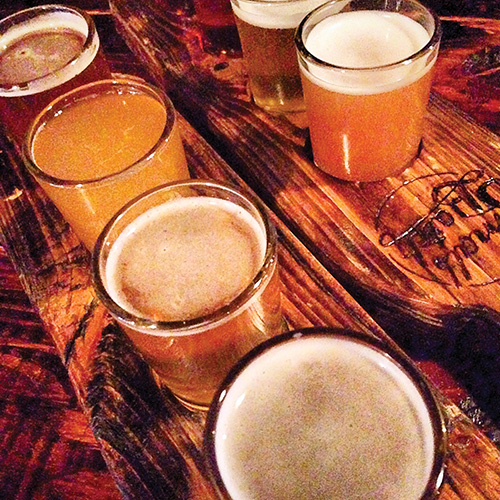 Being an experimental taster is part of the experience at places like Small Batch. I personally start with a Mr. Lemon Man IPA but also get excited to see my preferred Belgian-styled Wheats and Wits on the list…and eventually on my sampler board.
These guys are as particular with their in-house foods as they are with their ales and beers. Locally-sourced is also the recurring theme when it comes to their food menu. Grass Fed Beef Chili is one way to go, or one can (ever-slightly) depart from the usual chicken wings by ordering them with (NC) Cheerwine BBQ sauce. The ingenuity is apparent with sandwich items as carefully conceived as Oyster Mushroom Po Boys, to Cubans with Small Batch beer mustard. Or enjoy a fresh, light kölsch with a Bavarian Pretzel (the size of your head!), served with homemade Small Batch beer cheese. Even the pretzel looks like it's smiling.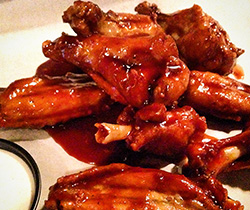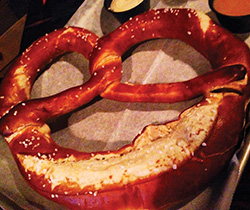 [Next issue, look for coverage of a new brewery in High Point and then back to Greensboro to explore (yet another) brew stop in the Gate City.]
Breweries in the Triangle
• Trophy Brewing – 827 W Morgan St, Raleigh
• Lonerider Brewing Company – 8816 Gulf Court, Suite 100,
Raleigh
• Ponysaurus Brewing Company – 219 Hood St, Durham
• Fullsteam Brewery – 726 Rigsbee Ave, Durham
• Lynnwood Grill & Brewing Concern – 4821 Grove Barton Rd,
Raleigh
• Steel String Brewery – 106 S Greensboro St, Carrboro
• Carolina Brewing Company – 140 Thomas Mill Road,
Holly Springs
• Carolina Brewery – 460 West Franklin Street, Chapel Hill
• Triangle Brewing Company – 918 Pearl Street, Durham
• Big Boss Brewing – 1249-A Wicker Drive, Raleigh
• Crank Arm Brewing – 319 W Davie St, Raleigh
• Starpoint Brewing – 901 Clarence Dr, Chapel Hill
• White Street Brewing Company – 218 S White St.
• Fortnight Brewing Company – 1006 SW Maynard Rd, Cary
• Gizmo Brew Works – 5907 Triangle Dr, Raleigh
• Boylan Bridge Brewpub – 201 South Boylan Avenue, Raleigh
• Bull City Burger And Brewery – 107 East Parrish Street,
Durham
• Sub Noir Brewing Company – 2039 Progress Ct, Raleigh