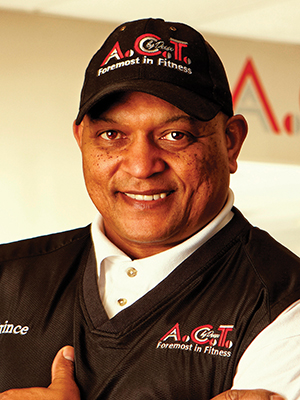 Prince Deese
Prince Deese, an All American Wrestler, a Hall of Fame Football Player, and a State Champion Body Builder, is a certified personal trainer and strength conditioning specialist. Prince Deese and Gina Deese own A.C.T. by Deese, a Fitness & Training Center in Greensboro, NC.

Are you missing one of the important steps to a healthy lifestyle?
Are the hectic challenges of daily life keeping you from feeling happy?
It's time to "stop and smell the roses". Time spent in pleasurable activities can help delay the aging process and boost your immune system to assist in fighting illnesses. So, take inventory of your habits and reach out for a healthy lifestyle by creating a plan that will balance your activities.
Physicians often recommend diet and exercise to improve conditions such as obesity, diabetes, heart disease, cancer, depression, and anxiety. However, when you don't feel well, it's difficult to find the motivation to follow through in order to accomplish goals. Unhealthy habits can "snowball", and the biochemical infralimic cortex of the brain can become impaired, leaving emotional responses weakened, motivation diminished, and interests destroyed.
Pleasurable activity can impact one's overall sense of well being, reducing stress, enhancing the immune system, increasing mental abilities and expanding problem-solving skills. Whether the choice is a group fitness class with friends or working with a personal trainer, playing golf or just going for a walk, finding time for personal experiences which you enjoy is critical to maintaining a healthy and active lifestyle.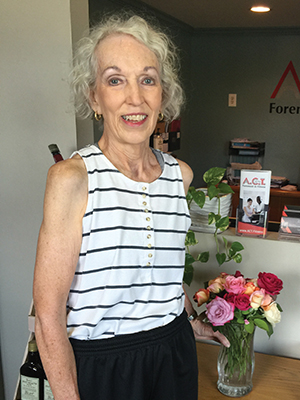 Gloria Jordan
Gloria Jordan is a good example. She has participated in a weekly cardio/strength class at A.C.T. for two years following a health concern in 2013 and 2014. As an active member of Christ United Methodist Church in Greensboro, she is a volunteer coordinator for the annual ACC men's and women's basketball tournament.
Gloria and her husband grow florist quality roses in a garden of more than 80 rose bushes. They are often seen carrying floral bouquets to friends, neighbors, and church, and they frequently appear on A.C.T.'s front desk.
A.C.T. is proud to be a part of Gloria's choice to remain active as she maintains a healthy lifestyle. As she says, referring to her cardio/strength classes at A.C.T., "I start my day in a positive, uplifting way with others who are also concerned about staying physically active and engaged socially."
"Stop and Smell the Roses" at A.C.T. Fitness Center and let us help you develop your wellness plan for a stronger future. (Complimentary consultation: 336-617-5304).