September in Italy, October in Spain, November in Portugal… a new report from International Living editors explores some of the best places to visit in Europe in the fall for good value, good weather, and fewer crowds.
Italy in September has an astounding offering for travelers: romantic cities, timeless hill towns, snowy mountains, idyllic islands, vineyard-covered countryside, and a beautful coastline.
September is an especially great time to visit central Italy regions such as Umbria and Le Marche. The hill towns are less packed and the abundant harvest gives a glimpse of Italian traditions coninuing just as they have been for centuries.
Wafts of tomato sauce cooking fills the streets of the hill towns with the annual ritual of making salsa di pomodoro in full swing. The other fragrance that fills the streets is the sweet grape juice as the annual crush and fermentation of turning grapes into wine begins. Many wineries are open to visitors to watch and even participate in the grape harvest.
Spain in October – With beaches, mountains, fabulous cities, colorful festivals, and, of course, sunshine almost year round, it's not surprising that it is one of the most popular destinations for visitors, drawn by Spain's laidback, yet cultured European life and its nearly 3,000 miles of coastline, much of it beach.
The coastal city of Cádiz, on Spain's Atlantic coast, has long-time ties to North Americans as the perfect place to celebrate Hispanic Day, on October 12: the day Christopher Columbus landed in the New World in 1492.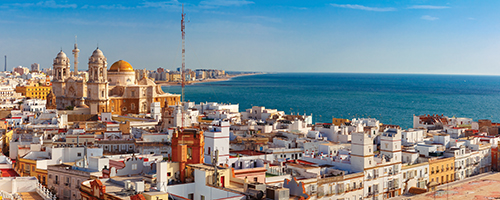 Portugal in November – Spain's next-door neighbor, Portugal, is continental Europe's westernmost country. It boasts excellent food and spirits, gorgeous cobbled cities and medieval towns, and dramatic coastal landscapes. And though modernity is overtaking Portugal quickly, it's still possible to enjoy an Old World life there on a low budget, especially in November.
One benefit is cheaper air fare. A roundtrip ticket from New York's JFK to Lisbon is about $1,200 during high season, but in late October and November, fares cost half that amount. Be there on November 11, St. Martin's Day, the holiday honoring the death of St. Martin of Tours, a Roman soldier turned monk, who is celebrated throughout much of Europe."
This year is a special year for the Palace of Mafra, located 21 miles northwest of Lisbon and 15 minutes from world-class surfing beaches in Ericeira. Mafra is the home of one of the country's largest national palaces which willl celebrate its 300th anniversary on November 11. The Palace, referred to locally as 'the Convento' (it began life as a monastery), took more than two decades to complete, served as a summer home to the royal family, and received visits from foreign dignitaries. The Basilica—modeled after St. Peter's in Rome—is home to no less than six pipe organs and carillons comprised of 92 bells crafted in the Netherlands. We can only imagine what this November will bring."
The full International Living's report on Europe in September, October, and November can be found on Europe in the Fall.