Cooking Classes to Satisfy the Palate
and Enrich the Life
Fuquay Mineral Springs Inn

Staying in a bed and breakfast or a quaint inn is always a relaxing way to spend a night away from home. Time spent in a home-away-from-home has other benefits that might not be expected, such as an art or cooking class.
At Fuquay Mineral Springs Inn & Garden, the art of cooking is celebrated with anyone who signs up for weekly classes – all are welcome. John Byrne, owner of the inn, is also the town's mayor, has a heart for Fuquay's historic district and revitalizing downtown. "I have been involved in helping businesses succeed downtown for years and I felt this inn could draw people to the district," said Byrne.
The inn is located in the heart of the historic district and across the street from the mineral springs that gave the town its name. The concept of the cooking class came to Byrne on a whim – he likes to cook and the first class was born in 2005. No one was more surprised than he was by the success of the endeavor.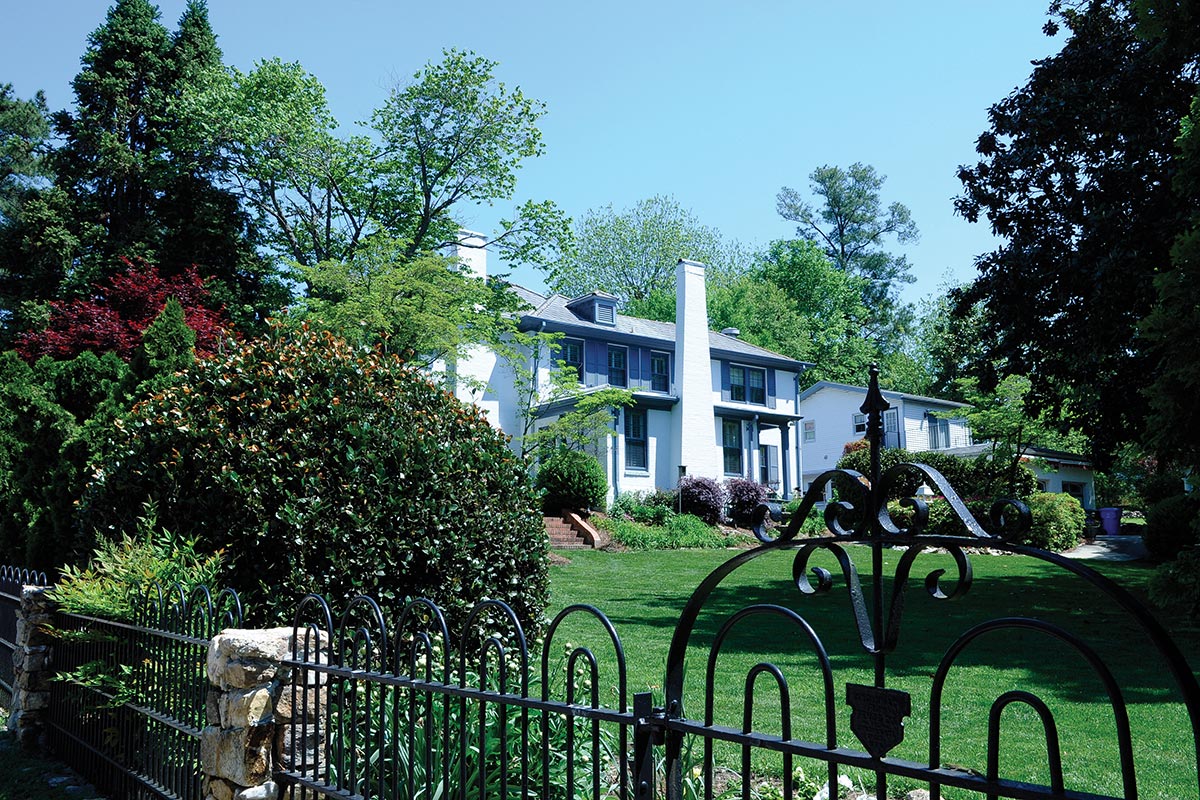 Guests come from Raleigh, Pinehurst, and neighboring towns and cities for the class. Participants are as diverse as the recipes. "We have ladies groups who like the classes for their 'ladies night,' businesses who come for team building and 'foodies' who just like learning to prepare new dishes," he said. "And, sometimes it is guests at the inn who want to participate."
The inn partners with chefs from Wake Technical culinary school – five chefs to date. Some chefs have developed a cult following from doing the classes. "I have enjoyed the cooking classes at the Inn, and my goal is to help put the class participants in touch with local foods and provide a culinary experience they will remember," said Chef Arken.
The kitchen is operated as a professional kitchen with a "safe serve" certification from the North Carolina Health Department to meet all food safety guidelines. Chefs from local restaurants have rolled up their sleeves in the inn's kitchen including Bellini Fine Italian, Garibaldi Trattoria, and others.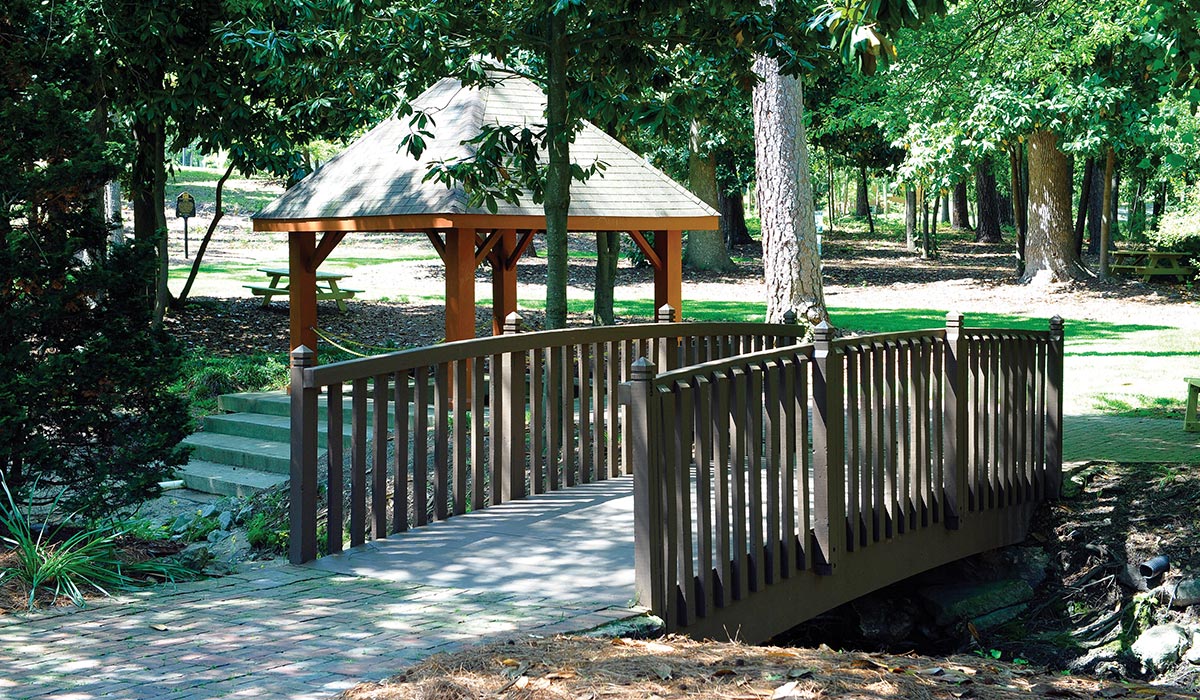 Byrne attends all the classes to help facilitate the evening and acts as bartender. During the evening he is happy to show wine aficionados the wine cellar. The inn collaborates with local North Carolina wineries such as Shelton Vineyards in Dobson, Westbend Winery and Brewery in Lewisville, and others across the state. Raffaldini Winery is a favorite winery of the inn. Byrne and his wife have attended cooking classes and have learned the importance pairing the correct wine with a meal.
When it is time for the main event, the chefs do more than create beautiful culinary masterpieces – they describe the process step-by-step while cooking. Dishes run the gamut from appetizers, main entrees, to desserts. A perfect meal starts with Arugula salad, proceeds to Fuquay Inn Crab Cake or seafood gumbo, and finishes with a slice of lemon pound cake. Afterwards, the chef-instructor dines with the guests and lingers over a glass of wine, while Byrne showcases his wine experience.
Upcoming classes will feature entrees:  Chicken Piccata, Eggplant Rollatini, Chicken Marseille, Seafood Alfredo, Veal Parmigiana.
What can be a better way to spend a Wednesday night than with family or new friends over a great dish and a glass of vino? Not much.
Whisk Carolina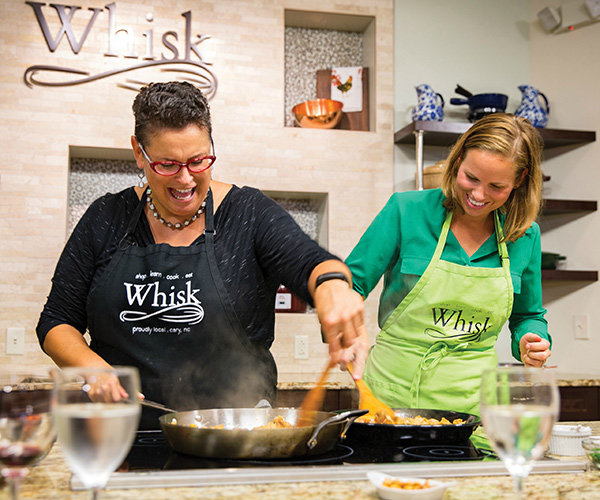 If a night away from home is not in the cards but a cooking class appeals to your senses, then you may also want to check out the cooking classes at Whisk Carolina in Cary. Whisk bills itself as a "favorite store for chefs, foodies, and gadget lovers". But Whisk is really far more than that. The owners, Dan and Diana Saklad, traveled the world in their previous corporate lives, he as a marketing and brand manager and she as an exotic travel expert. They dreamed of settling down and opening a store like Whisk and partnering with the culinary community. Their stated goal today is to create a "community of cooks". They are doing this through cooking class by bringing in professional chefs from the community to work alongside those who have a desire to learn new techniques or simply want to raise their game.
As their dream has come to fruition, the Saklads now have some 50 chefs leading classes that range from pie-making to how to make fresh pasta. Their class schedule allows for hands-on workshops as well as those that allow the participants to sit back and enjoy the show participating as much or as little as they like. Topics range from "Culinary School Basics", to a "Mastering Sushi Workshop", to instruction on how to make the very best homemade pizza. The Saklads have found success in creating the "community of cooks" they envisioned among folks that enjoy the science, the art, and the social aspects of all things food.
The Saklads have taken the shop and cooking school to yet another level, however, with travel adventures that have a culinary theme. Playing off Diana's experience and knowledge in putting together exotic travel packages, the Saklads have recently led trips to Provence, and have a pending trip scheduled that will take a group to Portugal. You can bet they seek out the best culinary offerings of any region they visit.
Classes cost $89 per person and typically last between 2-1/2 and 3 hours. The options are many, so be sure to check the website at WhiskCarolina.com.