By Lynne Brandon
"Not all who wander are lost," – J.R.R.Tolkien
"I just can't wait to get on the road again." These words sung with passion by Willie Nelson strike a chord in people – especially among retirees who have been waiting for retirement to ditch the "9 to 5 lifestyle" and hit the road for fun and adventure.
Since the beginning of the pandemic in 2020, Americans have looked for new ways to relax and enjoy life. Getting outdoors and camping have shot to the top of the leader board for the over 50 group who got out of the house and on the road.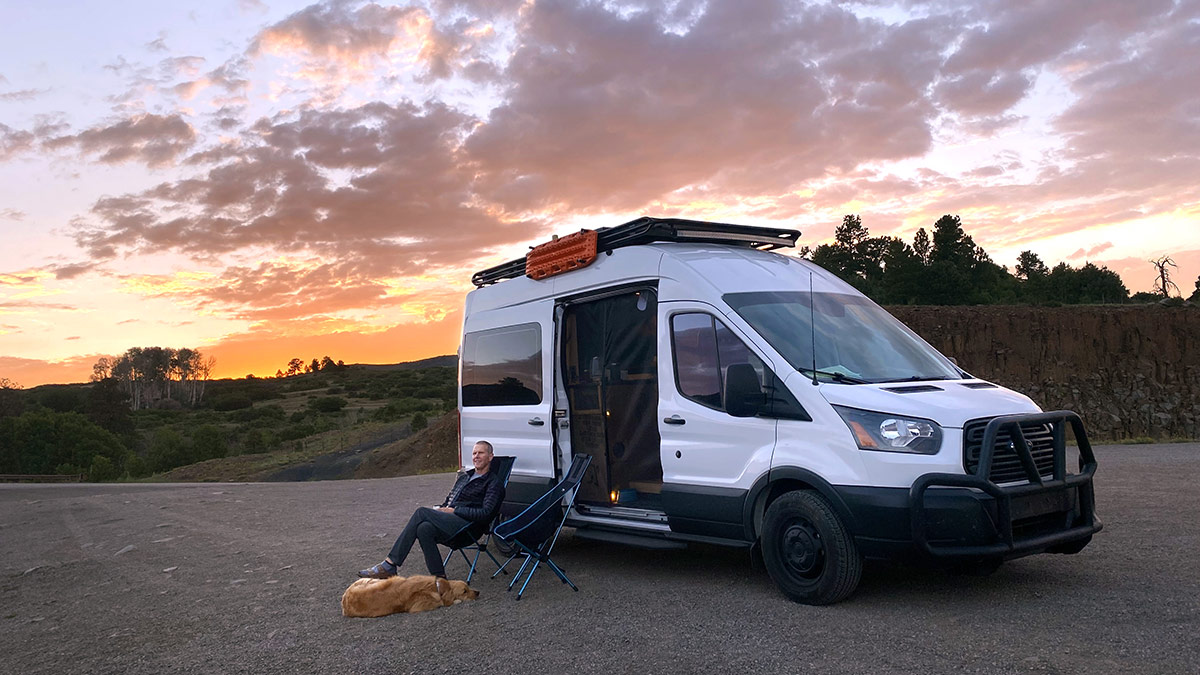 Flay and Alice Blalock with Saka in Telluride, Colorado
Hitting the Road
According to the RV Industry Association, more than 600,000 RVs were shipped in 2021, breaking previous records.
What's the attraction? One word sums it up. Freedom. A sense of wonder and wanting to experience travel is the second reason for embracing the RV life. Recreational vehicles, more commonly known as RVs, are more popular than ever, with choices from A-Z regarding style, use, and price. RVs are motor homes or "hotels on wheels" as some affectionately call them.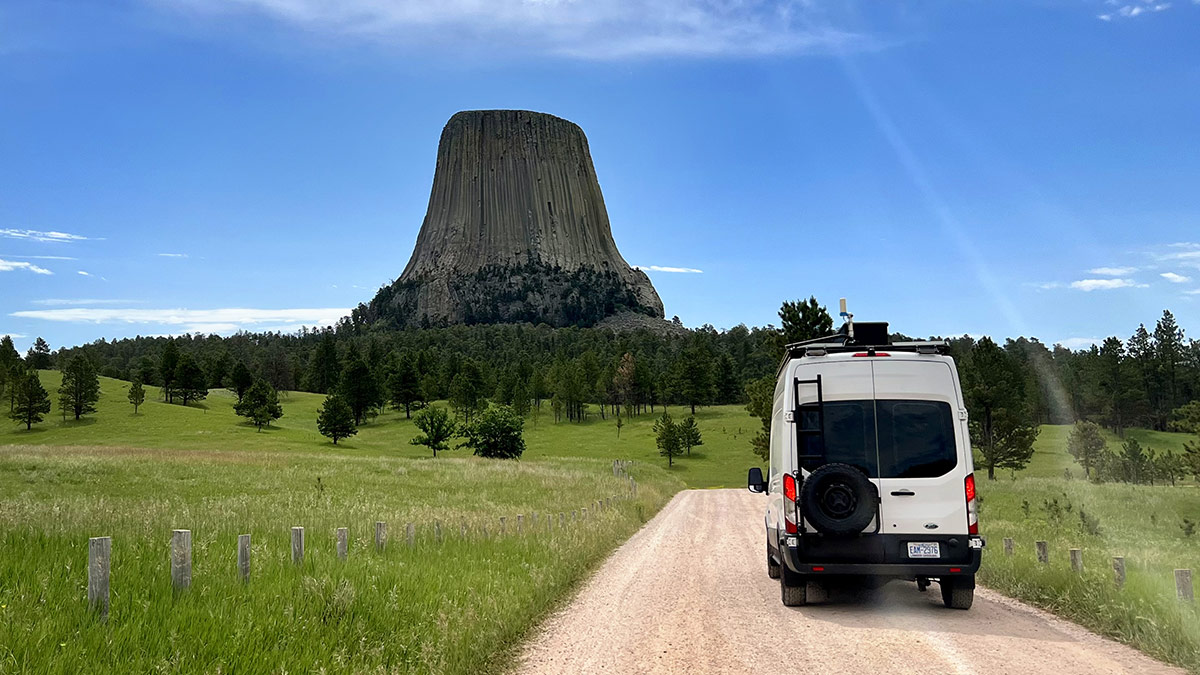 Flay and Alice Blalock at Devils Tower National Monument in Wyoming
Class B
Matt Horniman, manager of Carolina Coach & Camper in Claremont, North Carolina, says the Class B is the most popular RV style. The Class B is a "van" style RV that is easy to maneuver and park. The Class A is larger and styled more like a bus. As retirees age most downsize from Class A to Class B RVs, as they would from a large to smaller home.
"We call Class B's a 'couples coach' made for two people," says Horniman. "It is the most popular with retirees depending on their skill level, but generally the easiest to drive. The Class B is also popular with single women," says Horniman. "It is comfortable and allows them to feel safe in campsites." Horniman says that he sells primarily to people between ages 55 to 75.
A high degree of skill is not required to drive the Class B. "If you can drive a car, you can handle a small RV," says Horniman.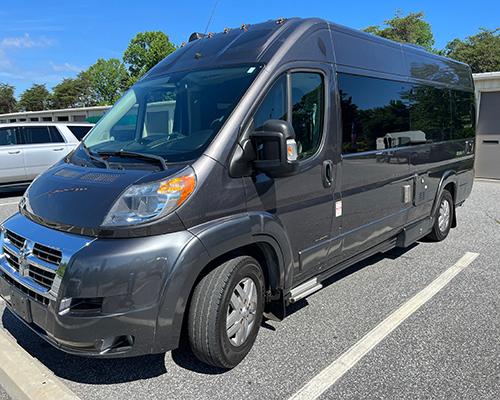 Class B RVs are compact on the outside …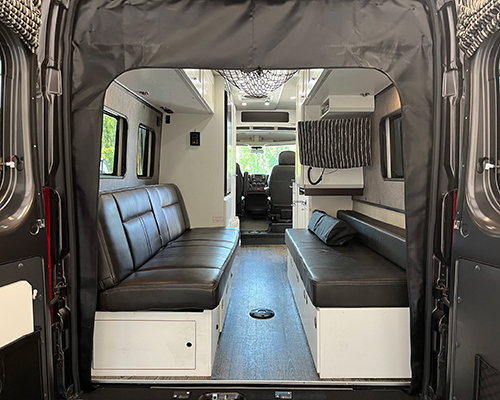 and roomy on the inside.
RVs are not just for Couples
Single women from across the U.S. are increasingly adopting the RV lifestyle. Women are traveling with everything from small tents, pulling a trailer, to driving the large Class A's. Many single, female RV'ers are on the road today. Many travel solo or with a four-legged companion as co-pilot. Statistics also show that there are more single, senior women on the road, than single, senior men.
Horniman reports that single female customers come from as far as California and Maine to purchase RVs. A female recently flew to Carolina Coach from California with her dog and drove the RV back, with no previous RV experience. Another female flew and drove back to Maine, putting her RV on a ferry to get home.
The Draw
It is almost a forgone conclusion that freedom is at the top of the list for most RV buyers, followed by the love of travel. Unlike a hotel room, there are no worries with check in or out times.
Adventure and experiencing new places and people are other draws. It is the chance to finally see the Grand Canyon, go west, or to the Florida Keys. For others it is a way to visit family.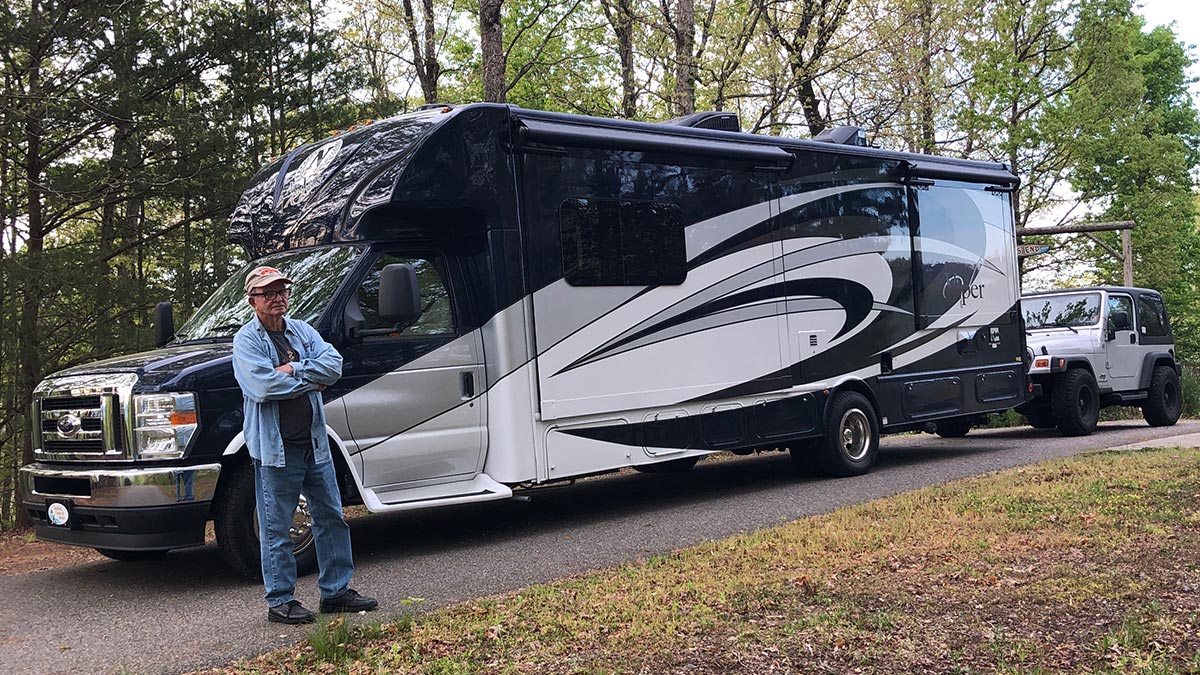 Bill Day with RV & Jeep
Challenges
Owning a RV is easy but not completely carefree. Things break just like in a home – a refrigerator can break, water heaters go out, etc. The good news is that automotive issues are rarer.
Costs of Getting on the Road
The cost of a new Class B RV can run from $90,000 to $190,000 while a new class A can range anywhere from $100,000 to $800,000. Pre-owned RVs are hard to find and range from $50,000 to $70,000. Financing a RV is common and preferred, allowing owners to not disrupt their nest egg and avoid tax penalties. "We have customers in their 90s buying RVs and recently financed one for an owner who was 92," said Horniman.
Not sure the RV life is for you? Find out by renting one for a "weekend test drive" to get a taste of RV living without a full commitment. Websites like Outdoorsy, RVezy, RV Rentals, and RVshare offer options you can try out to see if the RV life is a good fit.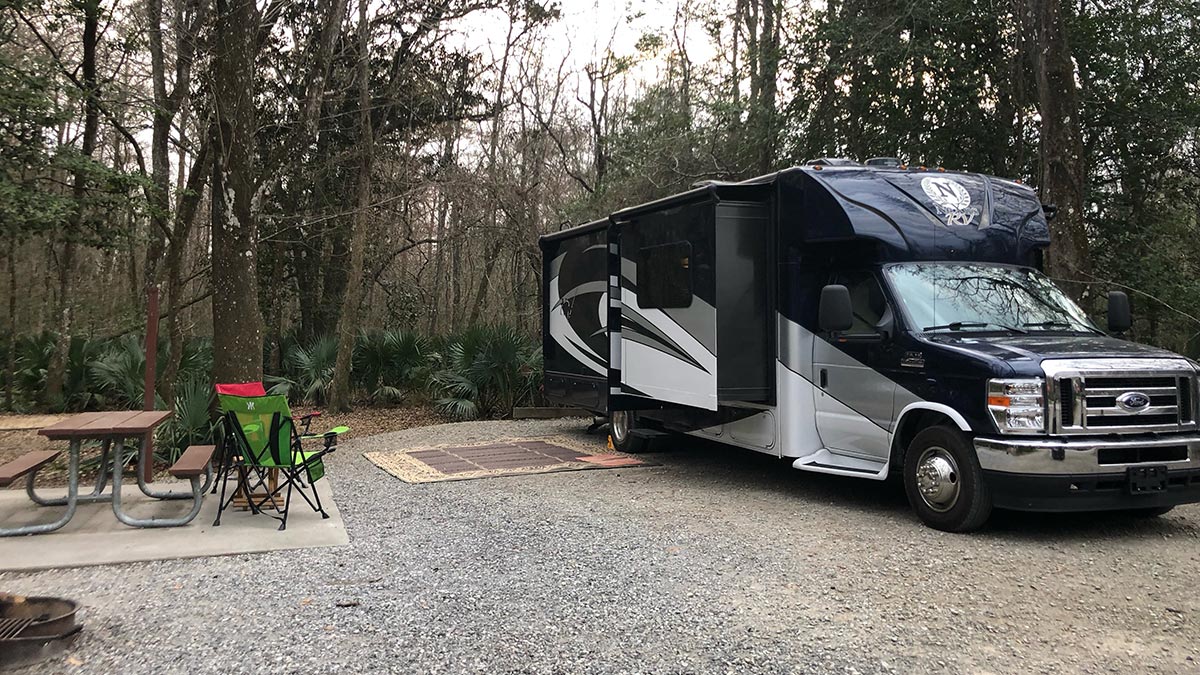 Bill & Kathy Day's Campsite
Destination Hot Spots
Where does the RV crowd go? Everywhere. Popular destinations are national parks, the west coast, and Canada. In the winter, some RV owners turn into 'snowbirds' and winter in Florida and Arizona.
Campgrounds are evolving from the traditional KOA campgrounds to camping experiences in apple orchards, vineyards, farms, breweries, golf courses, and more. A popular site for this different style of camping is Harvest Hosts, which has locations across the U.S.
Ben and Lynn Miles' Toyota Itasca at a Campsite – with Jasper
Living the Dream
For some, the RV lifestyle is a permanent home on wheels, and for others it is the taste of adventure that sits waiting in the driveway whenever the itch for travel needs scratching.
What are you waiting for? The open road beckons for RV'ers and there are "miles to go before they sleep."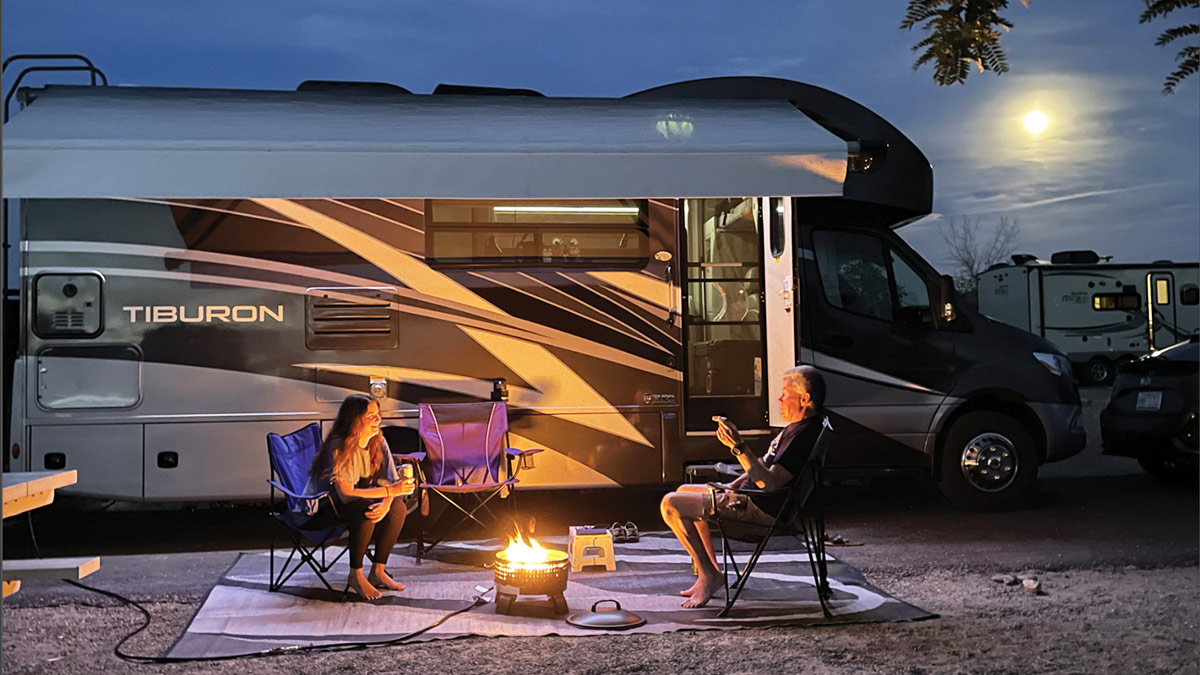 Carolina Coach & Camper in Claremont, NC, provides a variety of RVs to freedom-seeking travelers.
Kathy and Bill Day
Kathy (67) and Bill Day (86) retired in 2009, and the RV lifestyle was calling. The Days have a NeXus Viper Class B RV. For some the RV life is like a moveable hotel, but for the Days, it is a traveling experience in which they stop and soak up scenery along the way and enjoy the outdoors.
The two travel somewhere every month, if only for a few days. Their longest trip has been five weeks to Texas with stops along with way. The Days gravitate to Army Corps of Engineers campgrounds that are usually situated by lakes (most common east of the Mississippi). These have showers and exposure to the great outdoors – lakes with boat access, kayaking, and more. "We meet such interesting people camping," says Kathy. "People are very helpful in campgrounds."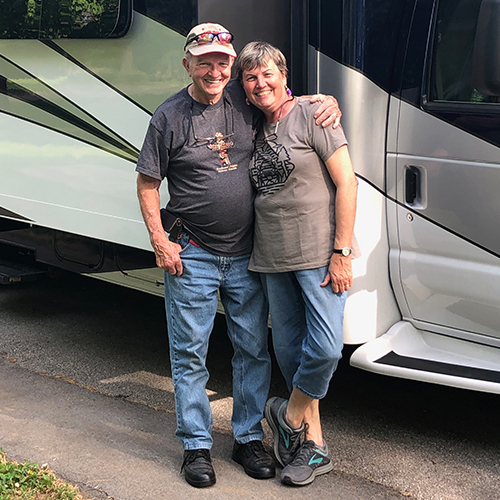 Bill & Kathy Day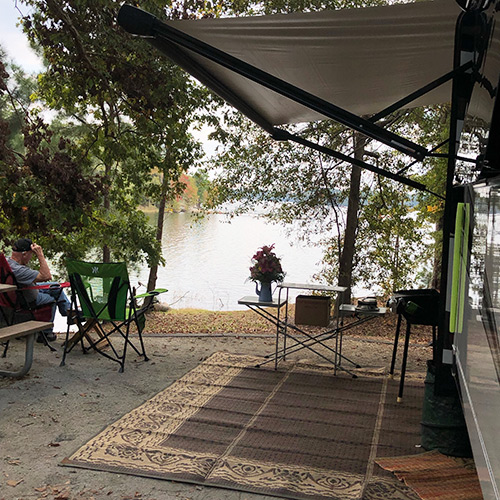 The Days' have a cozy campsite.
Carol and Charles Baker
The Bakers (Carol is 67 and Charles is 70) got into full-time RV mode in 2016 with a Class C RV. Turned out the Class C was not the style they wanted – after some trial and error, the Bakers ended up with a Class B Pleasure-Way RV. "We love the agility of the Class B," says Carol. "It can go anywhere and is easy to park."
Options for camping are endless, including parking at Harvest Hosts locations, "boon docking" (without electric/sewer hookup) and "mooch docking" which is parking an RV in a family or friends driveway to use their electric and sewer hook ups. They have "mooch docked" as a far as Albany, New York.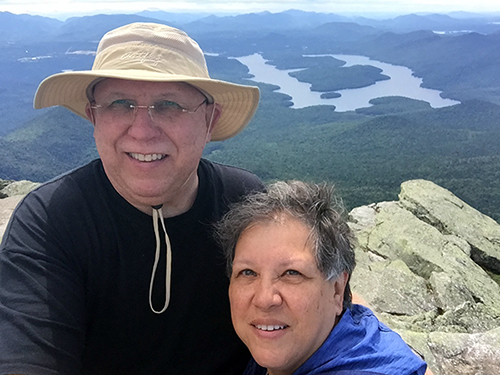 Charles & Carol Baker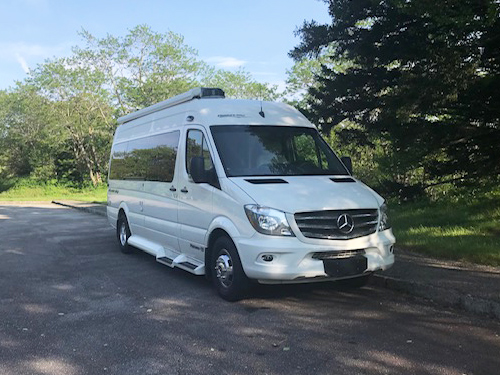 The Bakers' Class B RV
Ben and Lynn Miles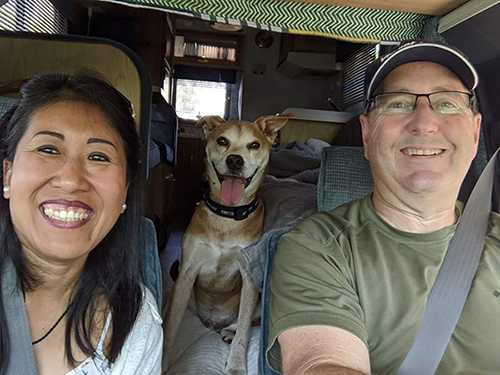 Ben & Lynn Miles with Jasper
In 2020 Ben (60) and Lynn Miles (50) were tired of being stuck at home due to Covid, and they decided to take a "gap" year and travel the country to see as many places as possible. They had just purchased a 1992 Toyota Itasca RV about 6 months prior, so it seemed like the perfect time to get on the open road. The Miles' sold their townhome in October 2020 and left the day after Christmas. "We loved the idea of seeing as many state and national parks as possible," says Ben.The Miles (their travel blog is Two Miles Away From Home), who are semi-retired, travel with their dog, Jasper. The two quickly became self-sufficient after finding campgrounds full much of the time. "We learned how to 'boon dock' which let us stay for free," says Ben. A few nights were spent in Cracker Barrel parking lots until Ben discovered the iOverlander app, which directs travelers to free locations, like one in Miami with an ocean view. They now combine boon docking with traditional campgrounds. Hot showers are not usually a problem, but if needed they drop into Planet Fitness for a shower.
Ben says there are too many beautiful locations to name (he was in Mexico City at the time this was written), but a few favorites are Charleston, the Everglades National Park, parks in Key Largo, and boon docking at a brewery in Biloxi, Mississippi. "This has been a great experience for us and one that we would not trade for anything," says Ben. "Now that the world has opened back up we have a pretty long list of places we want to see."
Flay and Alice Blalock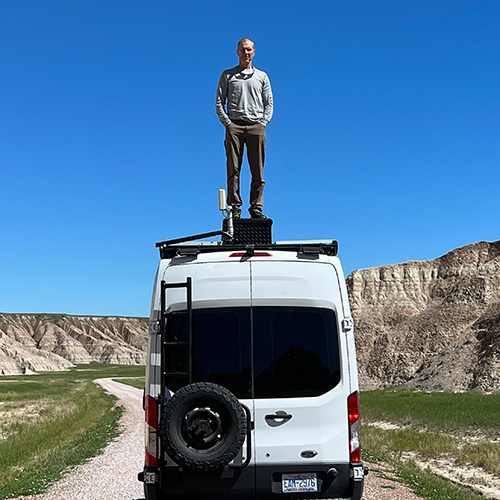 Flay Blalock in the Badlands in South Dakota
Flay (60) and Alice Blalock (65) are part of the growing number of younger Baby Boomers who are active and write about life on the road in their travel blog, Cozy Van Cabin. They have learned the "art of the pivot" and to roll with where their travels take them and their canine, Saka.
Flay owns Rehab Engineering and built a campervan from a basic Ford Transit cargo van and equipped it to enable him to work while traveling. When their WiFi booster did not provide a strong enough signal in remote travel destinations, they often would pull into a coffee shop to work. This past year he upgraded to a Starlink satellite system and is able to work anywhere.
Their travels have taken them to Novia Scotia, Canadian Rockies, Colorado, and other picturesque locations. They recount on their blog about a relaxing night at a winery in Lexington, Kentucky, with a bottle of wine and a charcuterie board. The next stop, 580 miles away in Kansas City took them to another Harvest Hosts location at a brewery. And, in a scary moment Saka jumped in the fast-moving Missouri River.
The Blalocks prefer "wild camping" on public lands, national parks, or Harvest Hosts sites to traditional campsites. "We like to take in the scenery at these sites, and Harvest Hosts is a great way to meet people and support local businesses," says Alice. "And public lands allow dogs to be off leash." The Blalock's store an inflatable kayak in a black box on the van's roof. Their mountain bikes are stored in the interior "garage" cabin.
"Best of all, there is a lot of freedom when you travel with your bed," says Flay.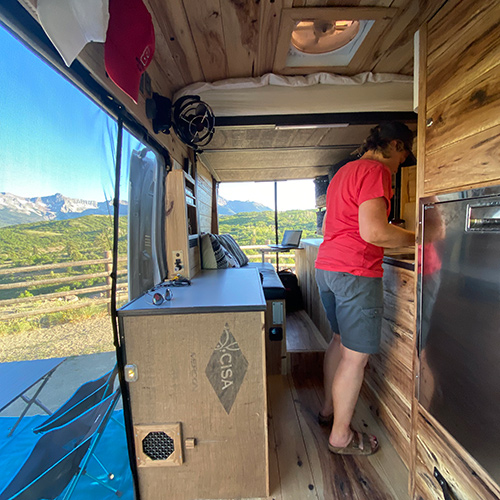 Alice Blalock is adept at making dinner in small quarters.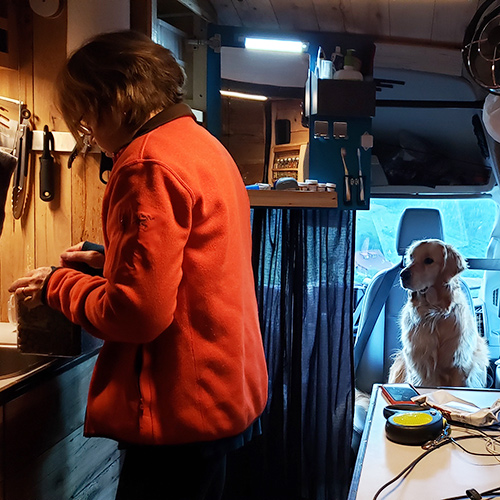 Saka watches Alice Blalock make dinner.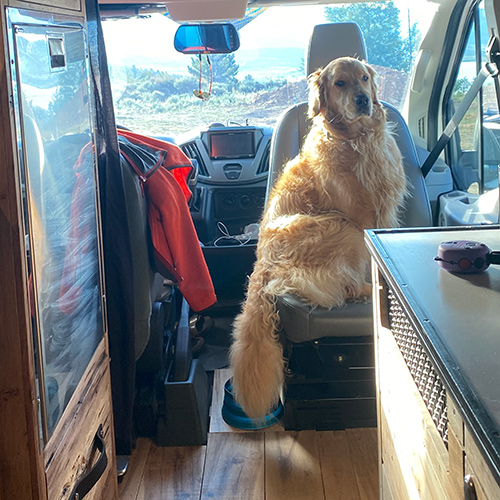 Saka is enjoying the road trip with Flay & Alice Blalock.
Saka naps after a day of sightseeing.