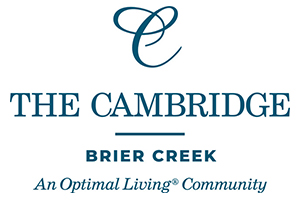 The Cambridge at Brier Creek:  Cocktails and Candy Cane Open House
Residents at The Cambridge at Brier Creek experienced the holidays on a whole, new level with its recent Cocktails and Candy Cane Open House. The event was held at the luxurious, Independent Living Community located in Raleigh's Brier Creek area. More than 300 people attended the open house and enjoyed Victorian Carolers who serenaded guests during the evening.
Christmas cocktails flowed during the themed event, along with festive bites served up by the onsite kitchen staff. Exceptional events at the holidays, along with an exceptional lifestyle that promotes health and wellness, is one more reason residents like to call the Cambridge at Brier Creek home.
The Cambridge at Brier Creeks is perfectly located in the Raleigh-Durham area with a plethora of restaurants, shopping, cultural events that will make every holiday one to remember.