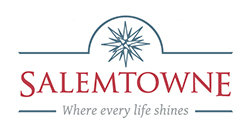 Carolyn Stokes, a resident of Salemtowne, found that several residents had a love for butterflies. This resulted in a Butterfly Garden being added to the Community Garden.
Stokes said, "We planted this garden last year. We are a Monarch Way Station, which means we are registered with the Monarch National Group. We promote monarch butterflies which means we have different kinds of milkweed and nectar plants in our garden. We watch for caterpillars and when we see caterpillars, we take them to the community habitats so the residents can watch them grow. Last year we released 30 butterflies. It's been great fun."
The butterfly garden is just one example of the variety of interests supported by the Salemtowne community. From a woodworking shop to wooded walking trails, Salemtowne features a dynamic array of amenities that also include favorites such as a fitness center, indoor pool and excellent dining venues.