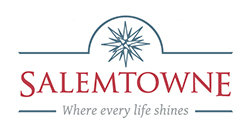 Pro-gardener and Salemtowne resident Larry Lovvorn shares about Salemtowne's community garden. Gardening provides a host of benefits. Vegetables fresh from the vine are a summer delight and gardening has wonderful health benefits. But perhaps what residents of Salemtowne enjoy most is the social interaction the community garden provides.
Larry explains, "It's been very enjoyable for my wife and I. There's always somebody here. We have a good interchange where you can get advice. There are some people who are pretty much down here every day."
Salemtowne's garden is a reflection of the thriving community as a whole. Located near vibrant shopping and dining venues, the campus itself is beautiful and boasts wooded areas, a lake and extensive walking trails. A variety of home styles fill most any need and preference, and the amenities support a wide variety of interests and recreational choices. The fitness center has an indoor pool and jacuzzi. There is also a woodworking shop, art gallery, library and computer lab.