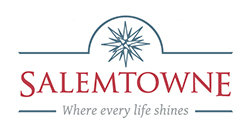 Residents at Salemtowne in Winston-Salem enjoy a beautiful and robust community garden.
Resident and Pro-Gardener, Larry Lovvorn, from Salemtowne says, "You can come down here and get your crop pretty easily. We are down here every other day because we have so many tomatoes popping out. This time of year you get more than you can possibly use, so you give them away. It's also a good place to get some fresh flowers to put on the dining room table."
This community garden is an ideal place for residents to connect with nature, soak up some sunshine, visit with neighbors, and share their gardening knowledge.