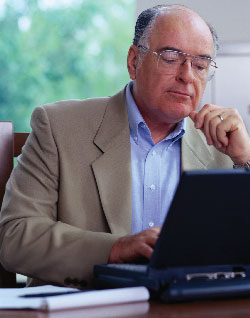 The most effective way to locate a qualified elder law attorney is through a recommendation from a family member, friend, or an attorney you already know and trust. The AARP (www.aarp.org/legalsolutions) and the state bar association (www.hg.org) offer impartial attorney recommendations. The National Academy of Elder Law Attorneys (www.NAELA.org), a professional association of attorneys dedicated to improving the quality of legal services provided to the elderly and those with special needs, and the National Elder Law Foundation (www.NELF.org), a non-profit organization dedicated to the development and improvement of the professional competence of lawyers in the area of elder law, are also excellent sources for finding a qualified elder law attorney.
As you contact potential elder law attorneys, you should ask standardized questions to help choose the attorney that's right for you. First and foremost, the attorney's background should demonstrate a focus on elder law issues. Also, not all elder law attorneys specialize in the same areas. Be sure the attorney you retain has experience with the specific legal issue with which you need help. Before hiring an attorney, ask the following questions:
• How long has he/she been in practice?
• What percentage of his/her practice is devoted to elder law?
• What is his/her area of concentration?
• How long has he/she worked in this focus area?
• What is the fee for the initial consultation?
• What information should I bring to our first meeting?
Hiring an elder law attorney is a very important decision, and you should contact several and ask lots of questions of them all before you make a final choice. Once you have decided on an attorney, continue to ask questions, to ensure that you are clear on what steps are necessary to quickly and efficiently resolve your legal issue.
This article was adapted from the National Academy of Elder Law Attorneys' and the National Elder Law Foundation's websites. For more information, please visit their sites: www.naela.org or www.nelf.org.