The new North Carolina Heart & Vascular Hospital brings all of UNC REX's heart and vascular services together on the main Raleigh campus of UNC REX Healthcare at the corner of Blue Ridge Road and Lake Boone Trail.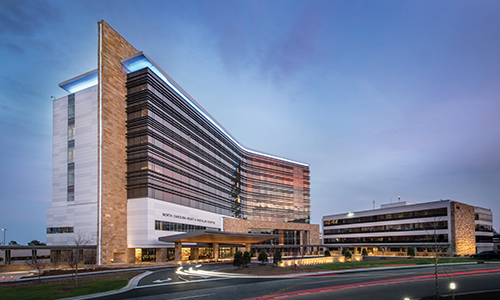 Equipped with the latest technology for patient care and procedures, the hospital incorporates best practices in both the treatment and prevention of heart and vascular diseases. The eight-story, 306,000-square-foot facility includes eight catheterization labs, two electrophysiology procedure rooms, two hybrid procedure rooms, and a cardiac and pulmonary rehabilitation facility.
Each of the 114 private patient rooms is equipped with computers and vital sign monitoring to increase the time nurses are able to spend in the room with patients. Each also has a patient lift system to safely assist patients when needed.
Two hybrid procedure rooms, designed for the latest minimally invasive procedures that require advanced imaging equipment, accommodate larger multidisciplinary teams.
The hospital's Center for Innovation & Learning includes conference space and a demonstration kitchen to meet the educational needs of the community, There is a specific focus on prevention, nutrition, rehabilitation and heart-healthy cooking.
Now open on the hospital's first floor is Kardia, is a new café that focuses on heart-healthy fare with a Mediterranean flair. North Carolina artists have donated paintings, sculpture and other works which are viewed in natural light from many windows, creating a peaceful, healing environment.
UNC REX has built a team of 47 cardiologists, cardiac surgeons, and vascular surgeons and medicine physicians serving in more than 20 clinics in Wake County and eastern North Carolina. This team works closely with referring physicians to prevent, treat and provide access to the best in heart and vascular care.
Learn more on a virtual tour at WhereHeartsBeatStrong.com.